February 12, 2014
14-45
Jessica Pope
Communications and Media Relations Coordinator
VSU Fine Arts Gallery Hosts Mark Alan Francis Exhibit Feb. 17-March 8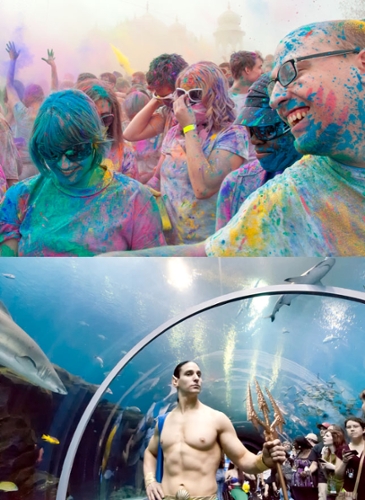 Holi Festival of Colors (top) and DragonCon (bottom). "Rituals," featuring color photography by Mark Alan Francis, runs Feb. 17 through March 8 in the Valdosta State University Fine Arts Gallery.
VALDOSTA — The Valdosta State University Fine Arts Gallery's sixth public show of the 2013-2014 visual arts season features color photography by Mark Alan Francis. The exhibition, titled "Rituals," opens Monday, Feb. 17, with a gallery lecture at 2:15 p.m. and reception from 7 p.m. to 8:30 p.m.
Francis's images were captured over a three-year period and depict scenes from an eclectic mix of community festivals around the United States, including favorites like the Blue Angels Homecoming Air Show in Pensacola, Fla., Bring Your Own Big Wheel race in San Francisco, Calif., and 5,000 Egg Giant Omelette Celebration in Abbeville, La. He traveled on the weekends, attending some 40 events, collecting thousands of images.
An associate professor of photography at in the Visual Arts Department at Pensacola State College, Francis selected 51 color-saturated prints for the exhibit. He describes the selected images as being more photojournalistic in style, "usually focused on one individual in relationship to their environment and the people around them."
"I targeted events with unique characters, colors, and performers at heart," he said.
Francis completed the photographic project with a Switzer Endowed Teaching Chair grant from Florida's Pensacola State College, where he serves as coordinator of the Photography Program. He holds a Bachelor of Science from Florida A&M University and a Master of Fine Arts from the Savannah College of Art and Design. His work has been exhibited nationally, throughout the North and Southeast regions, in one-man shows and numerous juried exhibitions over the past 18 years.
"Rituals" will run through Saturday, March 8.
The VSU Fine Arts Gallery is located on the first floor of the Fine Arts Building, at the intersection of Brookwood Drive and Oak Street. The gallery is open from 8:30 a.m. to 5:30 p.m. Monday through Thursday and 9 a.m. to 3 p.m. on Fridays.
Contact Julie Bowland at (229) 333-5835 or jabowlan@valdosta.edu to learn more.
On the Web: http://www.valdosta.edu/art/gallery
On Facebook: VSU Fine Arts Gallery
---
Valdosta State University's 2013-2019 Strategic Plan represents a renewal of energy and commitment to the foundational principles for comprehensive institutions.
Implementation of the plan's five goals, along with their accompanying objectives and strategies, supports VSU's institutional mission and the University System of Georgia's mission for comprehensive universities.
The story above demonstrates VSU's commitment to meeting the following goals:
Goal 1: Recruit, retain, and graduate a quality, diverse student population and prepare students for roles as leaders in a global society.
Goal 3: Promote student, employee, alumni, retiree, and community engagement in our mission.
Goal 4: Foster an environment of creativity and scholarship.
Visit http://www.valdosta.edu/administration/planning/strategic-plan.php to learn more.
Newsroom
Office of Communications Powell Hall West, Suite 1120
Mailing Address
1500 N. Patterson St.
Valdosta, GA 31698
General VSU Information
Office of Communications