VSU Named to List of '2013 Military Friendly Schools'
September 17, 2012
12-244
VSU Named to List of '2013 Military Friendly Schools'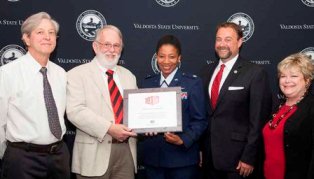 VALDOSTA -- Valdosta State University has been designated a Military Friendly School by G.I. Jobs magazine, an honor it has received for several consecutive years. The national recognition ranks VSU among the "top 15 percent of all colleges, universities and trade schools nationwide for its service to military members, veterans, and spouses as students to ensure their success in completing a college degree."

In 2010, VSU established the Adult Academic Degree Completion and Professional Development Programs. Using the acronym AMP (Adult and Military Programs) the department was developed to help improve degree completion for adult learners, with particular attention to members of the military and veterans.

Dr. Jerry Merwin, director of AMP, says the focus of the department is to recruit more adult learners, assist with the admissions process, and provide support until degree completion.

"We are carrying on a tradition that has been part of the VSU mission for a long time, in helping meet the educational needs of active duty service members and veterans of the military branches," said Merwin. "We have permanent, fulltime VSU staff members working at both Moody Air Force Base and Kings Bay Naval Submarine Base, and we offer undergraduate and graduate programs at both locations. VSU has offered courses at Kings Bay for more than 30 years."

As part of its outreach to active duty military and veterans, VSU now offers undergraduate online degrees in organizational leadership, office administration and technology, criminal justice, and legal assistant studies. These programs offer flexibility and accessibility for working adults who want to earn a bachelor's degree.

"Many veterans decide to stay in South Georgia when they retire from the military," Merwin said. "We work with active duty service members, dependents, civilian employees, and veterans at VSU's main campus, at the Albany Marine Corps Logistic Facility, at Moody Air Force Base, and at Kings Bay Naval Submarine Base."

VSU was the first USG institution to waive institutional, technology, and other student fees for active duty service members who qualify for military *Tuition Assistance. In April, the Board of Regents expanded the waiver to include the USG Special Institution Fee for all active duty military students using *Tuition Assistance.

Military Tradition

For more than 40 years, Valdosta State has been home to a Reserve Officer Training Corps (ROTC) program, which prepares students to become commissioned as U.S. Air Force officers upon graduation.

Lt. Col. Marsha L. Aleem, commander of VSU's ROTC Detachment 172, said, "VSU takes pride in military members and their service. I can honestly say the entire faculty and staff at VSU, who I've worked with have gone above and beyond for the Air Force ROTC."

Aleem, who arrived at VSU in July 2010, stated that the active engagement and involvement by the university's leadership, continued support of facilities, and formal recognition of newly commissioned officers during commencement ceremonies helps make VSU a military friendly university.

"At every graduation the president takes time to thank military members, veterans, and first responders for putting their lives at risk to serve our country," Aleem said. "VSU also provides formal recognition to our newly commissioned officers during ceremonies. When cadets are commissioned, the audience always rises to their feet with a standing ovation, to show their support."

In addition to their officer training, cadets are working toward many critical degrees in nursing, math, chemistry, physics, and pre-engineering.

Aleem, who served as the Director of Operations for Field Training Encampment Two Staff, at Maxwell Air Force Base this past summer, said that VSU cadets have been selected for many coveted scholarships, based on both academic and physical merits, as well as recognition in regional and national Air Force awards.

Recently Cadet Candace Brown, a senior political science major, was selected by the Georgia Air Force Association as the Outstanding Air Force ROTC Cadet of the Year. Brown's achievement marks the ninth consecutive year that a Valdosta State ROTC cadet has earned this distinction.

While attending summer field training, Cadet Anne Herrmann, a junior sociology major, earned the Top Gun Award and was recognized as being the best cadet within her flight while participating in an intense leadership evaluation program.

Aleem is proud of the cadets' accomplishments and notes that the Air Force ROTC program is very competitive and only the best candidates are selected.

"We currently have a solid corps of 102 cadets," Aleem said. "Our standards exceed Air Force standards. Entry into Detachment 172 program is very selective and applicants who are accepted as cadets have met specific academic qualifications, height and weight standards, and have the high moral character desired of cadets."

For more information on VSU' Adult and Military Programs, visit http://www.valdosta.edu/amp/ or call 229-253-2873, and VSU's Air Force ROTC, visit http://www.valdosta.edu/afrotc/ or call 229-333-5954.

G.I. Jobs (www.gijobs.com) is published by Victory Media, which also hosts www.militaryfriendlyschools.com, a website that provides educational resources for military, veterans, and family members.

*Fees are waived for active duty military personnel that are receiving Tuition Assistance only.


Newsroom
Office of Communications Powell Hall West, Suite 1120
Mailing Address
1500 N. Patterson St.
Valdosta, GA 31698
General VSU Information
Office of Communications