University Recruiting More Adult Learners
September 28, 2010
10-161
University Recruiting More Adult Learners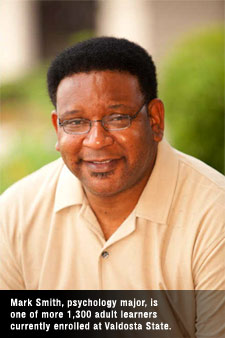 VALDOSTA -- There is good news for adult students at Valdosta State University. Building on a national movement to educate more adult learners -- age 25 years and older -- VSU has established the Adult Academic Degree Completion and Professional Development Programs, a department within the Division of Academic Affairs. Using the acronym AMP -- Adult and Military Programs -- the department was established to help improve degree completion for adult learners, with particular attention to members of the military and veterans
.
The College Board -- a nonprofit association with the mission to connect students to college success and opportunities -- released a report that states the U.S., once a world leader in the proportion of adults (25 to 34) with post-secondary degrees, now ranks 12th.

Dr. Jerry Merwin, director of AMP, says the focus of the department is to recruit more adult learners, assist with the admissions process, and provide support until degree completion. The primary goal is to assist students who have families, careers, and a wide range of life experiences; however, the AMP staff also welcomes traditional students who might benefit from the resources the program can provide.

"It is often difficult for students of all ages to navigate a large and complex higher education system," Merwin said. "I have been an adult learner, so I think I understand what they face when they decide to go back to college and earn a degree. It is often a real challenge to try and balance family responsibilities and work. We want to help the students with their planning and decision making so that they can make better choices."

An estimated one million Georgians, 22 percent of the workforce (ages 25 to 62), have earned some college credit, but no degree. Currently at VSU, more than 1,300 adult learners are seeking an undergraduate degree.

"We have national data to support that many adult learners are returning to college. There is a periodic trend that occurs with economic ups and downs. When the economy is down people want to go back to school to keep their current job or look for a new one," Merwin said. "However, I think it goes beyond that; there seems to be a growing awareness in our country that having a college degree is more of a necessity than it has been in the past."

VSU has a history of serving adult learners. With a recent grant from the University System of Georgia, VSU is expanding its efforts to reach more adult learners, including those classified as "underserved" adults. In partnership with the University System of Georgia (USG), VSU established the Prior Learning Assessment (PLA) group to help recruit adult learners with professional experience in math and science, in an effort to assist with Georgia's critical teacher shortage in these subject areas.

The PLA process, which began in 2005, now allows adult learners to earn college credits from a variety of work experiences (not just math and science), professional training, military service and professional certificate programs. These experiences are presented in a portfolio that contains sufficient supporting information and documentation to affirm college-level learning.

Last year, the USG appointed VSU as the lead institution in the newly created Adult Learning Consortium. Working with both two- and four-year public institutions, VSU is charged with improving services for adult students returning to college, expanding programs that focus on strategic regional workforce needs, and testing a system that awards credit for learning acquired through life experiences (PLA).

"Part of the USG grant, which is funded through the U.S. Department of Education, will be used to place the PLA process online, so that students who cannot come to campus can still earn PLA credits," said Merwin.

A Gateway to a Degree

The AMP staff and other VSU personnel are scheduled to visit public two-year institutions and technical schools during the coming months. The purpose of the visits is to inform faculty and students about program opportunities available at VSU and to strengthen partnerships that will provide a seamless transition for the students to transfer courses and earn a bachelor's degree.

"In the past, the two-year colleges have historically had more adult learners; in many cases once the students finish an associate's degree they may not be able to move to an area where a four-year college is located," Merwin said. "We plan to build on the courses we already have on campus and begin offering undergraduate degree programs online. The online options will make it possible for many students, who are geographically bound, to complete a bachelor's degree online."

VSU currently has one of the largest numbers of online graduate degree programs within the USG. Beginning in fall 2011, the university will add an online bachelor's degree in criminal justice and is in the process of developing an online bachelor's degree in administrative technology.

"The administrative technology degree will be offered through the Dewar College of Education and is designed for mid-level managers and supervisors," Merwin said. "It is currently offered on campus and has been proposed to the BOR for delivery online. We are also exploring options for additional undergraduate online degree programs."

A Military Presence

Building on a strong partnerships with regional military installations -- Moody Air Force Base, the Naval Submarine Base at Kings Bay and Albany Marine Corps Logistics Base -- VSU is expanding its recruiting and support efforts to active duty military personnel and veterans.

"We already have a strong educational presence at the military bases in the area and this relationship will open the doors for us to reach this population," said Trish Hinton, AMP marketing and development coordinator. "Approximately 14 percent of Lowndes County's population is military veterans. This is higher than the national average of 3 to 5 percent."

The story of AMP's part-time military and veteran coordinator, Mark A. Smith, illustrates the opportunities and challenges facing military veterans returning to college. After retiring from the U.S. Air Force, Smith decided it was time to pursue his goal to obtain a college degree.

"I found it extremely difficult to balance deployments and college while serving on active duty," the sophomore psychology major said. "Additionally, I wanted to pursue a degree in something other than aircraft maintenance."

The father of four is a full-time student and pastor at Greater Ekklesia Ministries, an interdenominational church, and says he is able to balance classes and study with his responsibilities at church.

"Some adult learners find they have to change careers because of economic factors," said Merwin, who also serves on the Council for Adult and Experiential Leaning advisory board, which is tasked with designing a national virtual center for prior learning. "They might need a degree for a new career even though they might have earned a good living in the past without a degree."

Smith readily admits there are some obstacles going to school with students that are several generations younger, especially when it comes to technology.

"In one of my classes we used a podcast and everyone pulled out iPods -- not only did I not have one, but I didn't know how to use one," Smith said.

Smith says that this minor inconvenience did not deter him and credits his fellow classmates with helping him get up to speed with the latest technology.

For more information about the adult degree completion program, visit the AMP website at http://www.valdosta.edu/amp/ or call 229-253-2873.







Newsroom
Office of Communications Powell Hall West, Suite 1120
Mailing Address
1500 N. Patterson St.
Valdosta, GA 31698
General VSU Information
Office of Communications