Welcome to the Student Success Center!
We are glad you are here!
The Student Success Center (SSC) is an academic success program serving as a compass to help students navigate their course work and get a clear bearing on success with free  one-on-one tutoring for core courses, success workshops, and Supplemental Instruction Leaders who lead weekly study groups for historically difficulty courses, such as Biology, History, Chemistry, Geosciences and more. 

VSU is proud to present the new VSU Degrees and Programs Search Tool, located here: http://www.valdosta.edu/academics/majors-degrees/ It provides an excellent resource for students and potential students to search and compare the various programs that Valdosta State University offers.
---
NEWS FLASH:
Congratulations to our Spring 2016 VSU graduates including several of our own tutors! :)
---
The SSC is using a scheduling system provided by WCOnline. If you have never used it before, you will have to register once using your VSU email address.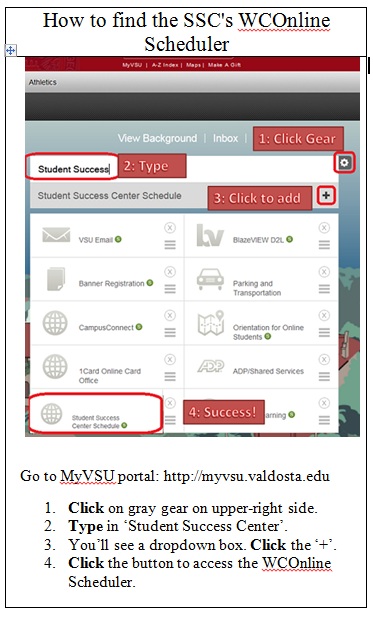 To register, click the link to the MyVSU Portal, then navigate your mouse to the gray cog or gear wheel on the upper right hand side.
Click on the gear wheel and a search box will open; type in "Student Success Center'; You will see a drop down box with 'Student Success Center Portal'. Click on the plus button, '+', to addd it to your list of buttons. When you click on it for the first time, you'll see a screen asking you to register. It will be using your VSU email address.

Complete the 'Create a new Account' form. Click the 'Register' button when finished.

Use your MyVSU Portal log-in information to view the scheduler.

Please note that the last 5 minutes of appointments are reserved for tutors to complete required paperwork. Therefore 30 minute appointments will be 25 minutes and 60 minute appointments will be 55 minutes.

If you need assistance, feel free to call the SSC at (229)-333-7570
 _______________________________________________________________