Advising and Registration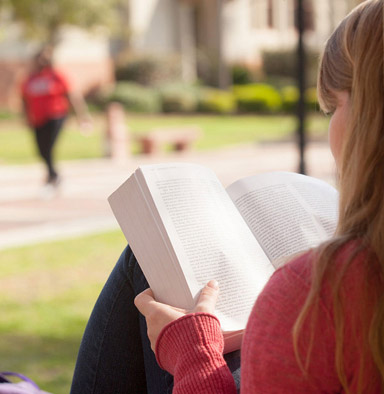 To scan ahead for a particular topic, please click on the links below that divides the information (below) into sections.
Advising and Registration 
The department of Modern and classical Languages benefits students by having dedicated advisors. This means during your first two years while you are completing your core curriculum and making your way towards you upper division requirements, you will work with an advisor that will help you track through the various core classes that you must take before truly entering you major at the upper division.
Once you have completed the majority of your core curriculum and are beginning your progress through your initial upper division courses, you will then work with your upper division advisor who will guide through the most challenging and rewarding part of your learning experience within your chosen field of study.
Advising is a critical part of the process in your chosen field of study. Advising provides you with a one on one session with an academic or administrative advisor who is knowledgeable about all things VSU, including the curriculum and providing you with the information you need to assist in choosing the classes that will benefit you most during each semester.
Your advisor monitors your progress and keeps track of all your information. You will see your advisor each semester during registration and advising periods, and you may also make an appointment with your advisor throughout the semester if needed.
Who is my advisor?
Spanish Language and Culture

French Language and Culture

West Hall 1306 B
229-333-5948

West Hall 1306 D
229-333-5948

Spanish and French, Foreign Language Education (FLED)

Dr. Randy Gladwin, FLED Coordinator

West Hall 1211
229-333-5948

Dr. Victoria Russell, Student Teaching, Certification

Ashley Hall 2206
229-333-5948

 
Spanish for Professionals Certificate Program

West Hall 1306 F
229-333-5948

Teaching English to Speakers of Other Languages Certificate Program (TESOL/ESOL)

Ashley Hall 2216
229-249-2653

West Hall 1306 C
229-333-5977
Student Information/Majors/Minors/Double Majors
Majors
All majors in MCL are required to advise before registering for classes. Advising is necessary to insure your progress is on track. During the advising period, please contact the department to make an appointment to advise. In most cases your advisor will post a sign up sheet on their office door to sign up. If you need assistance to locate your advisor, or to find out who your advisor is, please contact the department.
Minors
Students who are minoring in a foreign language can attend group advising session during the advising period. Typically two to three sessions are held for students needing to advise, or who would like more information on taking a minor in MCL. The dates and times for the session are posted on the website during the advising period.
Double Majors
Majors in MCL who are also majoring in another area, are required to advise in both departments. It is necessary that both of your advisors in the two departments are able to work together to insure you are on track with both of your chosen areas of study. Working towards two degrees at the same time can be very challenging, and making sure you are on track with both degrees will be highly beneficial when you graduate. Please be aware that a checklist for graduation is required to be turned in with your application for graduation. If you have never advised in MCL, but are taking classes towards a degree, you will not have the required paperwork necessary to graduate. This may delay your graduation.
Advising Information, Catalogs, Checklists, and Forms
Advising Manual
Advising Forms
Catalog Entries
Program Checklists
Recommended Four-Year Program of Study for Full-Time Students
Please contact the department of Modern and Classical Languages at 333-5948 if you have any questions.
 
What exactly does the Language Advising Center do?
Language Advising Center
Maintains academic records for all Foreign Language students -- undergraduate, MInors, and non-degree students.

Advises all freshmen, sophomore, and first semester transfer students in the Department of Modern and Classical Languages.

Counsels students in college career planning and guides the student through the CORE curriculum planning.

Distributes:

Late Registration and Drop/Add Form:  This form is ONLY used after late registration and drop/add period on the computers is completed - must be returned to the Office of the Registrar when completed.

Override Request Form. Use this form to request entry to a class offered through MCL. 

Registration Appeal Form:  This form along with the Late Registration and Drop/Add Form is submitted for ANY registration activity (including New Registration and Drop/Add) following all registration deadlines as published in the Schedule of Classes.

Change of Major Form:  This form is used when a student changes his/her major. A member of the SAC will sign and date the form, releasing the student from the Langdale College. Then the student must take his/her advising folder and the Change of Major form to the department of the new major and have them sign it. After that, the form must be returned to the Registrar's Office.

Course Substitution Request Form:  This form is used to substitute one class for another or to waive a class. Once completed, the form must be returned to the Office of the Registrar.

Request for 19 Hours or More:  This form can only be used by students who achieve Dean's List standing (a 3.66 semester GPA) and have a cumulative GPA of at least 3.0, or by seniors in one or two of their final two semesters. The department head, associate dean, or dean must then sign the form.

Transient Permission Form:  This form is used when a student already enrolled at VSU wants to take a course at another institution and then transfer back to VSU for credit. Once completed, the student must return the form to the Registrar's Office.

Graduation Application: This form is completed when you are within 2 semesters of graduating.

Available only at the Registrar's Office.
Course Withdrawal Form:  This form is used after the late registration and drop/add period is over. It must be returned to the Registrar's Office when it is completed.
229.333.7416
Campus Address
1306 West Hall
Mailing Address
1500 N. Patterson St.
Valdosta, GA 31698

Monday to Thursday
8:00 a.m. to 5:30 p.m.
Friday
8:00 a.m. to 3:00 p.m.