Region 7 Research Conference
STTI 2013 Region 7 ConferenceEpsilon Pi Chapter was well-represented this year at the 2013Region 7 Conference in Ft. Lauderdale, FL. Ms. Laura Carter, MSN, RN, not only attended the two-day conference on February 15 and 16, but also presented a research poster entitled "Effect of Physical Activity on Anticipatory Success in Nursing Students." The data she presented were collected in the College of Nursing and Health Sciences at VSU, and represent preliminary findings from an on-going research study in collaboration three other College of Nursing and Health Sciences Faculty members, including Ms. Kynthia James, Dr. Maura Schlairet and Dr. Melissa Benton. The Conference included both educational and clinical topics for nurses throughout Florida, Georgia and South Carolina. Among other clinical topics, a team of nurses from Baptist Health of South Florida presented outcomes from an evidence-based early mobilization program for ICU patients. Slides from their presentation and several others can be accessed through the Region 7 website, which can be found here.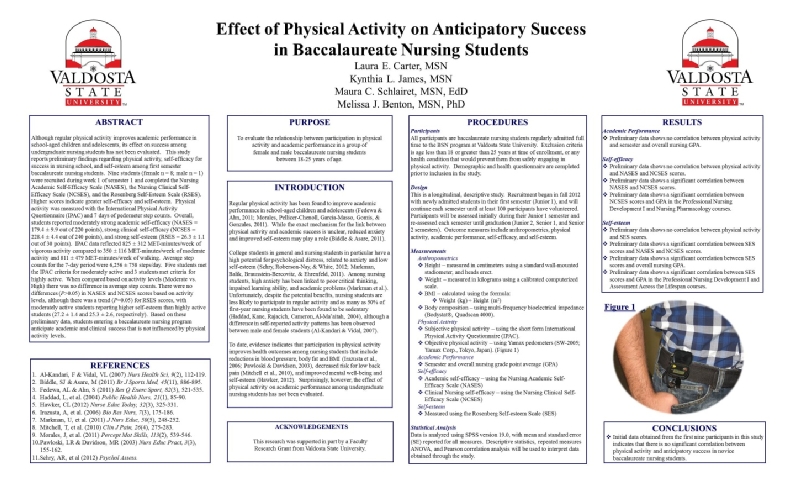 College of Nursing and Health Sciences
Health Sciences and Business Administration Building
2525 N. Patterson St.
Valdosta, Georgia 31698
Mailing Address
1500 N. Patterson St.
Valdosta, GA 31698
Fax: 229.333.7300

Monday-Thursday




8:00 a.m.-5:30 p.m.




Friday




8:00 a.m.-3:00 p.m.