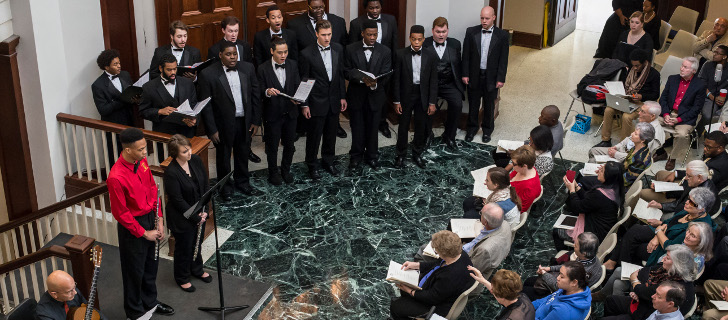 The MM in choral music is a two-year, 36-semester-hour program that includes course work in choral conducting, choral literature, choral development, music history, music theory and vocal arts. Primary focus is placed on developing conducting skills, score study, efficient and pedagogically sound rehearsal technique, analysis and interpretive skills, and artistic leadership.  Podium time is deemed important for all MM students and is achieved with multiple ensembles. 
Prerequisites:
    Bachelor's degree in music or music education (or the equivalent), including keyboard skills and proficiency in voice, piano, or organ equivalent to the completion of the third year of undergraduate instruction at VSU;
Diction proficiency: Church Latin and one of the following: French, German, or Italian;
Excellent musicianship, study and time management skills, life-long learner, public speaking;

Ability to work with well with faculty, other professionals and college students.
Pre-Screening Requirements: Priority deadline is January 10th
In addition to applying to the VSU Graduate School [link to website], applicants are required to submit:
A face-to-face video of themselves conducting in rehearsal and interacting with an ensemble (10-15 minutes); 
Video of the applicant verbally briefly describing his/her musical background and goals in pursuing the MM in conducting. Make each video a separate track;
A resume or vita;
Copies of two letters of reference from music educators and/or professionals;
Copy of transcripts from each university attended.
Send materials to:
Beibei Lin
Valdosta State University
Department of Music
1500 N. Patterson Street
Valdosta, GA 31698-0115
or via email to: zblin@valdosta.edu
After reviewing these materials successful applicants will be invited to campus for a live audition/interview.
On-campus Audition/Interview
At the on-campus audition/interview the applicant will be asked to rehearse and conduct a university ensemble. The primary conducting faculty member in the candidates chosen genre will select the repertoire. The interview will include questions concerning personal goals, the literature rehearsed, rehearsal techniques, etc.
Assistantships, partial assistantships, and out-of-state waivers are available on a competitive basis to students who are accepted to the program.
Department of Music
1500 N. Patterson St. Valdosta, Georgia 31698
Mailing Address
1500 N. Patterson St.
Valdosta, GA 31698
Fax: 229.259.5578
Monday-Thursday
8:00 a.m. - 5:30 p.m.
Friday
8:00 a.m. - 3:00 p.m.