UPHOLD TRADITION. STRIVE FOR HONOR. ACHIEVE EXCELLENCE.
Being a member of Blazin' Brigade means being a part of one of the largest student organizations on campus. We are one of the deepest held traditions at Valdosta State University. For 36 years, Blazin' Brigade has provided entertaining shows for students, fans, and alumni at home in Bazemore-Hyder Stadium and across South Georgia.
Established in 1983, Blazin' Brigade is a 140-member marching band with over 30 majors and every college represented in our ranks.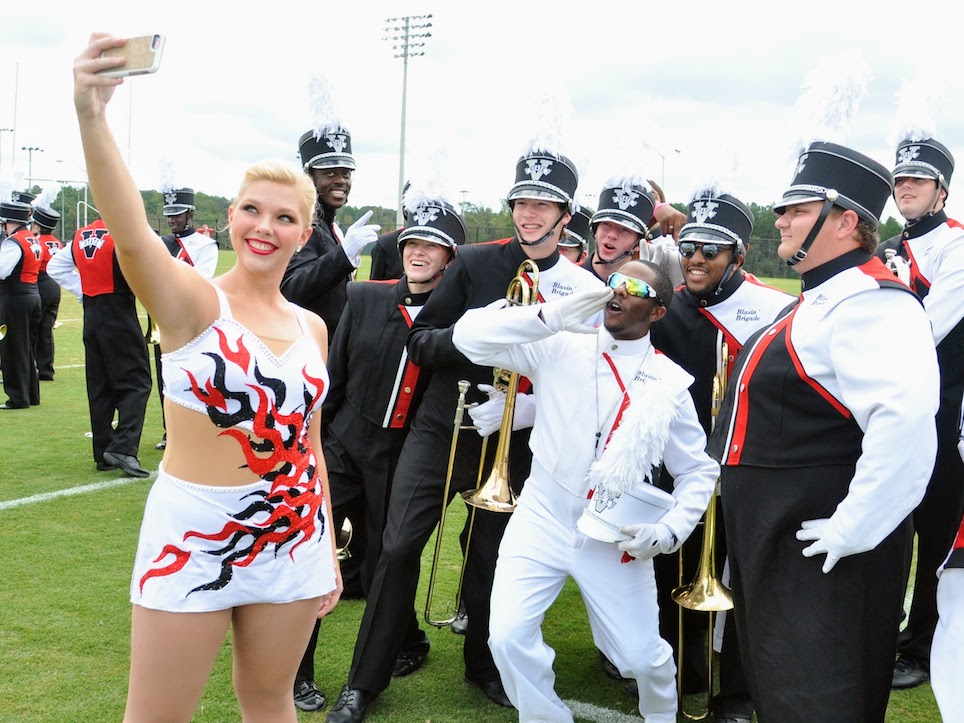 FREQUENTLY ASKED QUESTIONS
Do I have to be a music major to participate? No. 60% of our members are non-music majors with over 30 different majors and every college represented in Blazin' Brigade.
Is Blazin' Brigade like high school? Collegiate marching band at a major university level is different from high school. Not better and not worse, just different. Our rehearsals are fast paced, we play a lot of music, and we perform at least three different shows in a season.
Can I pass all my classes and be in band? Greek life and band? Can I have a job? Yes. The myth that band takes up your entire life is confusing. We continue to encourage you get involved in your university. We lay out clear ways for our students to ensure any opportunities they want to participate are open to them. It requires organization and good communication on your part.
Does everyone make the band? Blazin' Brigade operates on the philosophy that we have a place for everyone who has experience performing in a marching band. There is no limit on the number of students we accept. If you are qualified, we want you to be a part of our band.
WANT MORE INFORMATION?
Contact us and we'll be in touch!
Blazin' Brigade Marching Band
1500 N. Patterson St. Valdosta, Georgia 31698
Mailing Address
1500 N. Patterson St.
Valdosta, GA 31698
Monday-Thursday
8:00 a.m. - 5:30 p.m.
Friday
8:00 a.m. - 3:00 p.m.