Wind Ensemble is the premier wind band at Valdosta State University and is conducted by Benjamin Harper, director of bands. VSU faculty are regularly featured as guest artist soloists with Wind Ensemble.

Wind Ensemble performs a diverse repertoire of the highest caliber from chamber works to large ensemble pieces emphasizing a strong commitment to new music and standard repertoire. As a professional training ensemble, Wind Ensemble focuses on the development of independent musicianship and leadership skills in a large group setting.

Wind Ensemble meets in fall and spring semesters, rehearsing 11:00 a.m.-12:30 p.m. on Mondays and Wednesdays, and 11:00-11:50 a.m. on Fridays. Membership is open to all students by audition each semester.
HOW TO JOIN WIND ENSEMBLE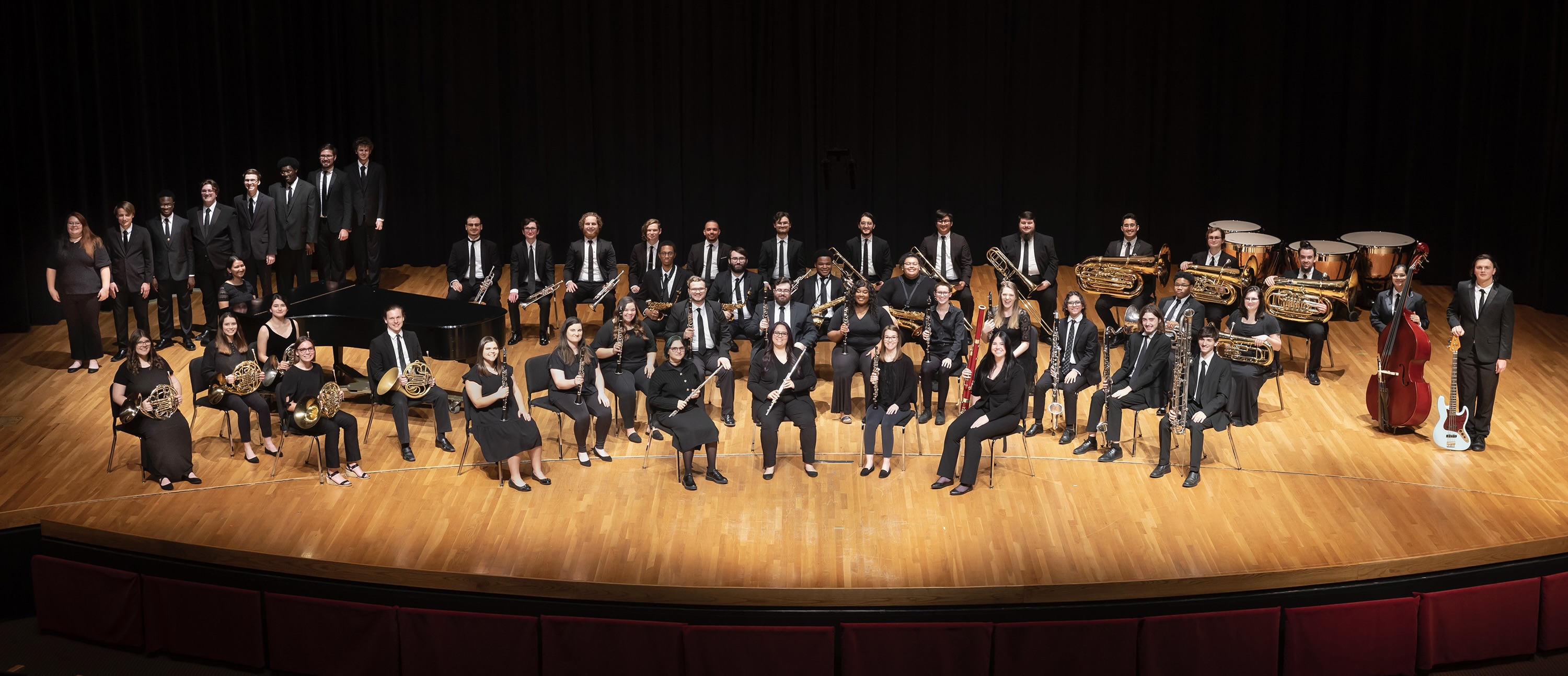 Membership in the Valdosta State University Wind Ensemble is by blind auditions open to all qualified students at VSU. Auditions for the fall semester are held during the first week of classes and spring semester auditions are held near the end of the fall semester. Auditions are heard by a panel consisting of ensemble conductors and applied music faculty. Audition excerpts are comprised of contrasting technical and lyrical etudes and music excerpts from standard orchestral and band repertoire.
More information about auditions is available here.
PERFORMANCES AND PROGRAMS
FOR MORE INFORMATION
Benjamin Harper, DMA
Director of Bands
bgharper@valdosta.edu
(229) 249-4965
Department of Music
1500 N. Patterson St. Valdosta, Georgia 31698
Mailing Address
1500 N. Patterson St.
Valdosta, GA 31698
Fax: 229.259.5578
Monday-Thursday
8:00 a.m. - 5:30 p.m.
Friday
8:00 a.m. - 3:00 p.m.