Patronages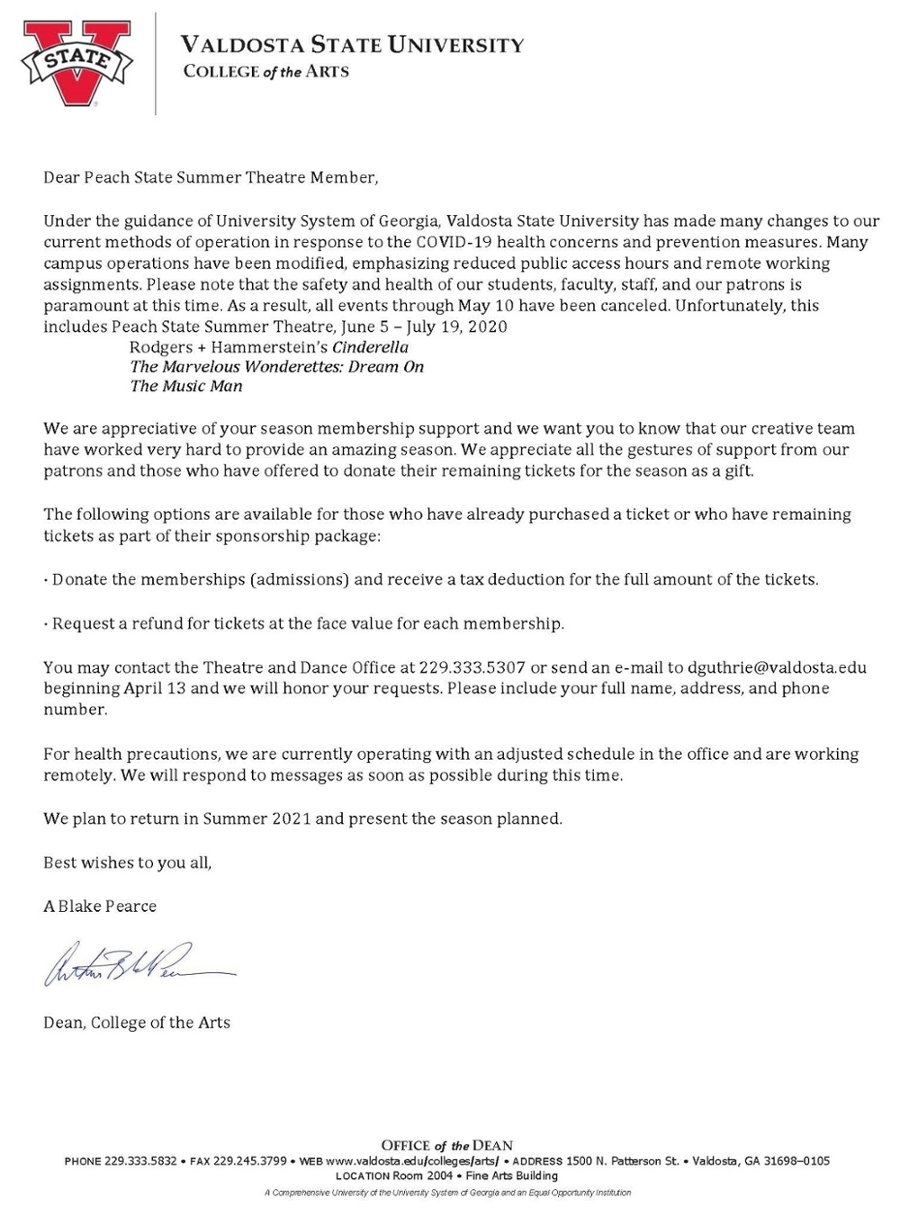 Peach State Summer Theatre audiences can choose from a variety of patronages (memberships + gifts at a variety of levels).
Patronages can be purchased online, or you can mail your payment to:
Peach State Summer Theatre
attn.: H. Duke Guthrie
1500 N. Patterson Street
Valdosta, GA 31698
Phone: 229.253.2914
Email: dguthrie@valdosta.edu
Patrons who make their purchase early via our online system, can begin reserving their admissions for specific performances on Tuesday, May 21, 2019.  The Box Office is open exclusively to Season Members and Patrons May 21-23, 2019.  The box office can continue to take Member and Patron reservations after that date. 
Silver Circle                        $3,000.00 and above
 Benefits

Unit Cost

Total Cost

 Comments

10 season memberships
with tax and fees

$69.00

$690.00
+$55.20
  +$6.00

10 Memberships (30 admissions); includes 8% sales tax and a $6.00  processing fee

4 season t-shirts

$9.00

+$36.00

 

Total Cost

 

+$787.20

 

Potential minimum tax deduction

 

 $2,212.80

 
Benefactor                         $1,500.00 - $2,499.00
 Benefits

Unit Cost

Total Cost

 Comments

8 season memberships
with tax and fees

$57.00

$552.00
+$44.16
+$6.00

8 Memberships (24 admissions); includes 8% sales tax and a $6.00  processing fee

4 season t-shirts

$9.00

+$36.00

 

Total Cost

 

+$638.16

 

Potential minimum tax deduction

 

$861.84

 
 Producer                            $1,000.00 - $1,499.00
 Benefits

Unit Cost

Total Cost

 Comments

6 season memberships
with tax and fees

$57.00

$414.00
+$33.12
+$6.00

6 Memberships (18 admissions); includes 8% sales tax and a $6.00  processing fee

2 season t-shirts

$9.00

+$18.00

 

Total Cost

 

+$471.12

 

Potential minimum tax deduction

 

$528.88

 
 Partner                        $500.00 - $999.00
 Benefits

Unit Cost

Total Cost

 Comments

4 season memberships
with tax and fees

$57.00

$276.00
+$22.08
+$6.00

4 Memberships (12 admissions); includes 8% sales tax and a $6.00  processing fee

1 season t-shirt

$9.00

+$9.00

 

Total Cost

 

+$310.32

 

Potential minimum tax deduction

 

 $186.92

 
 Supporter                   $250.00 - $499.00
 Benefits

Unit Cost

Total Cost

 Comments

2 season memberships
with tax and fees

$57.00

$138.00
+$11.04
+$6.00

2 Memberships (6 admissions); includes 8% sales tax and a $6.00  processing fee

1 season t-shirt

$9.00

+$9.00

 

Total Cost

 

+$164.04

 

Potential minimum tax deduction

 

 $85.96

 
Associate                    $150.00 - $249.00
 <strongBenefits

Unit Cost

Total Cost

 Comments

1 season membership
with tax and fees

$57.00

$69.00
+$5.52
+$6.00

1 Memberships (3 admissions); includes 8% sales tax and a $6.00  processing fee

1 season t-shirts

$9.00

+$9.00

 

Total Cost

 

+$89.52

Potential minimum tax deduction

 

 $60.48

 
Campus Address
Fine Arts Building
204 W. Brookwood Dr.
Valdosta, GA 31698
Mailing Address
1500 N. Patterson St.
Valdosta, GA 31698

Box Office Hours

Tuesday-Saturday 
10:00 am - 5:00 pm

Sunday
10:00 am - 1:00 pm