Communication News
Department of Communication Arts News & Events!
OCTOBER 2019
Courtney Lovely Named College of the Arts 2019 Distinguished Alumna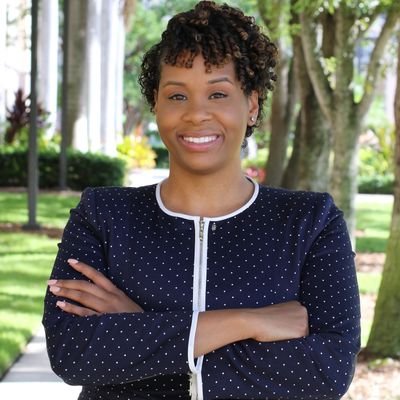 On Friday, October 18, 2019 Courtney E. Lovely was honored at the 2019 Valdosta State University Distinguished Alumni Dinner and recognized as the College of the Arts Distinguished Alumna. Courtney Lovely graduated in 2004 from Valdosta State University with a Bachelors in Speech Communications. She was recently named Palm Beach Atlantic University's Director of Athletics by President William M.B. Fleming, Jr. Lovely has a diverse public relations background within intercollegiate athletics administration and has most recently worked at the NCAA National Office.
SEPTEMBER 2017
Keynote Reflections
"Dr. Mortoti shed some light on some important issues that he faces everyday as a healthcare provider. It was interesting to hear of his prospective of how being a doctor in a rural town compared to being a doctor in a larger city." - Olivia
"The Symposium was a great learning experience and Dr. Mortoti was an excellent speaker, relating many of his real world experiences to exactly what we've been learning in our Health Communication class. I plan on using my education of the Stroke and Diabetes Belt as a future incentive to help people that share my southern culture. That was a great eye opener to see that I could help friends and family better their future and keep them healthy. As a future practitioner, I also plan to use Dr. Mortoti's experiences and ideas to have a better patient-caregiver relationship and help others to better these relationships." - Alec, COMM 3231
"All in all, in this workshop I learned a lot of new things about healthcare in the south. But I took away religion and its intersection with health care delivery. I never even knew that was a thing until I heard Mortoti speak on it. Another major thing I took away was that foreign doctors play a substantial role in the number of physicians in the US. But now that I think of it majority of the doctors I have seen treatment from have been foreign. I took a lot away from this symposium and it was a pleasure to listen to Samuel Mortoti." - Alexa

BFA Communication
1310 N. Patterson Ave.




Valdosta, GA 31698





Corner of Brookwood 




and Patterson

Mailing Address
1500 N. Patterson St.
Valdosta, GA 31698
Fax: 229.293.6182
Monday - Thursday8:00 am - 5:00 pmFriday8:00 am - 3:00 pm