Under the guidance of the University System of Georgia, Valdosta State University has made many changes to our current methods of operation in response to the COVID-19 health concerns and prevention measures. Many campus operations have been modified, emphasizing reduced public access hours and remote working assignments. Please note that the safety and health of our students, faculty, staff, and our patrons is paramount at this time. As a result, all events through May 10 have been canceled. Please refer to the VSU web site www.valdosta.edu for updates and campus developments.  Thank You.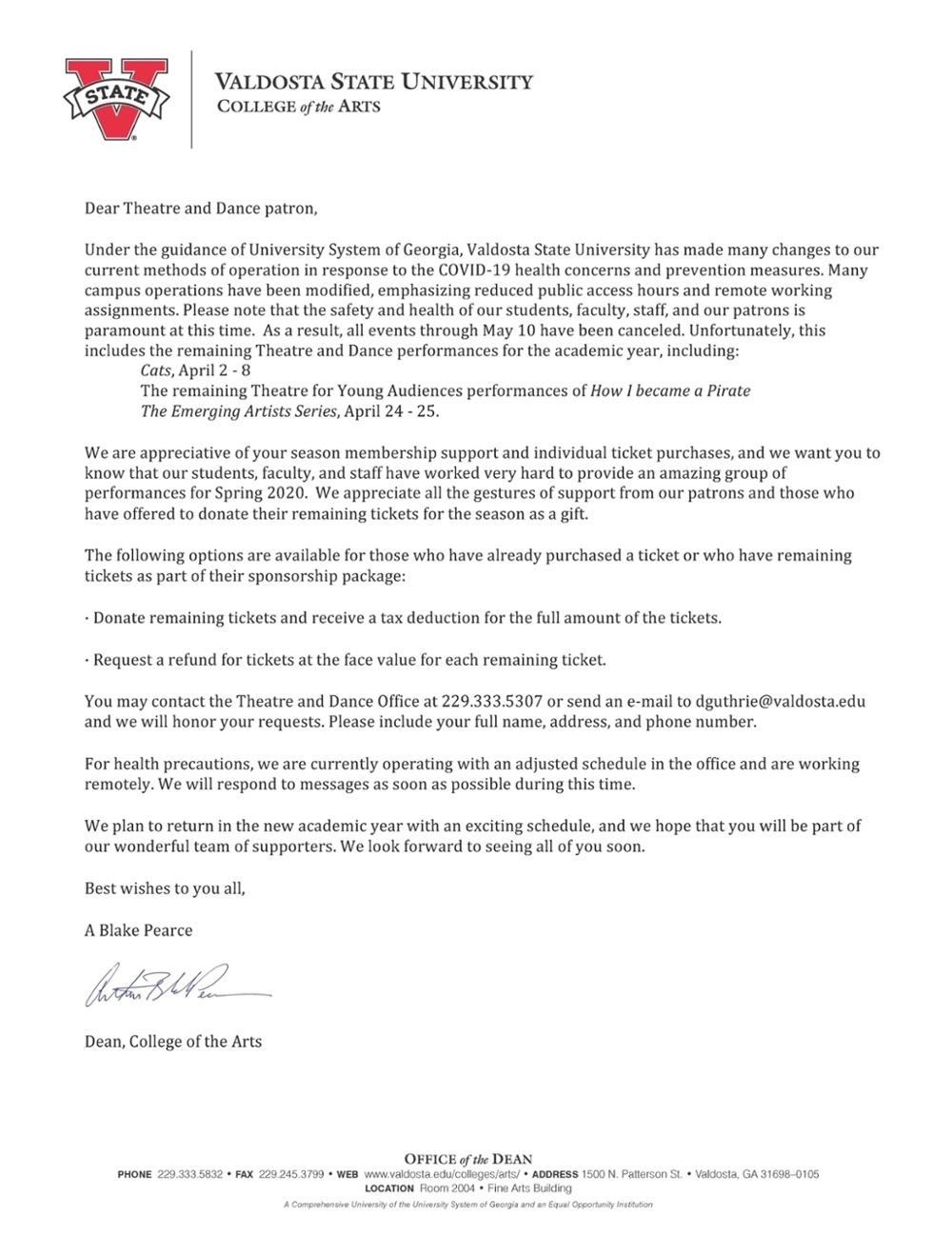 THE GORGES MOTEL
by Gretchen Cryer, Lynne Halliday, Isaac Himmelman, James Hindman, Arlene Hutton, and Craig Pospisil
September 19-21, 23-24, 2019 at 7:30 PM
Sunday, September 22, 2019 at 3:00 PM
Lab Theatre
2nd Floor, VSU Fine Arts Building
THE GORGES MOTEL is a new play, premiering in 2016 at the New York  Fringe Festival.  It takes the form of 7 plays by 6 playwrights, that together make an enjoyable theatrical event.
Lives intersect in comic and dramatic fashion in a motel (THE GORGES MOTEL) that has seen better days in Watkins Glen, New York.  The ridiculous and the sublime all come together in these plays about moving forward..
"THE GORGES MOTEL [is] tantalizing daisy chain of short plays...."  The New York Times
Adapted from dramtists.com
Please note, this production contains mature language and themes.
FALL DANCES: UNBOUND
October 17-19, 2019 at 7:30 PM
Sunday, October 20, 2019 at 3:00 PM
Sawyer Theatre
1st Floor, VSU Fine Arts Building
UNBOUND is an evening of concert dance works by VSU Dance Faculty.  Join us as we explore classic and contemporary forms of dance and blur the boundaries of traditional performance on Sawyer Stage.  Dances will provoke, inspire, liberate, and leave audiences in awe as dances weave storytelling, abstract thought, and superb artistry on the stage (and in the air!).
Shakespeare's OTHELLO
November 14-16 and 18-19, 2019 at 7:30 PM
Sunday, November 17, 2019 at 3:00 PM
In OTHELLO, Shakespeare creates a powerful drama that tells the sotry of the love between the Moor general, Othello, and the Veneitan lady, Desdemona.  Their marriage is sabotaged by one of dramatic literature's greatest villains, Iago.  One of his most intimate and devastating tragedies, Shakespeare's OTHELLO with its themes of love, jealousy, and prejudice has pathos that is universal.
Adapted from Folger Shakespeare Library: folger.edu
HOW I BECAME A PIRATE
Book, Lyrics and Music by Janet Yates Vogt and Mark Friedman
Based on the book "How I Became a Pirate" written by Melinda Long and Illustrations by David Shannon
This season's Theatre for Young Audiences presentation.
Friday, February 7, 2020 at 7:30 PM
Saturday, February 8, 2020 at 10:30  AM
Sawyer Theatre    
1st Floor, VSU Fine Arts Building
Sail off on a fantastic musical excursion when a band of comical pirates lands at North Beach looking for an expert digger to join their crew.  Braid Beard and his mates enlist young Jeremy Jacobs, as they try to find the perfect spot to bury their treasure.  Jeremy finds that adventuring can be lots of fun, but also learns that love and home are treasures you can't find on any map!  The whole family will love this delightful and swashbuckling musical adventure!
Adapted from theatricalrights.com
For tour information or to book a tour date for February or March, 2020, please contact Jacque Wheeler at (229) 253-2914.
TRUTH AND OTHER LIES
Created by the students in our Devised Theatre class and the Ensemble Cast
February 20-22, 24-25, 2020 @ 7:30 PM
Sunday, February 23, 2020 at 3:00 PM
Lab Theatre
2nd Floor, VSU Fine Arts Building
In the Fall semester, students for our Special Topics class in Devised theatre will develop a new, original script based on stories from World Mythology and Urban Legends.  In the Spring, this script will be brought to life in the Lab Theatre with an ensemble of actors and artists.  We invite you to join us to the see the evening of magical tales and epic encounters that arises from this highly collaborative, artistic experience.
Please note, this production may contain mature language and themes.
CATS
Music by Andrew Lloyd Webber
Based on "Old Possum's Book of Practical Cats" by T. S. Elliot
April 2-4, 6-8, 2020 at 7:30 PM
Sunday, April 5, 2020 at 3:00 PM
Sawyer Theatre
1st Floor, VSU Fine Arts Building
CATS is one of the world's best known and meow-velous musicals!
The Jellicle Cats come out to play on one special night of the year - the night of the Jellicle Ball.  One by one they tell their stories for the amusement of Old Deuteronomy, their wise and benevolent leader, who must choose of the the Cats to ascend to The Heaviside Layer and be reborn in a whole new Jellicle life.
This all singing, all-dancing Tony winning musical has been translated into 16 languages, making it truly a modern classic of musical theatre.
Adapted from the musicalcompany.com
Theatre and Dance Box Office
Fine Arts Building
204 West Brookwood Dr.
Valdosta. GA, 31698
Mailing Address
1500 N. Patterson St.
Valdosta, GA 31698
Box Office:
Office:

Monday - Saturday
2:00 pm - 5:00 pm

During academic year