How to Make an Appointment
Scheduling a Tutoring Appointment through Blazeview
As of Fall 2018, the ASC is using a new scheduling system provided by ThinkingStorm, which students can access through Blazeview. Please call our office for help at (229)-333-7570.

1. Log-into your MyVSU portal. On the list of panels, click BlazeVIEW D2L. Then click on any class tile you have listed.
2. On the 'Resources' tab, click 'ThinkingStorm Online Tutoring'. On the lefthand side under the VSU logo, click the red 'Start Now' button. Then click the second red button to book an appointment.
3. For select online tutoring with VSU tutors, on the dropdown box, click Online; otherwise select 'Academic Support Center Tutoring'.
4. On the next dropdown, select the type of tutoring (ie: Math) followed by the course number (ie: Math 1111). On the last dropdown, select a tutor name or select 'No preference' to see a list of all times for that day. Click your preferred day and then select from a list of available times. Finally, click 'Book' and you'll receive an email confirmation.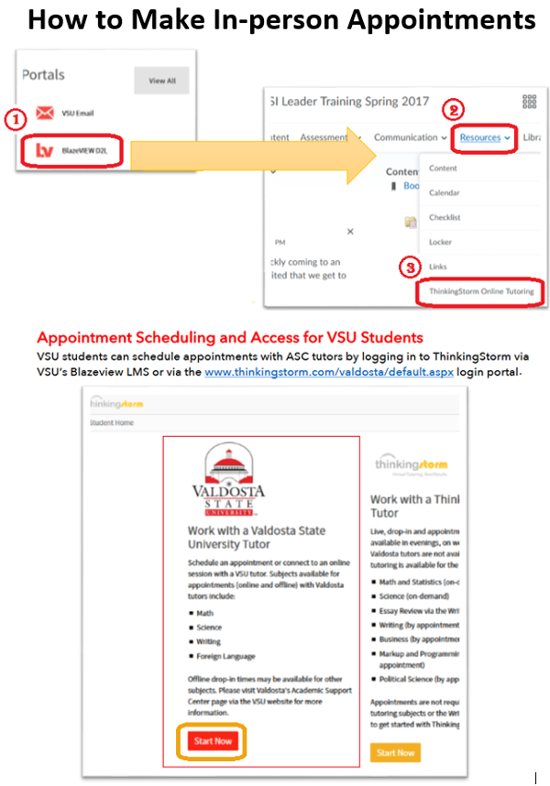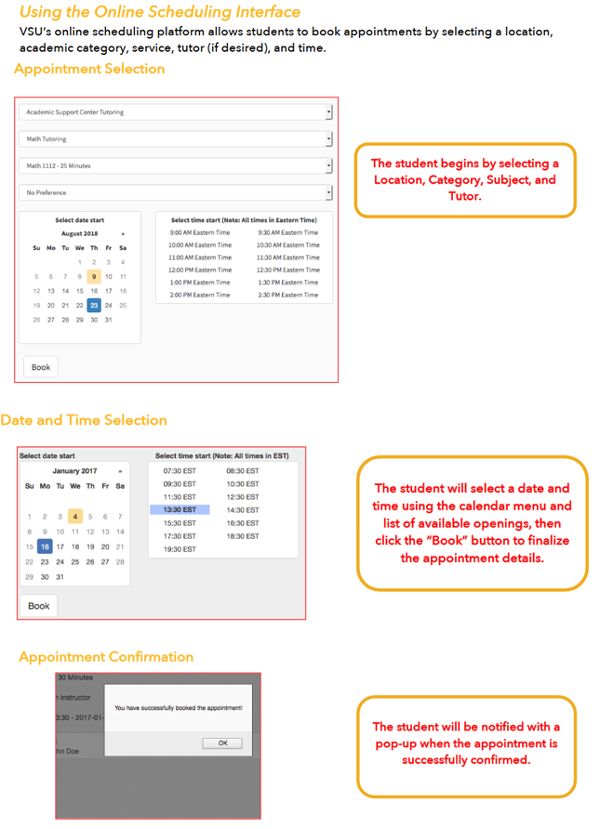 Please note that the last 5 minutes of appointments are reserved for tutors to complete required paperwork. Therefore 30 minute appointments will be 25 minutes and 60 minute appointments will be 55 minutes. If you need assistance, feel free to call the ASC at (229)-333-7570.
229.333.7579
Campus Address
Langdale Residence Hall
1500 N. Patterson St. Valdosta, Georgia 31698
(ground floor, Look for red awning)
Mailing Address
1500 N. Patterson St.
Valdosta, GA 31698
Mon-Thur: 9:00am - 7:00pm
Fri: 9:00am - 3:00pm
Sunday: 3:00pm - 7:00pm