Claydon Hayward Barron Scholarship
Established by the family of Mr. Claydon H. Barron (1942 -2001), this endowed scholarship will serve to honor the memory of a devoted husband (Mary Barron), father (Lawanna Barron), humanitarian, and business entrepreneur. Mr. Barron, a native of Valdosta, Georgia, was a member of one of the first classes to graduate from Pinevale High School and was the first African American appointed to the Valdosta City Board of Education, serving ten years. A master businessman, Mr. Barron founded the Azalea City Bail Bonding Company, the Azalea City Limousine Service, and the Barron's Insurance Agency. One of his many accomplishments that brought him great satisfaction was his affiliation with the Smooth Ashlar Grand Lodge York Rite Masons. The National Grand Lodge bestowed upon him the 33rd Degree Masonry. This scholarship continues to encourage the tradition of a respectable work ethic, perseverance and academic excellence.

Scholarship Amount and Method of Payment:
The successful applicant will receive $750.00 or more to be paid directly to the college or university for tuition and fees. This scholarship is not automatically renewable. The Barron Family, the Office of Africana Studies and the Advisory Selection Committee will declare a recipient or no more than two recipients each academic year through the submission of applications. 
Requirements:
Applicants must be Africana (AFAM) Minors who have demonstrated academic excellence and continuous progress within the Africana Studies discipline area at VSU. The recipient must also be a full time VSU student enrolled as a sophomore, junior, senior or first year graduate student.

Please submit the following: Application form, official VSU transcript, one letter of recommendation from a university professor from whom you have taken a class, a recent photograph (for publicity purposes), and an ESSAY of 300-500 words describing: How a college education will enable (or has enabled) you to contribute to society and especially give back to the community that has supported you.
Deadline:
All materials should be submitted by MONDAY, MARCH 20, 2023, no later than 5:00 pm
For further information, please call 229-249-4843 or come by the AFAM Office located at 1107 Nevins Hall, Valdosta State University.

Scholarship established: February 2002. Scholarship endowed: June 2011
---
VSU CLAYDON HAYWARD BARRON PAST AND PRESENT SCHOLARS
| | | | |
| --- | --- | --- | --- |
| No. | Recipient | Year | Major |
| 1 | Tanica Trenase Boyd | 2003 | Biology |
| 2 | Javonda Denise Stanley | 2003 | Psychology |
| 3 | Tierra Shawnte Daniels | 2004 | Marketing |
| 4 | Lisa Elaine Hamilton | 2004 | Psychology |
| 5 | Calle Machelle Fielden | 2005 | Psychology |
| 6 | William Stephen Foster | 2005 | Psychology |
| 7 | Gala Patrice Goodwin | 2005 | Mass Media |
| 8 | Rafiah Amirah Jenkins | 2006 | Mass Media |
| 9 | Stephanie Alexis Palmer | 2006 | Political Science |
| 10 | Leroy Henderson | 2006 | General Studies |
| 11 | Antawn Jermaine Harvey | 2007 | General Studies |
| 12 | Michael Santell Jackson | 2008 | Political Science |
| 13 | John Lawrence | 2008 | Criminal Justice |
| 14 | Yalanda Jackson | 2009 | Education |
| 15 | Ashley Nicole Carter | 2009 | Management |
| 16 | Karimah Nailea Anderson | 2010 | Interior Design |
| 17 | Frank D. Moore | 2011 | Criminal Justice |
| 18 | Erica Renee Vinson | 2011 | Psychology |
| 19 | Jeremy Chase Hardin | 2012 | Mass Media |
| 20 | Omotayo A. Ikuesan | 2012 | English |
| 21 | Ryan B. Brinson | 2013 | Exercise Physiology |
| 22 | Hassanat Oshodi | 2013 | Mass Media |
| 23 | Veatrice Harper | 2014 | Interdisciplinary Studies |
| 24 | Brianna Tresha Matchett | 2014 | Interdisciplinary Studies |
| 25 | Y'Keisha Marie Knowles | 2015 | Biology |
| 26 | Roxanne Lee Davis | 2015 | Sociology & Anthropology |
| 27 | Shaneisa Latronika Lewis | 2016 | Interdisciplinary Studies |
| 28 | Sabrina Deidre Romain | 2016 | History |
| 29 | Tynisha Bledsoe | 2017 | Nursing |
| 30 | Jacobe Love | 2017 | Mass Media |
| 31 | Caitlyn Destiny Smith | 2018 | Social Work |
| 32 | Courtney Dominque Smith | 2018 | Accounting |
| 33 | Tiana A.Larmond | 2019 | Dance and Mass Media |
| 34 | Mar'Quaysha Shamari Richardson | 2019 | Communication |
| 35 | Vasettria Sharnese Williams | 2020 | Marriage/Family Therapy |
| 36 | Quonnisha Veronica Orr | 2020 | Business Administration |
| 37 | Tiana Hansley | 2021 | Health Science |
| 38 | Valencia Holcomb | 2021 | Political Science |
| 39 | Randall Pace | 2022 | Computer Science |
| 40 | Shemar Asberry-Holliday | 2022 | Interdisciplinary Studies |
CLAYDON HAYWARD BARRON SCHOLARSHIP ENDOWMENT SIGNING
JUNE 27, 2011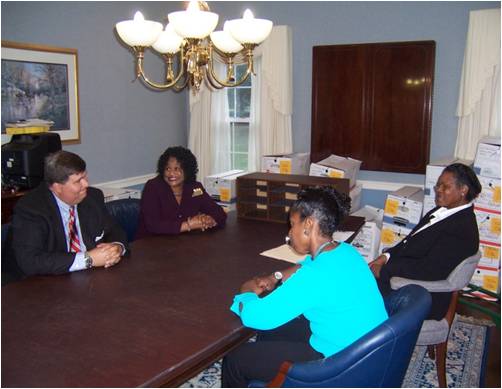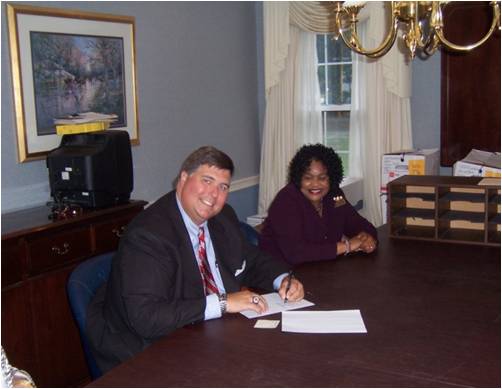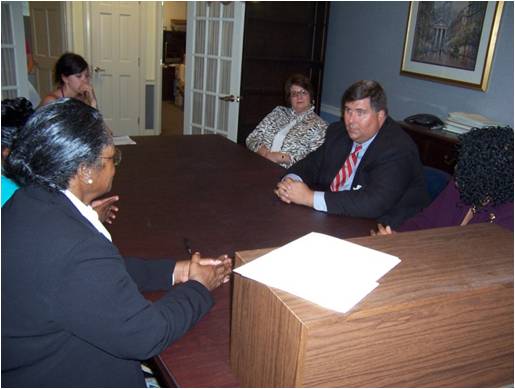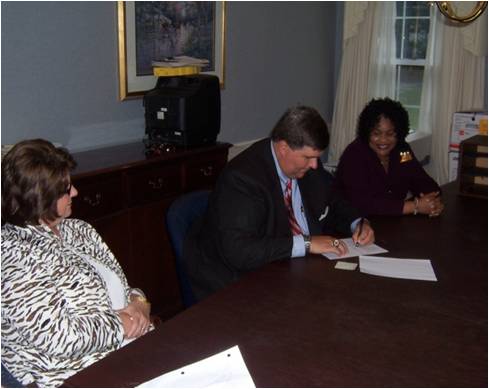 Africana Studies
1107 Nevins Hall

Valdosta, Georgia 31698

Mailing Address
1500 N. Patterson St.
Valdosta, GA 31698

Monday-Thursday 8:00am-5:30pm

Friday:  8:00am-3:00pm