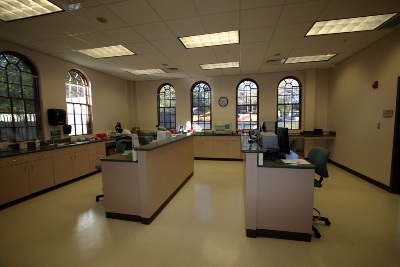 All lab services need to be paid-at the time of service or insurance information provided.
The Student Health Center Laboratory is a moderate complexity CLIA lab committed to excellence by providing the highest quality of testing services for students in a timely and efficient manner. Staff in the lab is highly qualified and experienced with a genuine concern for the student's health and well-being.
The laboratory offers a variety of tests that assist in the diagnosis and treatment of most illnesses. Laboratory testing beyond the scope of the Student Health Center Lab is sent to our reference lab. Lab procedures ordered from outside physicians and/or providers are accepted. This is inclusive of tests performed in house and/or referred to any reference lab.
Outside Lab Orders
As a convenience to our students, we accept lab orders from providers outside of Student Health. All orders must be received on practice letterhead or script and must include the following information. 
• Student's current insurance information
• Student's address
• Student's phone number
• ICD-10 code and description (reason for testing)
• Ordering provider signature
• Name of ordering provider typed or printed
• Fax and phone number for results reporting/questions
• Full ordering practice mailing address
Coming to Student Health with Outside Lab Orders
• Check in at the front desk
• Bring your lab order with you to Student Health
• You must also bring your insurance card
Results
Student Health will send the results to the provider who ordered your tests, please follow up with the provider who wrote the order to receive your results.
Cost
Outside lab orders will be billed to your insurance. You are responsible for any cost not covered by your insurance. Please contact your insurance carrier with any questions you may have about coverage.
The list below is not an inclusive list, but provides the patient with an idea of the type of test that a Student Health Center provider may order to aid in the patient's diagnosis and treatment. 
To view cost of common services, please click on Cashier/Cost of common services tab to the right.
Student Health Services
200 Georgia Ave.
Valdosta, GA 31698
Mailing Address
1500 N. Patterson St.
Valdosta, GA 31698
Main & Appointments
Fax: 229.249.2791
Billing & Collections
Pharmacy
"After-Hours" On-Call Nurse

M - TR: 8:00AM - 5:00PM (Doors Locked One Hour Prior)

F : 8:00AM - 3:00PM (Doors Locked One Hour Prior)