Blogs & Websites
VSU faculty, staff, student organizations, and departments can use the WordPress environment as a supplemental web-designing resource and as an alternative to personal sites hosted at mypages.valdosta.edu. WordPress, however, is not a replacement for department/program sites developed in Cascade that are published to Valdosta State University main site, www.valdosta.edu. VSU wants to avoid duplicating efforts or information and provide a consistent experience for our users.
Individual VSU students have the option to host personal pages on the MyPages server.
REQUEST A WORDPRESS SITE:
Please contact Web Services at webservices@valdosta.edu
Include the following information:
Your name and VSU username
The purpose for the site and the intended audience
A site name (the requested name may be changed)
Web Services will then contact you with additional information.
Your new Valdosta State University blog site URL address typically will be: http://blog.valdosta.edu/your-site-name.
Log in using your MyVSU username only and password at http://blog.valdosta.edu/wp-login.php
NOTE: With approval and at the expense of the department, faculty, or staff, unique domain names can be purchased. (ex. www.vsuspectator.com)
HOW TO USE WORDPRESS:
WordPress is an easy-to-use web editor that consists of a WYSIWYG interface.
To learn to use WordPress, view the links below.
NOTE: The latest version of WordPress introduces a new block content editor known as the Gutenberg interface:
GUTENBERG BLOCK EDITOR INTERFACE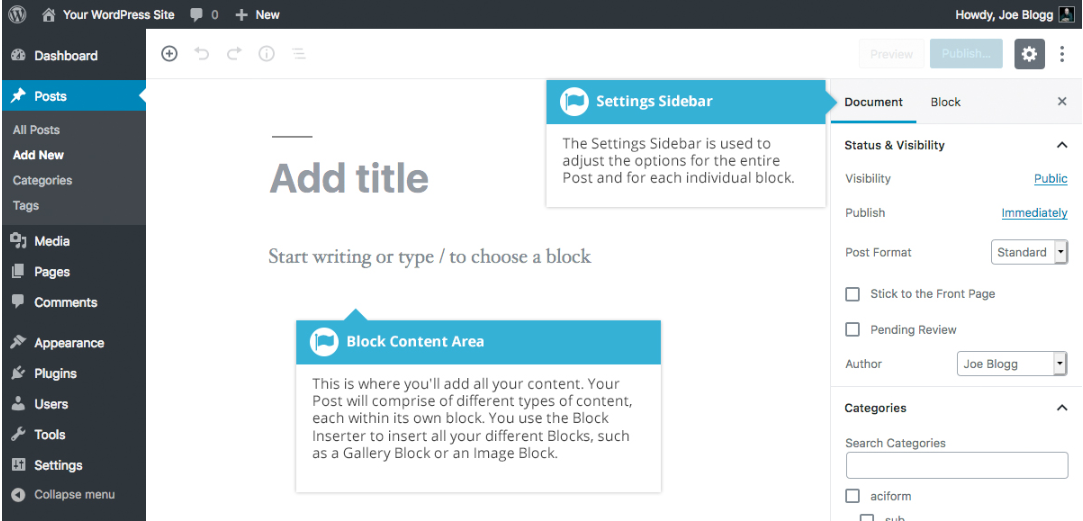 CLASSIC EDITOR INTERFACE
View Hoonuit WordPress Video Tutorials via MyVSU
---
THEMES/PLUGINS: 
WordPress is customizable by the use of themes and plugins. In addition to the default themes, users may purchase additional themes/plugins (must provide copy of the invoice to prove ownership); however, the theme or plugin will be subjected to review (and could be rejected) by VSU Web Services. Web Services must install and assess themes/plugins users wish to use. It is advisable to discuss your needs with Web Services as the plugins/themes you want may already be installed and you simply need access to them.
EXAMPLES OF VSU BLOGS:
Visit the blog.valdosta.edu service information page to see a list of department blogs created using WordPress.
Solutions Center
Fax
229.245.4349
Campus Address
1500 N. Patterson St. Valdosta, Georgia 31698
Mailing Address
1500 N. Patterson St.
Valdosta, GA 31698

VSU Solutions Center


Eastern Standard Times

Mon-Thurs: 8 am - 9 pm

Friday: 8 am - 5 pm


Saturday: 8 am - 1 pm

Sunday: 8am - 2 pm