About Information Technology
The Division of Information Technology (IT) manages the majority of Valdosta State University's network and communications, and computing technologies. Our purpose is to support the university's mission of teaching and learning, research, and service by expanding access to a sound, secure, and sustainable technology infrastructure in terms of business intelligence, instructional technology, information systems and security, networking, and client support.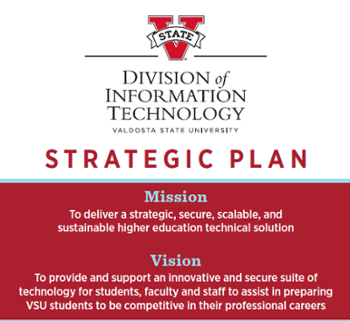 [View Strategic Plan Summary]

To contact us, call 229-245-HELP (4357) or visit  solutions.valdosta.edu
You can also subscribe to our blog at blog.valdosta.edu/it and follow us on Twitter and Facebook @VStateIT
Our offices are located in Pine Hall and Oak Street Parking Deck, with supporting staff located throughout campus including Odum Library, Health Sciences and Business Administration Building, and several other locations. 
---
Our Divisional Structure
The Division works as one unit with areas of specificity:
Division of Information Technology
1500 N. Patterson St. Valdosta, Georgia 31698
Mailing Address
1500 N. Patterson St.
Valdosta, GA 31698
Fax: 229.245.4349

VSU Solutions Center


Eastern Standard Times

Mon-Thurs: 8 am - 7 pm

Friday: 8 am - 5 pm


Saturday: 9 am - 2 pm

Sunday: 9 am - 3 pm