Employee Discounts
These discounts and offers are subject to change at the discretion of the vendor at any time. These links and the accompanying descriptions are being provided as a convenience and for informational purposes only. They do not constitute an endorsement or an approval by the Board of Regents, Valdosta State University Team Georgia Connection or any other department, agency , authority or political subdivision of the State of Georgia of any of the products, services or opinions of the corporation or organization or individual. These same entities bear no responsibility for the accuracy, legality or content of the external site or for that of subsequent links. Please contact the external site for answers to questions regarding its content. You may report a problem or discontinued discounts by calling the Human Resources office at 333-5709.
University System of Georgia Employee Discounts Page
New Discounts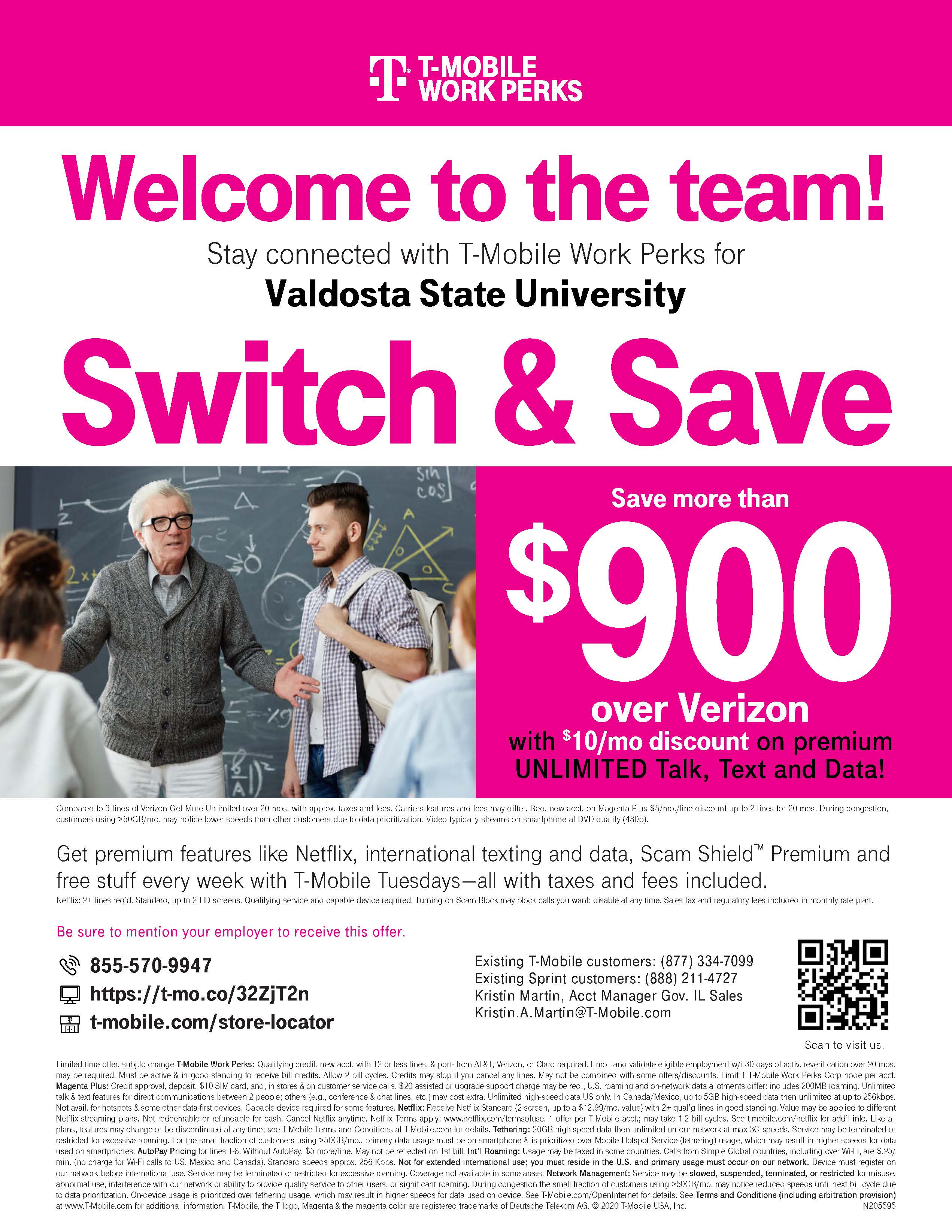 Amusement Parks

Orlando Vacation.com - click here for discounts on Disney vacations, movie tickets and more! Member Log On: VALDOSTA.  Please click here to view our most current deals.

Orlando Vacation Discounts

Going to Orlando?  Affordable travel offers, great discounts on theme parks and accommodations for employees visiting Orlando, Florida on the following:

Discount Disney World Tickets and vacation packages
Universal Studio Tickets
Sea World Tickets, Discovery Bay, and Aquatica
Vacation homes fully stocked and professionally decorated (most with pools also)
Orlando hotels close to or on theme park property
Car Rentals
Free 75 page Disney World Guide to help plan your vacation
Discount packages which include theme park tickets and lodging

To access tickets and accommodations please visit http://www.orlandovacation.com/discounts.   

Sea World - click here for on-line discounts $10 off tickets when purchased on-line and info on the "To Be a Kid Again" discount.

Wild Adventures -buy annual passes twice a year on campus.

Apartments

Staten Crossing Apartments- All VSU employees receive $30.00 off monthly rent and ½ off security deposit with good credit. 

The Gates– All qualifying VSU employees receive 3% off monthly rentals.  Fully furnished and unfurnished options available, full size washer and dryer, high speed internet.  24-hour Clubhouse access, community pool, organized activities, guest parking, close to VSU.  For a complete listing of options and floor plans visit thegatesatvaldosta.com.  1400 Baytree Drive, (229) 245-0284  

Athletic Events/Games

Automotive

Heavenly Car Care - 1000 N. Ashley Street (229) 469-7257 - Wednesday VSU Discount Day on car washes and detailing from 8 a.m. – 8 p.m.

Insta-Lube,Inc. - 902 N. Ashley St. (229) 247-7553 and 1718 Gornto Rd. (229) 242-2292 - $3.00 off full service oil change

Kyles Mobile Detailing -(229) 740-3339 - High quality and affordable pressure washing and vehicle detailing $5 off any service 

 

 

Cell Phone

University System of Georgia employees who switch to T-Mobile will receive up to $200 off T-Mobile's Magenta+ rate plan – a $900 savings over Verizon!  Unlimited Talk, Text and Smartphone Data on America's 1st, Biggest & Fastest 5G Network!  Taxes & Fee's INCLUDED! Enjoy Netflix on us along with HD Streaming, Scam Shield Premium, Dedicated Customer Care Team, Free Stuff EVERY Tuesday with T-Mobile Tuesdays, 20GB of Mobile hotspot data and much more!  Work Perks can be combined with other limited time offers, including device offers.  Call (855) 570-9947, click here to register ahead for Work Perks, or visit a local store. 

Existing T-Mobile customers who would like to receive their employee Work Perk should call (877) 334-7099.  Existing Sprint customers please call (888) 211-4727.   If you have any questions please contact: Kristin.A.Martin@T-Mobile.com, Account Manager, Government IL Program Sales

Verizon Wireless - To sign up for your discount, please visit www.verizonwireless.com/getdiscount. For more information, contact Customer Service at 1.800.922.0204.  

15% discount on monthly access for both voice and selected data plans
12% discount on e-mail data features added to PDA voice plans
25% discount from retail accessory pricing
Value based bundles for voice, text and e-mail
Prorated early termination fees
Reduced handset pricing

Fitness and Health

Anytime Fitness  - 3143-C N. Ashley St. and 515 N. St Augustine Rd.- $34.00/month membership when you sign an 18 month agreement with direct debit. $20 processing fee, $19 key fee, $10/month stand-up tanning (optional) and personal trainers (optional) 


Azalea City Chiropractic - 2231 Bemiss Road, Suite B, 229-474-4069


Center for Outdoor Recreational Experiences - Offering a full line of Outdoor Rental Gear – kayaks, canoes, backpacks, tents, sleeping bags, camp stoves and much more. CORE also offers guided outdoor trips and a 12 acre challenge course on campus. CORE Office - 229-245-2355 

Lemongrass Day Spa - 104 West Northside Drive – 10% off 1 hour services only. Visit http://www.lemongrassdayspaonline.com/services/ for a complete listing of products and services. 

Nutrisystem -Find out how your FSA/HSA can help you pay for membership! Click on this information: http://content.nutrisystem.com/pdf/Nutrisystem_D_Health_Insurance_Info.pdf 


Southern Eye Center -2310 N. Patterson Street, Suite B; 20% discount on LASIK, Botox and Sunglasses

Student Recreation Center - call at 229-333-5898 or after hours at 229-245-4306.

Weight Watchers - offered on campus at a discount. Find out how your FSA/HSA can help you pay for membership! Click on this link for form. For more information, please visit https://www.valdosta.edu/administration/finance-admin/campus-wellness/educational-series/weight-watchers-on-campus-program.php

If your physician has prescribed the Weight Watchers program as treatment for obesity or an obesity-related disease, the Internal Revenue Service (IRS) may allow you to use funds from your pre-tax accounts such as your Flexible Spending Account (FSA) or HSA to pay with tax-free dollars.   https://www.weightwatchers.com/us/

YMCA - 2424 Gornto Rd - $25.00 Registration Fee, Memberships: Individual ($35.00/mo), Family ($44.00/mo), no contract, payroll deduction available for membership. To join or cancel your YMCA membership,  contact Catherine Wills in Human Resources at 229-333-5709 or by email croark@valdosta.edu.

Food and Beverage

Bojangles -1725 W. Hill Ave- 10% off total order

Cinnaholic- 1609 A-2 Norman Drive (229) 474-4484 10% off purchase Monday-Thursday  catering and delivery 

Daylight Donuts – 3175 Inner Perimeter Rd.  10% off purchase 

Dick's Wings – 1703 Gornto Road – 15% off order excluding alcoholic beverages

Elliano's - 1343 Baytree Rd.  10% off Expresso, Smoothies, Tea or any other purchase every Wednesday 

Fazoli's - 1307 N. St Augustine Rd. -Wednesday is VSU Day at Fazoli's. Students, faculty and staff receive a free soft drink and slice of pizza or side salad with any entree purchase when they show us a valid ID card on Wednesdays.

The Mix - 1803 Jerry Jones Road; 10% discount for employees

Wooden Nickel - 3269 Inner Perimeter Road 10% off purchase excluding alcoholic beverages

Hotel

Baymont Inn – 1725 Gornto Road - 15% Discount. All rooms come with the double sided pillow top Dreamium beds, free wireless Internet, free deluxe continental breakfast with Belgium waffles and an onsite pool and fitness center. Conveniently located just minutes from VSU and directly across from the JC Penney at the mall with numerous restaurants within walking distance. For reservations, call 229-269-4471 or visit https://www.wyndhamhotels.com/baymont

Drury Inn & Suites - 1327 N. St. Augustine Road - $88 Free Hot Breakfast Buffet 7 days a week, Free 5:30 Kickback® -  including Hot Food & Cold Beverages, Free Wireless Internet, Walking distance to restaurants, 100% Smoke Free, Suites available for additional charge.  

HOTELS.COM
Employees can save 10% OFF select hotels at Hotels.com.
https://rentalperks.com/discounts/hotels-com

LaQuinta Inn and Suites - 1800 Clubhouse Drive Valdosta, GA 31601. VSU Academic discounted rate of $94.00 excluding tax. FREE full hot breakfast buffet along with a complimentary evening reception served Monday through Saturday (6-8pm) including beer, wine, sodas, pretzels, cookies and ice cream.  On top of receiving a discounted rate, will donate $1.00 per room night booked by VSU employees to the Student Development Organization through the VSU Foundation Office.  

Red Roof Inn - Please click here for details about your discount at the Red Roof Inn. 

Wyndham Hotels - Please click here for details about your discount at Wyndham Hotels.

Student Loan Forgiveness

Rent A Car

VSU Discounts

FACULTY AND STAFF TICKETS: Current retired faculty and staff are eligible for a discounted rate for season tickets only. No single game discounts are available.
STUDENT TICKETS: Current VSU students are admitted free of charge to all regular season home events with a current student ID. Tickets must be purchased for all postseason events.
MILITARY TICKETS: Active duty military and their families are admitted free of charge to all regular season home events with a valid military ID. Tickets must be purchased for all postseason events.

VSU Bookstore - University Union Oak St- 10% off any regular priced merchandise excluding textbooks.

Individual Tickets: $27 per performance
Season Tickets: $135 per subscription
229.259.5030
Campus Address
University Center Bldg III
1205 N. Patterson Valdosta, GA 31698
Mailing Address
1500 N. Patterson St.
Valdosta, GA 31698
M-TH 8am - 5:30pm and Friday 8am-3pm. Email and/phone calls responded to within 24hrs.  Thank you for your patience.