VSU History
A History of Valdosta State University
From its opening in 1913 as a normal college for women, with a two-year course in teacher preparation, it has grown to a thriving university of more than 10,500 students, offering degrees from the associate to the doctorate. As a regional university, Valdosta State is charged with meeting the professional and general educational needs of its south Georgia service area, which stretches from the Atlantic Coast to Alabama, encompassing forty-one counties and 31 percent of the land area of the state.
Founding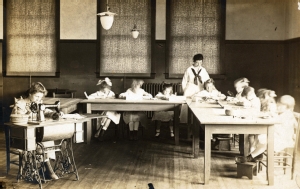 This regional perspective is entirely consistent with the university's founding and history. In 1906 a group of local legislators and concerned civic leaders worked hard for the passage of legislation to establish a college,which was named the South Georgia State Normal College. Valdosta, at that time a prosperous cotton city, is located very close to the Florida state line, midway between the coast and Alabama.

Although the college was founded in 1906, no funds were appropriated for it until 1911, when the state allocated $30,000. The city raised $50,000, and Colonel W. S. West gave the property that is now the main part of campus to the state. With the land and money in hand, the trustees then hired a president, Richard Holmes Powell (1913-33), who was state superintendent of rural schools in Georgia. His energy and enthusiasm were instrumental in the development of the college for its first twenty years. His travels in the West led him to choose the Spanish mission style of architecture for the institution's buildings, a style that has been maintained throughout the years. Read more...
Early Years
The early students were required to wear a school uniform and paid ten dollars per year for tuition and twelve dollars per month for board and laundry. Most came to be teachers and studied subjects from literature to physics to agriculture. In 1922 the school became a four-year college, and the legislature changed the name to Georgia State Womans College (GSWC). By that year the school had grown to 402 undergraduates, and the training school to 108 students.

The financial hardships of the Great Depression brought major changes to GSWC. The training school, popular with the town from its inception, was ordered closed in 1933 by the chancellor, and the school was made a four-year liberal arts college. Teacher training was drastically deemphasized for five years or so.

During the tenure of GSWC president Frank Robertson Reade (1935-48), New Deal programs enabled the school to expand physically from three to seven buildings. The Powell Library, dedicated by first lady Eleanor Roosevelt, was a centerpiece of this construction. During World War II (1941-45), GSWC emphasized politics and science in its curriculum, and in 1943 the Bachelor of Science degree was added. Extracurricular activities centered on projects designed to aid the war effort, such as scrap metal drives, USO dances, a War Bond Scholarship campaign, and Red Cross activities. Moody Air Force Base, located about ten miles from campus, provided the male participants for many patriotic parties.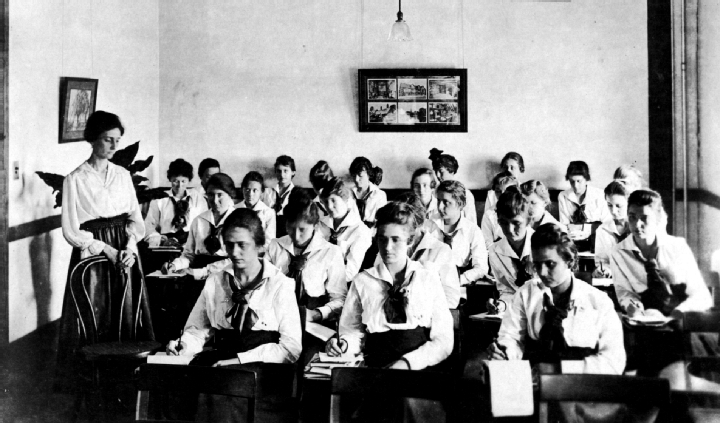 A Class of South Georgia Normal College Students, circa 1923. Call Number: c2-f02-001.
Valdosta State College
Soon after Reade's retirement and his replacement by Ralph Thaxton (1948-66), the Board of Regents declared that in 1950 GSWC was to become a coeducational institution and would be renamed Valdosta State College. The coming of men to campus made immediate and lasting changes at Valdosta State. The elaborate costumed festivals came to an end early in the 1950s, supplanted by events planned to include both men and women. Within a few years most of the extracurricular activities were male-dominated. In fact, by 1956 the men on campus outnumbered the women. Greek organizations were formed, with fraternities leading the way, and intercollegiate athletics became a part of campus life when the Rebels, an all-male basketball team, was formed.

The focus of the school broadened as well. Programs in premedical, predentistry, and prepharmacy education were added, and the sciences became more prominent. Business became a popular major after 1950, and the education department began expanding its secondary offerings. The college's tradition of attracting students from south Georgia, an area historically undeserved educationally, continued.

A view of the old bookstore, circa 1960. Call Number: c2-f19-036.

Diversification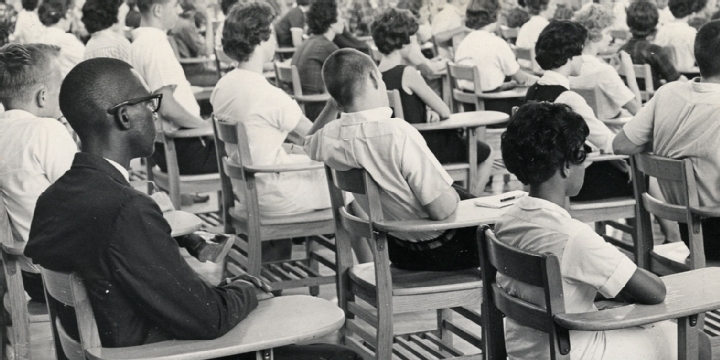 During Thaxton's tenure the college integrated peacefully in 1963. Over the next decade the college added African American students, faculty, and administrators, and Valdosta State continues to promote diversity and actively recruit minorities in all areas of campus life. In fall 2001 approximately 21 percent of the student body and 6 percent of the faculty were African American.
When Martin retired in 1978, Hugh Coleman Bailey (1978-2001) assumed the post. Under Bailey the school doubled in size, from about 4,500 to about 9,000 students. Numerous programs were added and existing courses upgraded. Throughout the 1980s the college established off-campus sites across south Georgia and began receiving state and federal grant funds to develop curricula and programs.
Thaxton retired for health reasons in 1966, and his successor, S. Walter Martin (1966-78), presided over a time of physical expansion of the school, including the construction of the Odum Library, the Education Center, the Fine Arts Building, the College Union, a science administration building, and five dormitories.
The student body grew, the Division of Nursing (now the College of Nursing & Health Sciences) was established, and many programs expanded, including those in graduate education.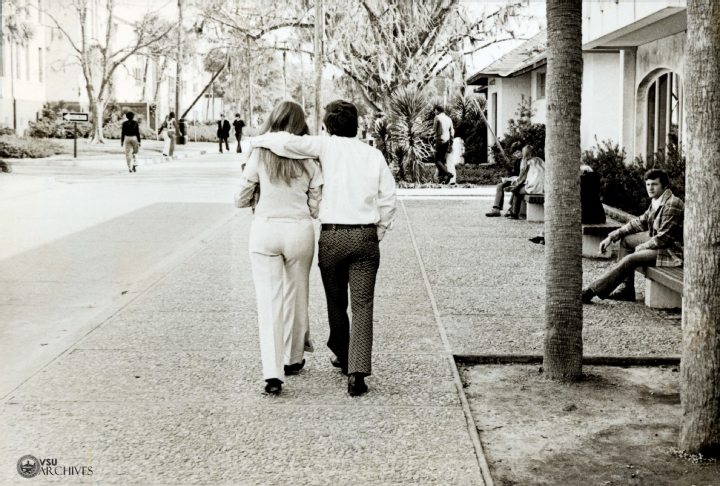 Valdosta State University
In 1993 the college became Valdosta State University (VSU), the second regional university in the University System of Georgia. VSU consists of five colleges (arts, arts and sciences, business administration, education, and nursing),
a graduate school, and two divisions (aerospace programs and social work). To accommodate the rapid expansion of programs, in the 1990s a new building boom began, with careful attention given to maintaining the Spanish Mission style established in existing campus buildings. In 2001 VSU began offering a master of library and information science degree. In 2003 VSU offered a total of fifty undergraduate majors, twenty-three masters degrees, nine educational specialists degrees, and doctorates in education. In recent years the master of social work has been a growing program, as have master's degrees in public administration, nursing, business, and communication disorders.

VSU has established partnerships with area colleges and universities, offering courses on four two-year college campuses and two military bases and through distance education. It has an active international program and sponsors faculty exchanges on every continent in the world. Since becoming a university, VSU has virtually eliminated its remedial studies program and has raised its admission standards substantially.

In December 2001 Hugh Bailey retired after twenty-three years as president of VSU. He was succeeded by Ronald M. Zaccari, former president of West Liberty State College in West Virginia. Zaccari's administration began by focusing on strategic planning to strengthen the university in the twenty-first century. Despite the impressive growth of recent years, the school remains grounded in a concern for students' development and in meeting the educational needs of south Georgia.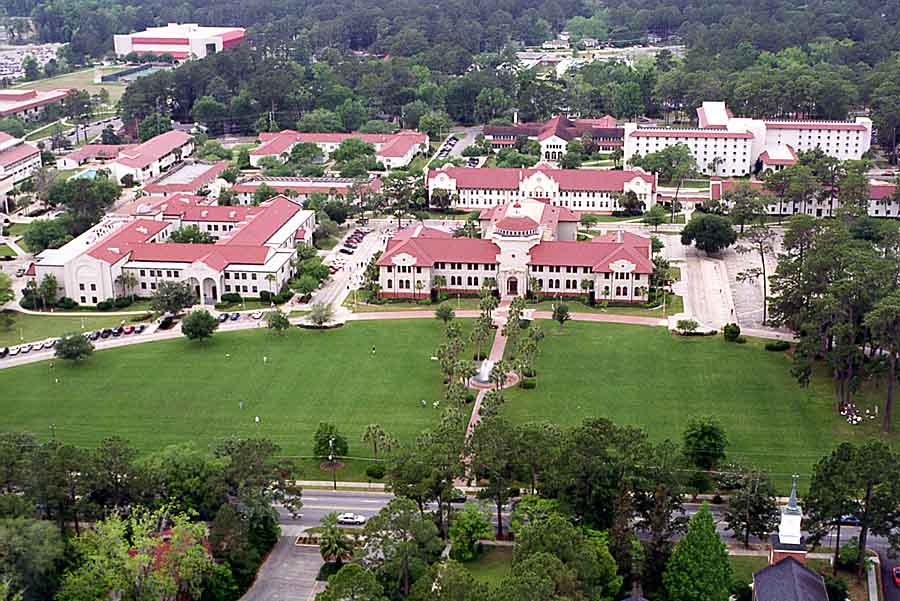 Valdosta State University, 1990s.
Suggested Reading
Deborah S. Davis, Valdosta State University (Charleston, S.C.: Arcadia, 2001).
Hugh C. Bailey, Valdosta State University
Deborah S. Davis, Valdosta State University
Published 1/2/2004
Excerpt from the New Georgia Enclyopedia.
Research on Valdosta State University History
In 1926, the Alumnae Association of Georgia State Womans College, formerly South Georgia State Normal College, held a "Ceremonial of Being Glad for our College" as part of the first Thanksgiving Homecoming. The then President of the Alumnae Association, Edith Patterson, prepared a speech. She expressed gratitude for the intellectual and social gifts the college had bestowed upon its graduates and current enrollees. She specifically pointed out "our gratitude to the writers of letters...the absent ones--the letters of which are bonds of the scattered family." In the Valdosta State College Archives we have those letters from "the absent ones" of which she spoke, three large boxes of correspondence painting a fascinating picture of our early graduates and their close relationship to the school which educated them...
Not too long ago, historically speaking, there was a haven at the place we now know as Valdosta State University. It was surrounded by pine trees, azaleas, squirrels, and birds: a nature lover's paradise. Some call it the "Log Cabin"1 others remember it as the "Little House in the Pines"2, but history records it most as the "House in the Woods."
The viability of college radio has been an issue in need of close examination for some time now. With the advent of new forms of technology aimed directly at fulfilling the uses and gratifications of a music-filled world, even commercial radio has seen a decline in listenership. However, with college radio, the problem is more serious...
Notice:
The VSU Archives would like to encourage and promote campus based historical research. To this end, Graduate and Undergraduate Student papers relating to VSU history will be posted here. If you are interested in publishing campus or regional research on our website, please contact us.
Phone
Archivist
Campus Address
William H. Mobley IV Reading Room 
Odum Library
1500 N. Patterson St.
Valdosta, Ga. 31698
Mailing Address
1500 N. Patterson St.
Valdosta, GA 31698

Monday - Thursday

9:00am-5pm

Friday

9:00am-3pm