The Pine Branch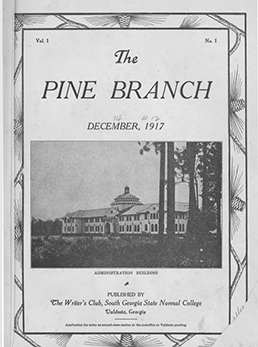 The Pine Branch was a student publication distributed by The Writer's Club of South Georgia State Normal College (Later Georgia State Womans College) monthly. This collection contains copies of the Pine Branch from December 1917-May 1934, including a selection from the 1960s.  Each issue includes:  editorials, photographs, poems, short stories, and other writings.
Every issue of the Pine Branch has been digitized. You can find and search the collection on Vtext:
Phone
Archivist
Campus Address
William H. Mobley IV Reading Room 
Odum Library
1500 N. Patterson St.
Valdosta, Ga. 31698
Mailing Address
1500 N. Patterson St.
Valdosta, GA 31698

Monday - Thursday

9:00am-5pm

Friday

9:00am-3pm

Odum Library is a Federal Depository Library.