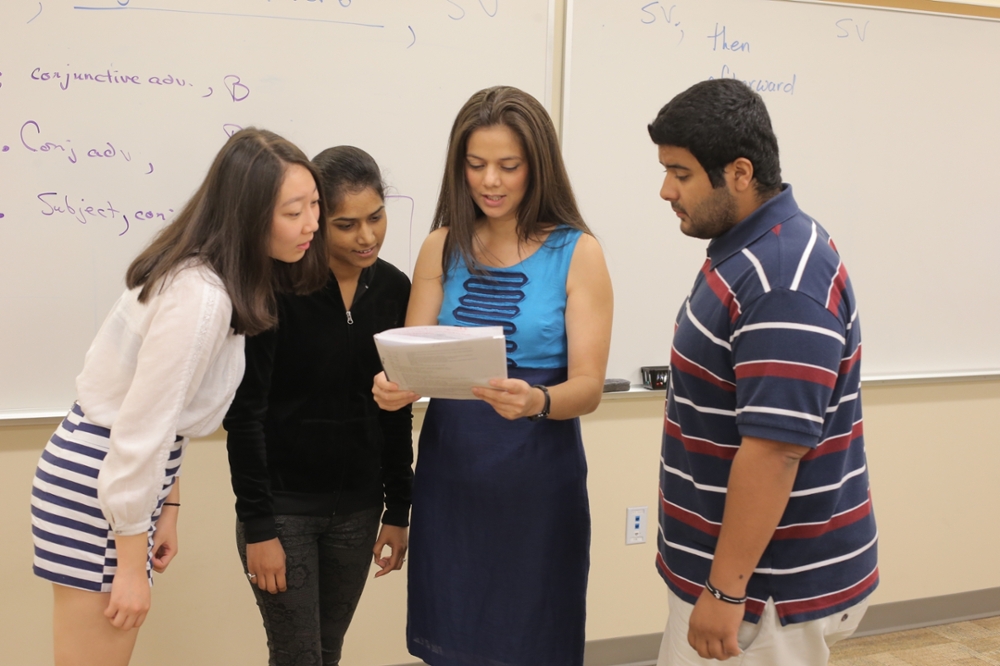 Classes
Classes are small, with an average of 8 to 12 students per class, and usually no more than 15.  Classes meet 20 hours a week: Four hours each day, Monday through Friday.  Students must spend additional time preparing and studying for their classes.  Students are placed in one of six levels, based on their language proficiency as measured by their placement test results. Students who successfully complete one level will be promoted to the next level. Students who complete level 6 with a "B" grade or better in each class are eligible for admission to VSU without a TOEFL or IELTS score, assuming they meet all other eligibility requirements.
Classes begin at 8:00 or 9:00 AM and run through mid-afternoon.  Mandatory classes are usually finished before 3:00 PM.  Optional classes and activities will usually be after 3:00 or 4:00 PM.
Grammar
English grammar is taught and practiced through a variety of communicative and functional activities.  Students learn and practice grammar lessons which are reinforced in other classes and lead to a level of fluency that enables the students to succeed in an academic environment.
Reading and Writing
Courses focus on building vocabulary, reading, and study skills with level-appropriate materials. Students learn and practice techniques that will help them develop the writing skills necessary for academic success.
Speaking and Listening
Communicative activities help students improve their comprehension and expression of spoken English and reinforce vocabulary and pronunciation.
Optional Classes
American Culture or American Music, or other classes may be offered according to student interest. Additional classes require a minimum number of participants.
Certificates
At the end of each term, certificates will be awarded to all students who complete the ELI program and are ready to proceed with regular university coursework. In addition, certificates are awarded for special achievement and attendance.
ELI's 2023-2024 Academic Calendar
Term........................................................Dates
Summer Session 2023........................... May 22 - July 14 (Testing May 19)
Fall I Session 2023................................ August 14 - October 6 (Testing August 11)
Fall II Session 2023............................... October 11 - December 8 (Testing Oct 6)
Spring Session 2023 ..............................January 25 - (Tentative start date)
Attendance
Students must attend at least 85 percent of their classes and do the assigned work.
Cultural Experience
Full-time ELI students enjoy most of the same privileges as VSU students, including access to the student union, and recreational facilities.
ELI students are invited to participate in many social and cultural events such as banquets, cookouts, and field trips to historic and cultural landmarks.  The ELI plans some weekend trips and local activities. During every session, a trip to Orlando (Disney, University Studios, etc.) and Atlanta (Atlanta Aquarium, World of Coke, CNN, etc.) is available. Contact the ELI to offer your suggestions!
Meals & Housing
With a large dining hall, several grills, and fast-food restaurants, ELI students have many choices. Students may choose a meal plan that fits their personal preferences. For more information about dining services at VSU, visit VSU Dining.
ELI students are eligible to live in campus housing.  There are also many dormitory-style apartments and apartment complexes within walking distance of the university, and the ELI staff will help you locate appropriate housing.
Health Services
There is a health center on campus for minor ailments.  For more information on the VSU Health Center, visit the VSU Health Center's website.
This coverage does not extend to major medical needs, for which all students are required to have health insurance. Additional health insurance must be purchased at VSU upon arrival.
Insurance Options

All international students with an "F" or "J" visa are required to enroll in the Mandatory Plan or request a waiver on-line. The health insurance premium will be added to your final bill. 
Waivers
Students in the mandatory groups will have the option to waive the student insurance if they have a pre-approved insurance plan. They can apply for a waiver on-line by visiting the www.valdosta.edu/iss and follow the links.
Please note that waivers are approved term by term so you must re-apply each term to confirm your information has not changed.  If you had a waiver for the fall and you selected you wanted the same waiver for the spring/summer term, you will not need to submit another request.  Pearce and Pearce will verify you still have the same coverage in effect.  If you have forgotten, and go into the system and try to complete a new waiver, the system will alert you and say you already have a pending waiver for the spring/summer completed in the fall If your request for a mandatory plan waiver is denied, you will be given a reason for the denial and you can appeal the decision.
The open enrollment expiration dates will be posted each term. After this date, United Health will close their website for waiver requests and the student will be required to pay the student health insurance fee.
English Language Institute
Pound Hall Suite 2004
Mailing Address
1500 N. Patterson St.
Valdosta, GA 31698

Monday - Friday

8:00 AM - 2:00 PM