State Authorization
Valdosta State University is proud to offer fully online and hybrid degree programs and certificate courses. Designed by expert faculty in the field of online learning and eLearning's Instructional Designers, you can expect personalized and quality education and programming with the flexibility of distance learning. 
In compliance with State Authorization for the delivery of distance education, some online degree and certificate programs may not be available in all states. Certain programs may require practicums, guided experiential learning, proctored examinations, internships or student teaching which trigger State Authorization. In our effort to provide rigorous and relevant distance learning education, Valdosta State University recognizes the policies set forth by the National Council of State Authorization of Reciprocity Agreements (NC-SARA). "NC-SARA coordinates with a broad array of higher education stakeholders to ensure alignment on core elements and requirements of SARA, support quality assurance and consumer protections for students, and increase the value of credits earned through distance learning programs" (NC-SARA, 2020). 
On this page, you will find the following information:
NC-SARA/Ga-SARA
Valdosta State University became a member of NC-SARA in January 2016. Approved SARA member institutions may offer distance education programs in other SARA member states without additional authorization.
Find additional information about SARA and Reciprocity Agreements within Georgia Institutions: State Authorization Reciprocity Agreement.
For detailed information concerning the institutions who have volunteered to participate in upholding the guidelines and standards set for by NC - SARA, review the NC - SARA Institution Directory.  
Explore additional information about SARA, specifically benefits, priorities, and projects. 
Visit VSU's NC-SARA/State Authorization webpage here: Online Programs/State Authorization.
NC-SARA has worked with the SARA State Portal Entities (SPEs) and regional compacts to create the Professional Licensure Directory, which provides contact information for five programs that lead to a professional license:
Counseling
Nursing
Psychology
Social work
Teacher Education
This directory does not contain specific information regarding regulations or requirements, but rather provides general contact information. NC - SARA updates this directory twice annually.
Professional Licensure
If you are not a resident of Georgia, and you are taking an online course or program leading to professional licensure, Valdosta State University cannot confirm whether the course or program meets requirements for professional licensure in your state. Please check with the appropriate licensing board in your state to determine whether the course or program meets requirements for licensure in your state.
Licensure information by program
Click the links below to be directed to the Professional Licensure Spreadsheets
Last Updated
Counseling
04/17/2020
Nursing
04/17/2020
Psychology
04/17/2020
Social Work
04/17/2020
Teacher Education
04/17/2020
**Information found here has been linked directly to NC - SARA's website
Complaints/Grievances Process
Should the situation arise, students have the right to file a complaint concerning SARA related regulations of online degree and certificate programs. Below, review the process for filing that complaint as well as specific contact information for each state. 
*A note: Student complaints about grades or student conduct may not be appealed to the portal agency. Additionally, home state portal agencies report status of complaint(s) to NC-SARA on a quarterly basis.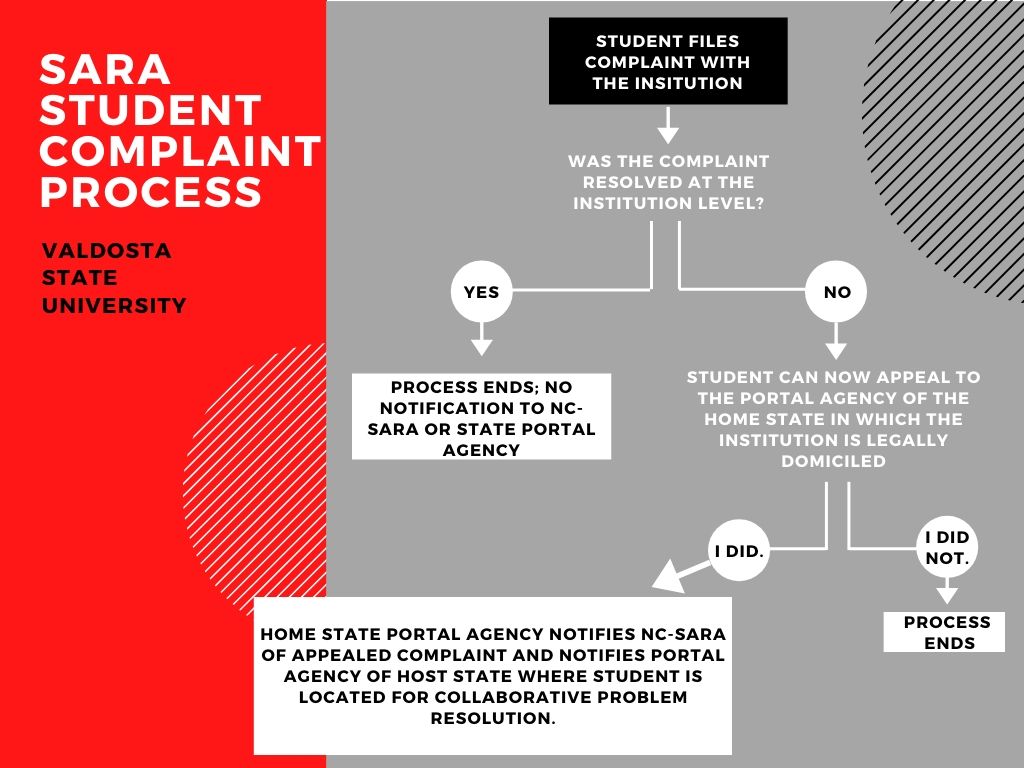 **California Department of Consumer Affairs (DCA) and the Bureau for Private Postsecondary Education handles complaints for California students who are enrolled via distance education in out-of-state public, private non-profit, and for profit institutions. 
Campus Address
Odum Library
Second Floor - Suite 2621
1500 N. Patterson St. Valdosta, Georgia 31698 Email Address
blazeview@valdosta.edu
Mailing Address
1500 N. Patterson St.
Valdosta, GA 31698