November 13, 2023
23-128
Robbyn DeSpain
Retiring VSU Archivist Reflects on Childhood Passion, Career Spanning 30 Years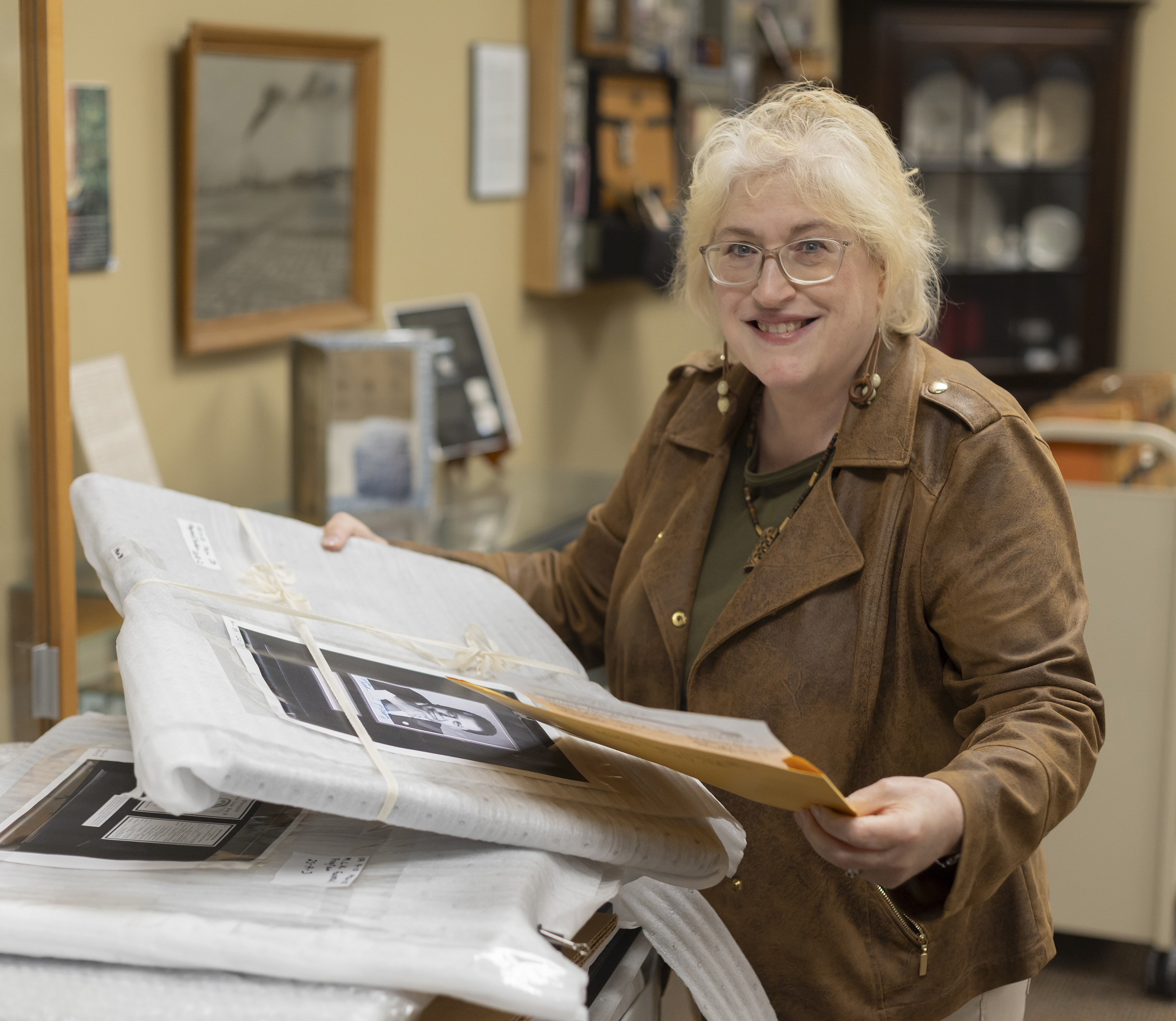 Deborah Davis is the director of VSU's Archives and Special Collections. She has worked in Archives since 1998 and is getting ready to retire after 30 years at VSU. 
VALDOSTA, Ga. – If you are researching the history of Valdosta State University, don't just jump online. Head to Odum Library in the heart of main campus. Tucked away on the fourth floor is a history lover's treasure trove, and the woman who put it together has the kind of knowledge you don't find online.
Deborah Davis, director of VSU's Archives and Special Collections, was just 12 years old when she started her own library.
"I went around the neighborhood with a wagon, my sister and I, and we picked up books and put little slips in them," recalls Davis. "We would check them out if anyone wanted to read them. We loved to read them too."
That passion foreshadowed a thirty-year career that is nearing its end. While on that journey, Davis became an expert on VSU history, even writing a book about it, and she discovered her two biggest passions: student success and community outreach.  
Davis was a student at VSU in the late 70s and early 80s. Even though she transferred to the University of Georgia to complete her undergraduate degree in economics, she loved South Georgia and all VSU had to offer. She jumped at a chance to return to VSU as an employee in 1993. Having recently completed her Master of Library and Information Science, Davis landed in Odum Library as a reference librarian and instruction coordinator. After a few years in reference, Davis started looking for something she could sink her teeth into. She took over VSU's Archives in 1998 while still working in reference and teaching.
"I was the only employee in Archives, but I had a student assistant who was working on a full content index to the Valdosta Daily Times," Davis said. "Back then Archives was not involved with any classes, and it didn't even have a webpage."
At the time, Archives was in an old smoking lounge hidden under the stairs on the first floor of Odum. Davis noticed that items were placed alphabetically, which meant when anything new was donated or added, everything had to be shifted. Davis knew there was a better way to organize things, so she called in a consultant to help write policies and procedures for the Archives.
"We created the organizational structure that we still use to this day," said Davis.
Her efforts to organize, revamp, and incorporate Archives into the learning process at VSU got a big boost from former VSU President Dr. Hugh Bailey and former First Lady Joan Bailey.
"Mrs. Bailey was one of the most creative people I've ever known," said Davis. "Dr. Bailey edited my book, and we also wrote an article together for the New Georgia Encyclopedia about VSU."
When Dr. Bailey retired in 2002, he and Mrs. Bailey left a $100,000 endowment to VSU's Archives along with all his personal papers. Through efforts to preserve and record the 87 boxes of historic documents, Davis created Archives' volunteer program. It took two years of volunteer efforts to complete the big project.
"I credit the Baileys for making me more than I was," said Davis. "Working with them helped me embrace my love for this, for the possibilities of this, for all a college could be, and all that we could be within the college."
Davis believed the Archives needed to be firmly embedded in the teaching program. However, in the early 2000s, it didn't have the collection needed to draw researchers from out of town or that VSU professors could use as part of their curriculum. Davis created a webpage with digital content for Archives with the goal of making it into a teaching lab. She has accomplished that goal, with 50 classes using research, archives, and collections during the 2022-2023 school year.
"We are now part of the curriculum in several classes in the history department," said Davis. "They have to come to Archives; it's written into their curriculum."
Davis became a certified archivist, which is based on years of experience, classes taught, and she had to take a difficult test. She says there are only about 1,000 certified archivists in the U.S. Davis is a full professor and taught in VSU's Master of Library and Information Science program online from 2008-2022. She still teaches one perspectives class.
Davis counts the Mary Turner Project and exhibit, the Babylonian clay tablets, and the Booker T. Washington and Bessie Foster Collections as among her favorites. The Community Archives Program is another passion of Davis's that she's seen come to fruition in recent years. The goal is to document and preserve local history.
"We're working with Lowndes County, Thomas County, Brooks County, Grady County, the Pinevale Alumni Association, and others, thanks to a grant," says Davis.
Many former graduate assistants, student assistants, or interns with VSU's Archives and Special Collections have gone into library science, public history, or history fields, something that Davis is incredibly proud of.
As she prepares to retire on December 31, Davis believes in the future of VSU's Archives and Special Collections. The two employees currently working with her will remain once she retires, and Davis says she plans to come back and assist from time to time on a volunteer basis.
"I don't think this Archives needs 10,000 new ideas," says Davis. "We have ideas that will keep us going for years."
Newsroom
Office of Communications Powell Hall West, Suite 1120
Mailing Address
1500 N. Patterson St.
Valdosta, GA 31698
General VSU Information
Office of Communications