August 15, 2023
23-87
Jessica Pope
Communications and Media Relations Coordinator
VSU Kicks Off New Year with Renewed Sense of Optimism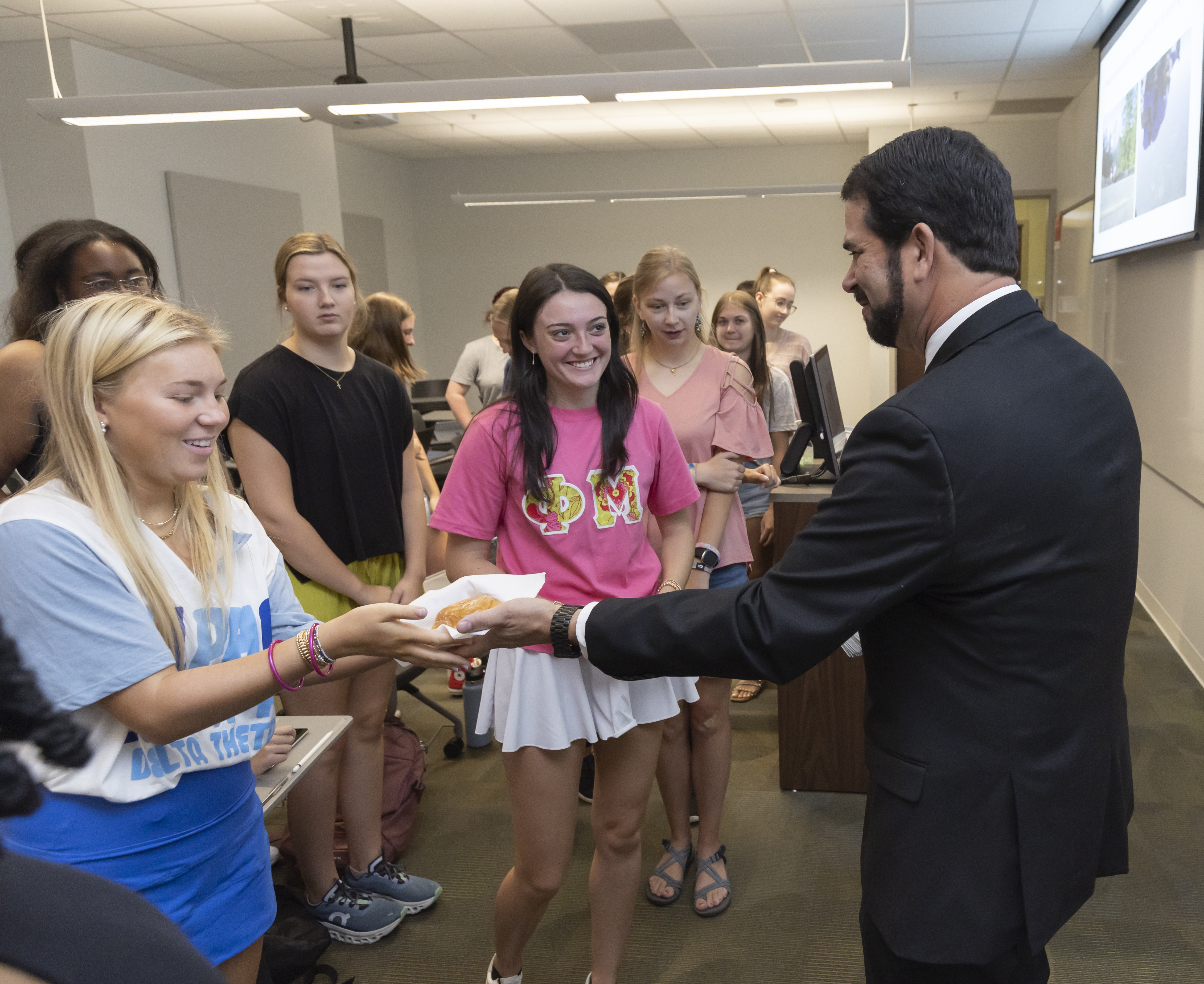 The first day of classes is always Doughnut Day at Valdosta State University. It's an opportunity for Dr. Richard A. Carvajal, president of VSU, to visit classrooms and help students and faculty celebrate the start of a new semester on campus.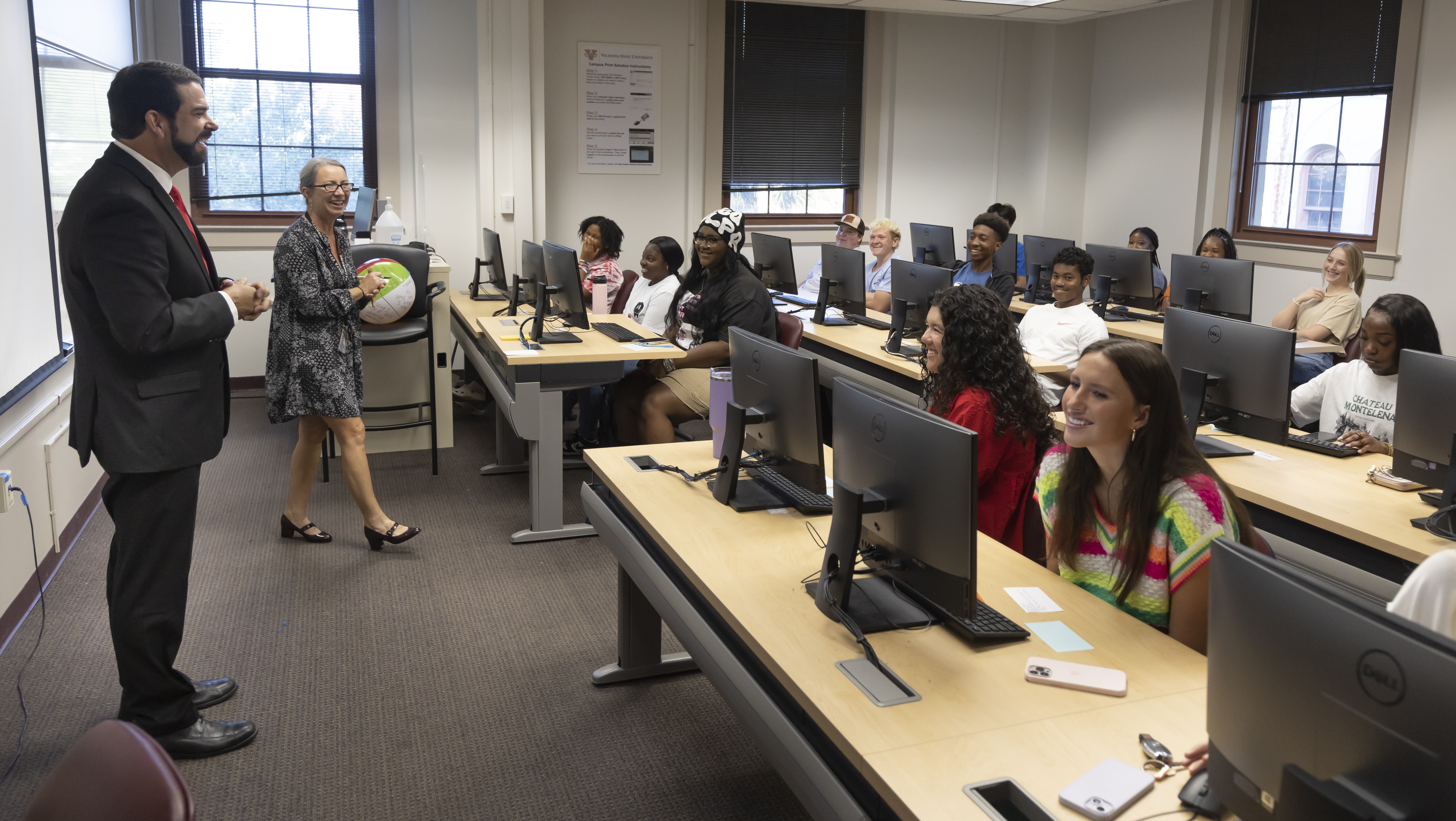 Dr. Richard A. Carvajal, president of Valdosta State University, welcomes students to the first day of Fall Semester 2023. 
During BlazerCon 2023, Valdosta State University faculty and staff had an opportunity to hear the latest about the state of the university and participate in a series of personal and professional development workshops designed to get them ready for the back-to-school season.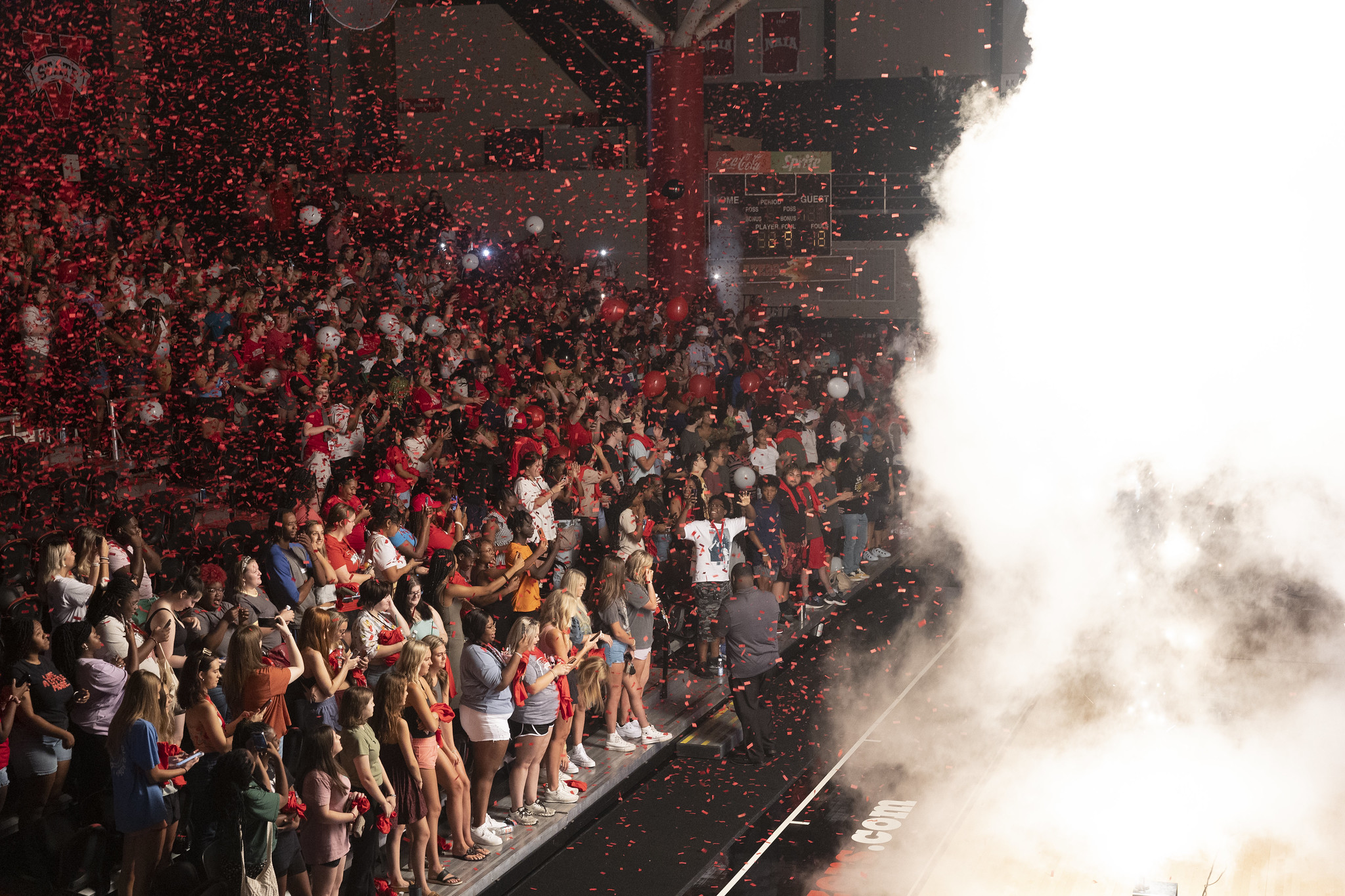 First-year Valdosta State University students gather in the P.E. Complex for a spirited welcome to Blazer Nation.
These are examples of Valdosta State University's latest ALL YOU branding, a concept that recognizes every student's unique higher education journey and celebrates the university's commitment to helping all Blazers transform their ideas and inspiration into a success story that is all their own.

VALDOSTA — Increased traffic around campus, full classrooms, and the traditional "Doughnut Day" — when President Richard A. Carvajal welcomes random students with free doughnuts on the first day of class — all mark the start of another academic year at Valdosta State University. This year, however, features something else — a renewed sense of optimism.
"After two years of lagging enrollments and budgetary challenge on the heels of the pandemic, there is no question that the hard work our faculty and staff have put in is paying off," Carvajal said.
During his recent faculty and staff opening convocation address, known on campus as BlazerCon, Carvajal detailed the challenges VSU has faced in recent years, while also sharing reasons for hope about the future.
Carvajal said VSU's summer term numbers exceeded all projections, fall semester's traditional undergraduate entering class is up more than 5 percent since this time last year, and Graduate School enrollment is up 18 percent. Meanwhile, the Online College for Career Advancement is up 76 percent, with enrollment in that program now topping 12,000 credit hours.
"Last year, we started a multi-year effort to ensure that our academic programs aligned with student and employer interest," he shared. "We also overhauled our advising initiative, launched a new national marketing campaign, and re-tooled everything we do in new student recruitment. We're most certainly not done, but those efforts are clearly paying off."
Adding to the excitement on campus are multiple facility enhancements. For instance, the university will soon break ground on its new, state-of-the-art, multi-million dollar Performing Arts Center in the former location of Ashley Cinemas. The highly anticipated project is expected to have a positive impact on community and economic development efforts across South Georgia and remains on track for a grand opening in 2025.
Carvajal acknowledged that the good news is a welcome change after the past two years. 
"Yes, it's been a struggle, and to be clear, the amount of change we are having to undertake is real and unprecedented in our lifetimes," he said, adding that "the reasons for that change are many."
Across the nation, funding for public higher education in the last quarter century has reduced significantly, and the number of students who started their college journey declined by 1.3 million during the first two years of the pandemic. Going forward, a nearly 30-year-long decline in birth rates in the United States is expected to result in smaller high school graduating classes during the next decade.
"In what has become an increasingly competitive environment, all of this hurt us," he said.  
Given these new realities, higher education experts now say that significant changes must be made to all colleges and universities in order for them to continue being successful. Leaders at VSU say this is the reason for the campus-wide, multi-year effort to re-tool the institution.   
"The successful university of the future will not be exactly like the ones previous generations grew up seeing in the movies or attending in person," said Dr. Vince Miller, vice president for Enrollment and Student Affairs. "VSU will continue to provide a world-class immersive experience for thousands of traditional undergraduates, but we'll also meet the needs of the quickly expanding group of online and adult learners."
VSU's Online College for Career Advancement was launched in 2021 for just that purpose.
"VSU spent two years exploring every facet of national competitors who tailor what they do to online adult learners and then used that information to create an affordable best-in-class option right here in South Georgia," Miller said.
The university has also invested this past year in its Graduate School, adding faculty and increasing the number of students accepted into highly competitive programs.
Those investments have made a difference.
University leaders noted that VSU's traditional programs have also gotten their share of attention.  
"Our traditional on-campus undergraduate programs will always be our bread and butter," Miller noted. "We've been reviewing academic programs and investing in Greek Life, student housing, and other aspects of student life to make VSU even more attractive to potential students."
While VSU leaders are proud of all that has been done to build momentum, they note that more improvements are coming. During his annual convocation address, Carvajal announced that VSU's Strategic Plan will be revised this fall to reflect the university's new "plan of attack" and "make clear the big things that will continue to change and how we specifically will change them."
"It is time to solidify a collective vision for where we are headed," Carvajal noted. He said this would include creating a clear description of what the successful VSU of 2030 will look like as well as a step-by-step plan for what still must be done to achieve that vision.
He closed his remarks by telling those in attendance that they have every reason to be optimistic about VSU's future.
"Our plan is working, and it's time to embrace the understanding that our willingness to do this hard work is exactly why we can believe with confidence that our future is bright."
New All Real Video: https://www.youtube.com/watch?v=aq5lSkJr948
Newsroom
Office of Communications Powell Hall West, Suite 1120
Mailing Address
1500 N. Patterson St.
Valdosta, GA 31698
General VSU Information
Office of Communications