May 9, 2023
23-59
Jessica Pope
Communications and Media Relations Coordinator
Teressa Akuoko Recognized During Academic Honors Program at VSU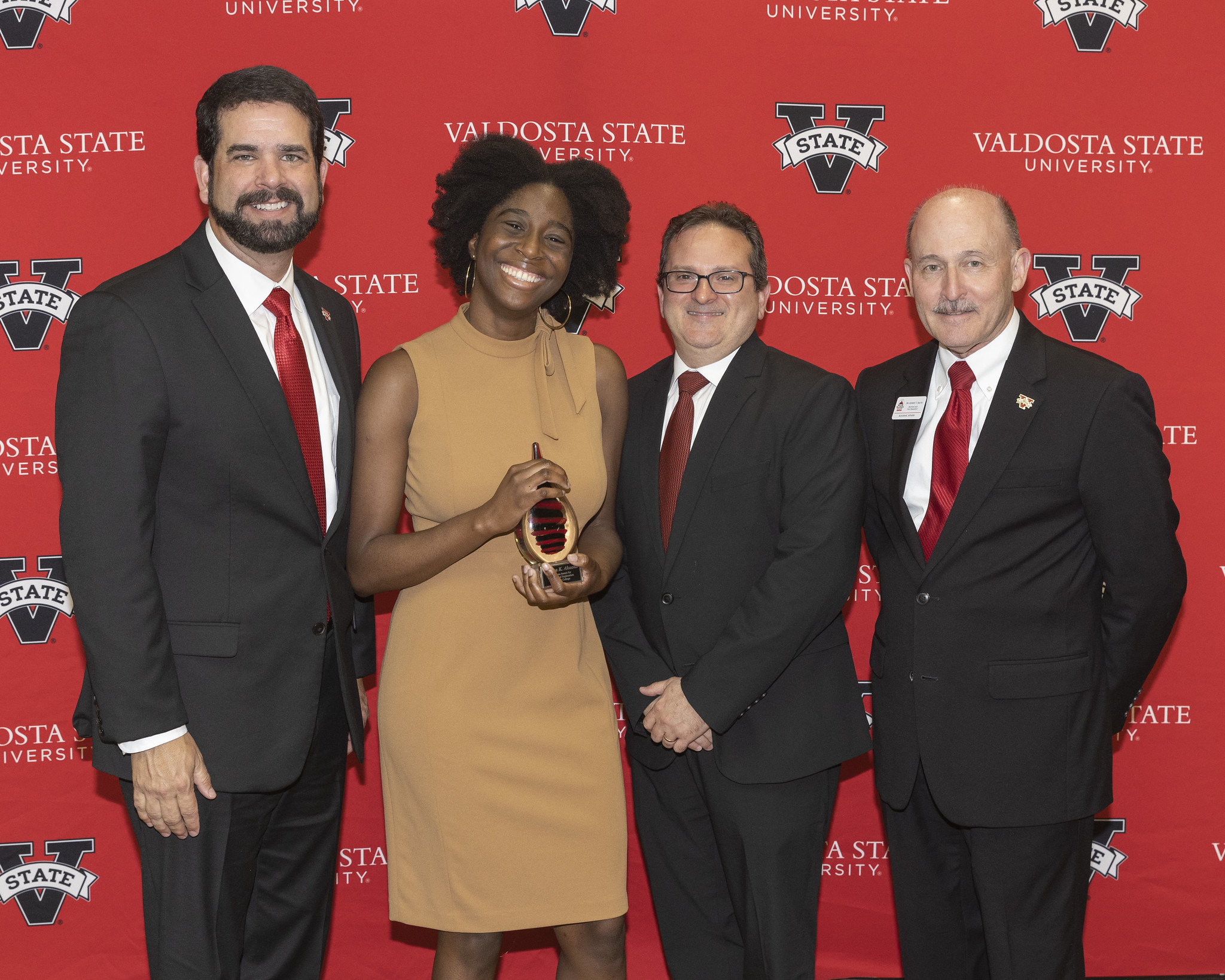 Teressa Akuoko of Valdosta, Georgia, is the recipient of the 2022-2023 Bartram Award for Intellectual Exploration at Valdosta State University. She 
anticipates graduating summa cum laude from VSU with a
Bachelor of Science in Biology, a Minor in Chemistry, and an Honors College Certificate in December; pursuing a career as a medical practitioner in the field of derm
atology, nephrology, or gynecology; and disseminating medical aid and knowledge to underserved communities. She is pictured with (from left to right) Dr. Richard A. Carvajal, president of VSU; Dr. Mike Savoie, dean of the Honors College; and Dr. Robert Smith, provost and vice president for Academic Affairs. 
VALDOSTA — Teressa Akuoko of Valdosta, Georgia, is the recipient of the 2022-2023 Bartram Award for Intellectual Exploration at Valdosta State University.
Akuoko was recognized during VSU's annual Academic Honors Program on April 27.
The Bartram Award for Intellectual Exploration is presented to an Honors College student who has demonstrated the skills of intellectual exploration, adventure, and competence. It was Akuoko's work in Dr. Ansul Lokdarshi's molecular biology lab on campus that earned her this prestigious recognition.
"Using the model plant species, Arabidopsis thaliana, I worked with Dr. Lokdarshi for a year and a half in the pursuit of uncovering the mysteries of the GCN2 protein kinase, a significant component of the stress response in plants, as well as in all other eukaryotes, including humans," she explained. "This work centered on how excess light stress, a condition that induces GCN2 activity, could be mitigated by pretreating plants with osmoprotectants such as stachydrine hydrochloride or particular amino acids. My primary contribution to the work was growing the plants, running the experiments, and quantifying the results of the experiments with immunoblotting under Dr. Lokdarshi's tutelage."
Akuoko's research was published in December 2022 in the journal "Plant Signaling and Behavior."
Akuoko anticipates graduating summa cum laude from VSU with a Bachelor of Science in Biology, a Minor in Chemistry, and an Honors College Certificate in December.
"I want to thank Dr. Mike Savoie, dean of the Honors College, and Hillary Perry, administrative assistant in the Honors College, for encouraging me and supporting me throughout my journey in Honors," she shared. "It means so much to me that they have selected me for this high honor and have believed in me since I first stepped into the Honors House. This award means that I can reach for my goals, no matter how daunting they may seem. This award means that I am worthy of my interest in medical research. Simply, this award means that I should set out to do what I have always wanted to — help change the world."
As a student at VSU, Akuoko founded and currently coordinates the Honors College Affinity Groups. She is also an active member of Student Members of the American Chemical Society, where she serves as outreach coordinator, and the Honors Student Association, where she has served as outreach coordinator, class representative, and first-year representative.
Akuoko worked in wet lab research on various molecular biology and plant genetics projects and presented original research at the 2022 VSU Undergraduate Research Symposium and 2022 Georgia Undergraduate Research Conference. She earned a Blazer Summer Research Institute grant to study "The Effects of Methyl Jasmonate (MeJA) on GCN2 Signaling in Arabidopsis Thaliana."
Outside the classroom and research lab, Akuoko volunteers with South Georgia Medical Center's Inpatient Rehabilitation Unit and serves the less fortunate through Living Bridges Ministry. She shares her love of science with area elementary school classes, organizes Christmas card-making events for area nursing homes, and continues a 14-year family legacy of providing hygiene products, school supplies, and more to various area nonprofits through Foresters Financial.
Akuoko's commitment to academic, leadership, research, and service excellence resulted in her earning repeated Dean's List recognitions, as well as the Odum Scholarship, David and Cecelia Ratcliffe Scholarship, Martha H. Barnes Scholarship, VSU Foundation Scholarship, Colquitt EMC Scholarship, Delta Sigma Theta Valdosta Alumnae Chapter Scholarship, ERCO Worldwide Scholarship, Nutrien Scholarship, Valdosta Alumni Chapter of Kappa Alpha Psi Fraternity Scholarship, and Zeta Phi Beta Sorority Scholarship. She is a Zell Miller Scholar and Honors Scholar.
"I plan to become a medical practitioner in the field of dermatology, nephrology, or gynecology," she noted. "My ultimate pursuit is to establish or consistently participate in a nonprofit organization purposed for disseminating medical aid and knowledge to underserved communities."
Akuoko was born in Tema, Ghana. Her supportive family includes mother Janet Akuoko, father Kenneth Akuoko, brother Daniel Akuoko, and sister Joanne Akuoko.
On the Web:
https://www.valdosta.edu/colleges/honors/
https://www.valdosta.edu/csm/
Newsroom
Office of Communications Powell Hall West, Suite 1120
Mailing Address
1500 N. Patterson St.
Valdosta, GA 31698
General VSU Information
Office of Communications