April 27, 2023
23-51
Jessica Pope
Communications and Media Relations Coordinator
Westside Wish Inspires Mural Painting Class at VSU
Valdosta State University student- and faculty-artists created a mural at Westside Elementary School this spring.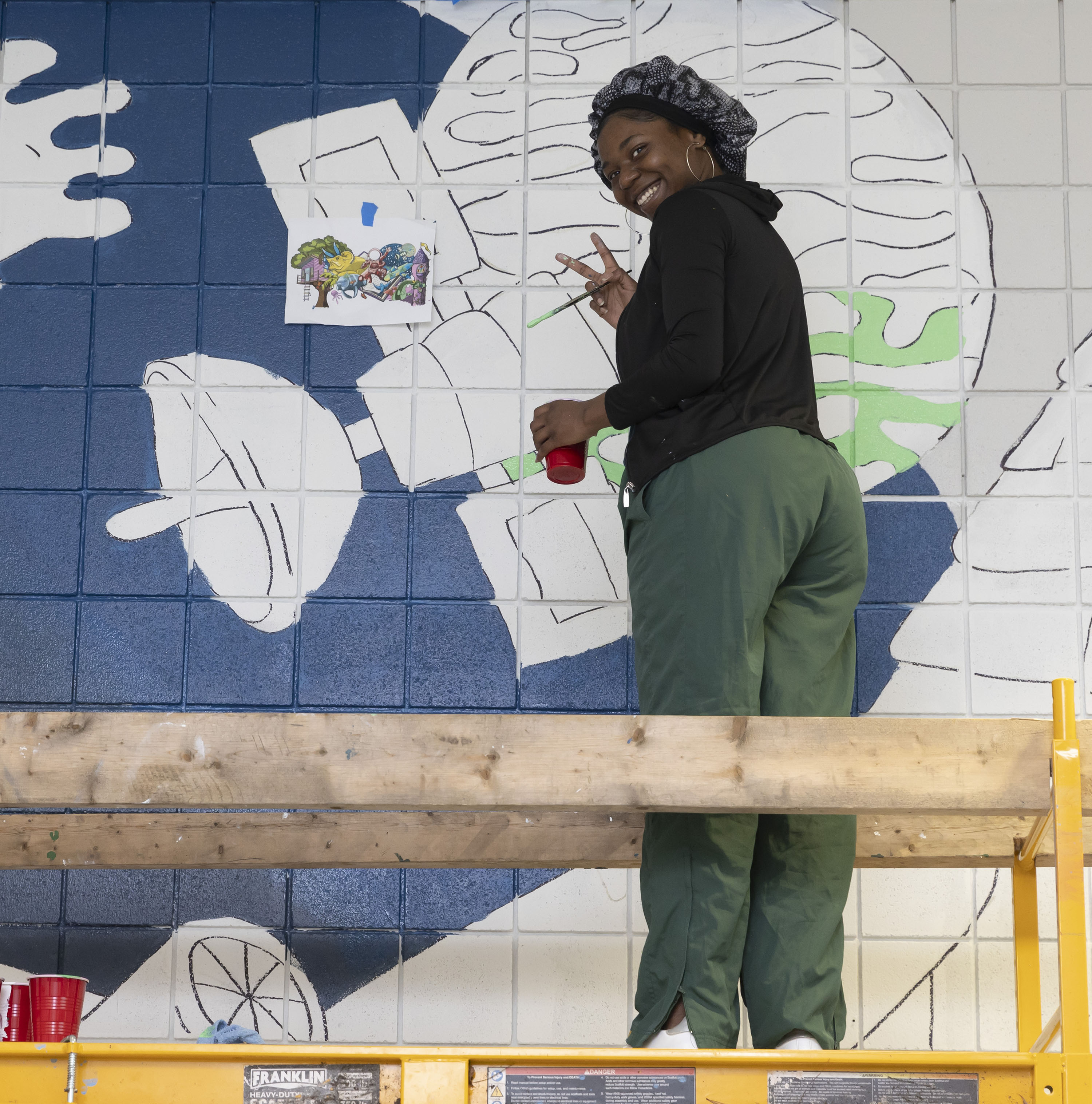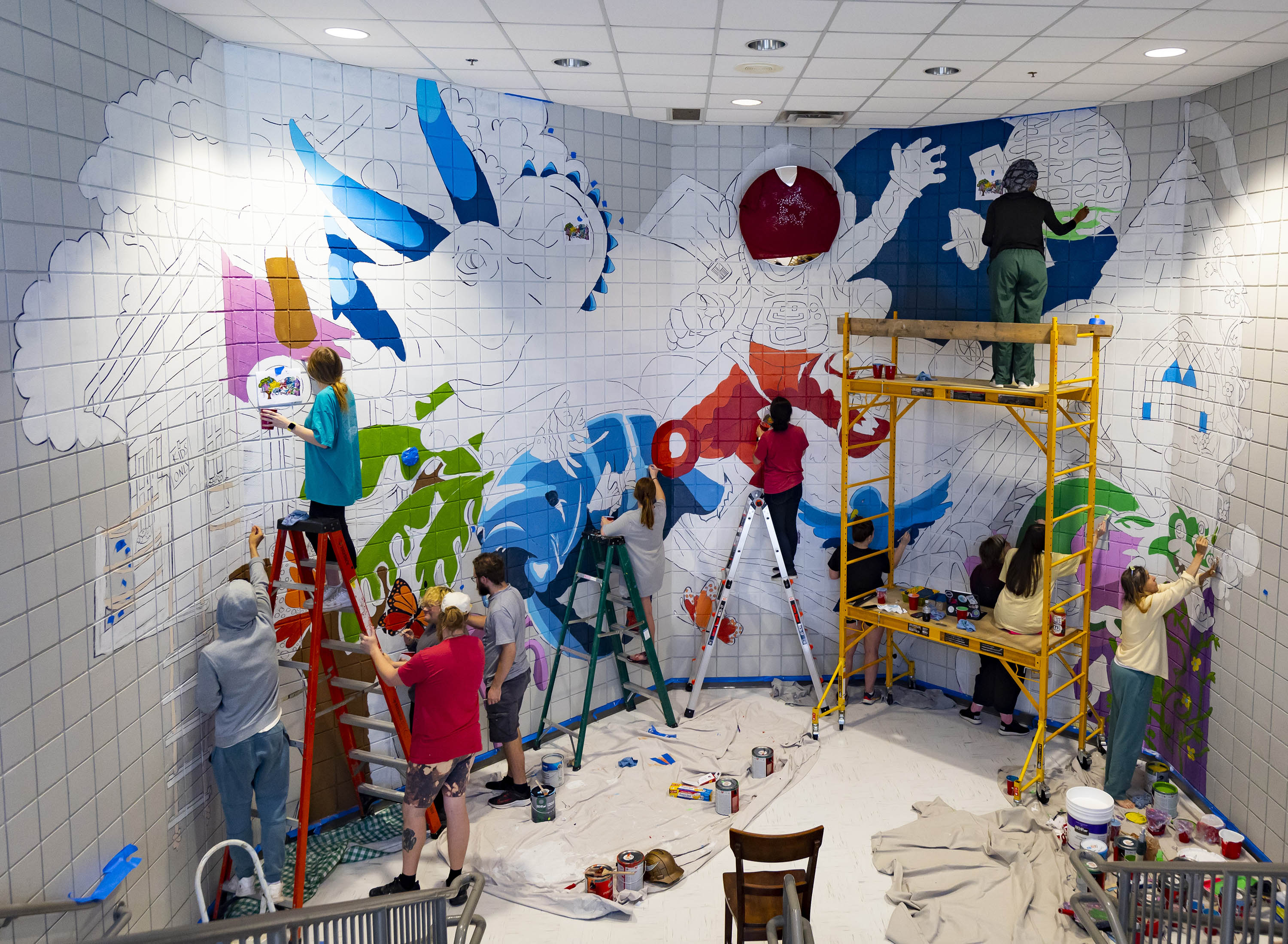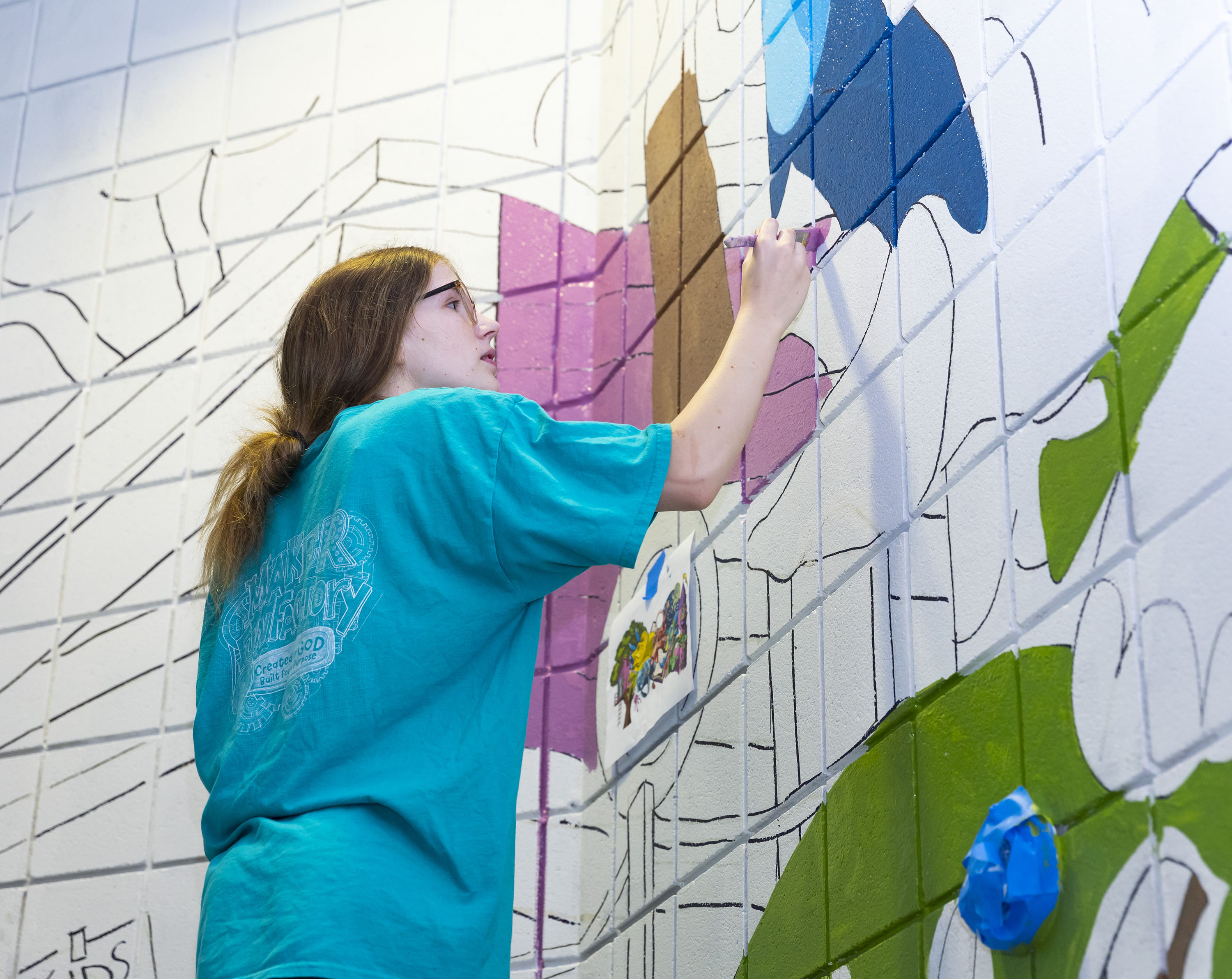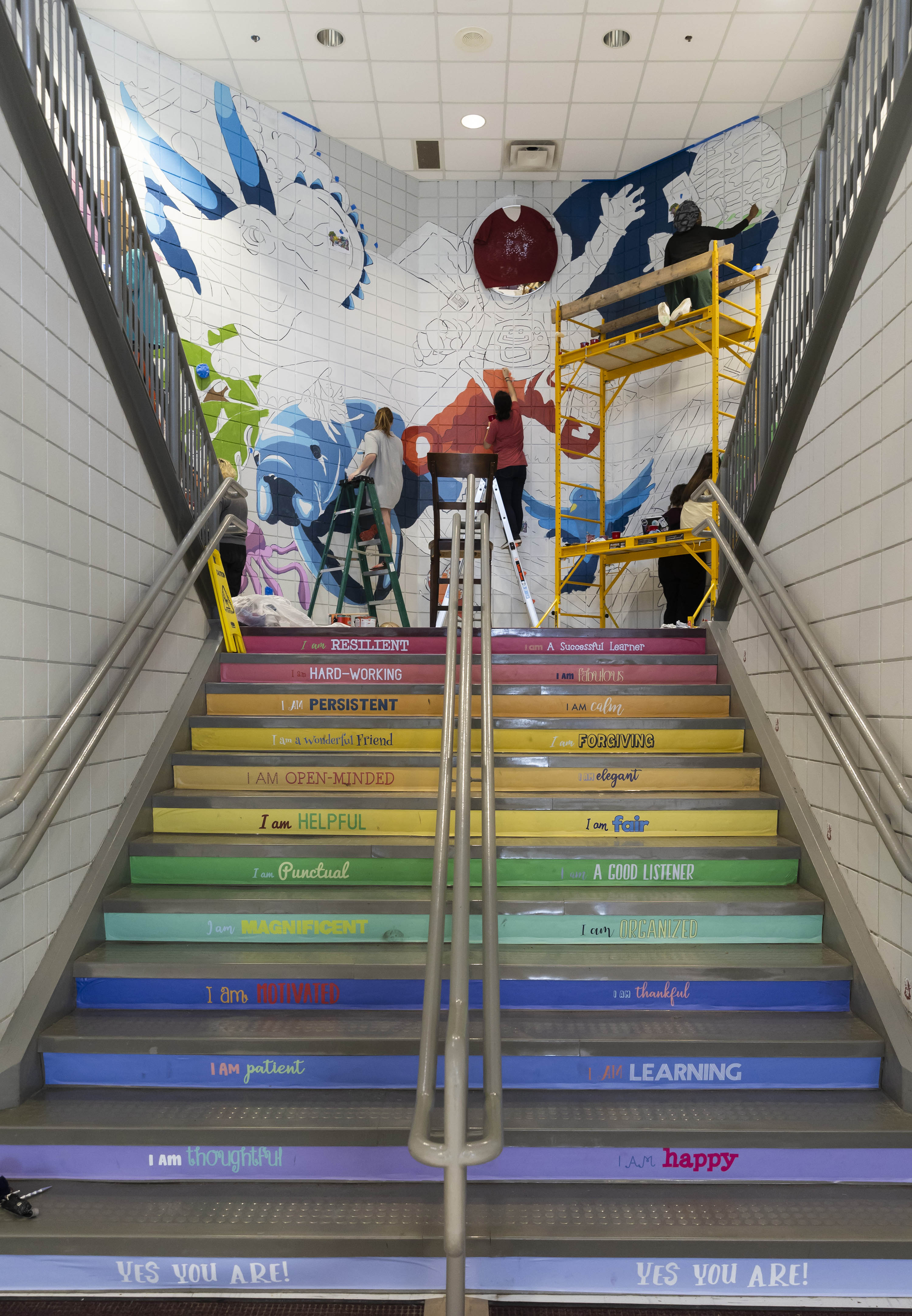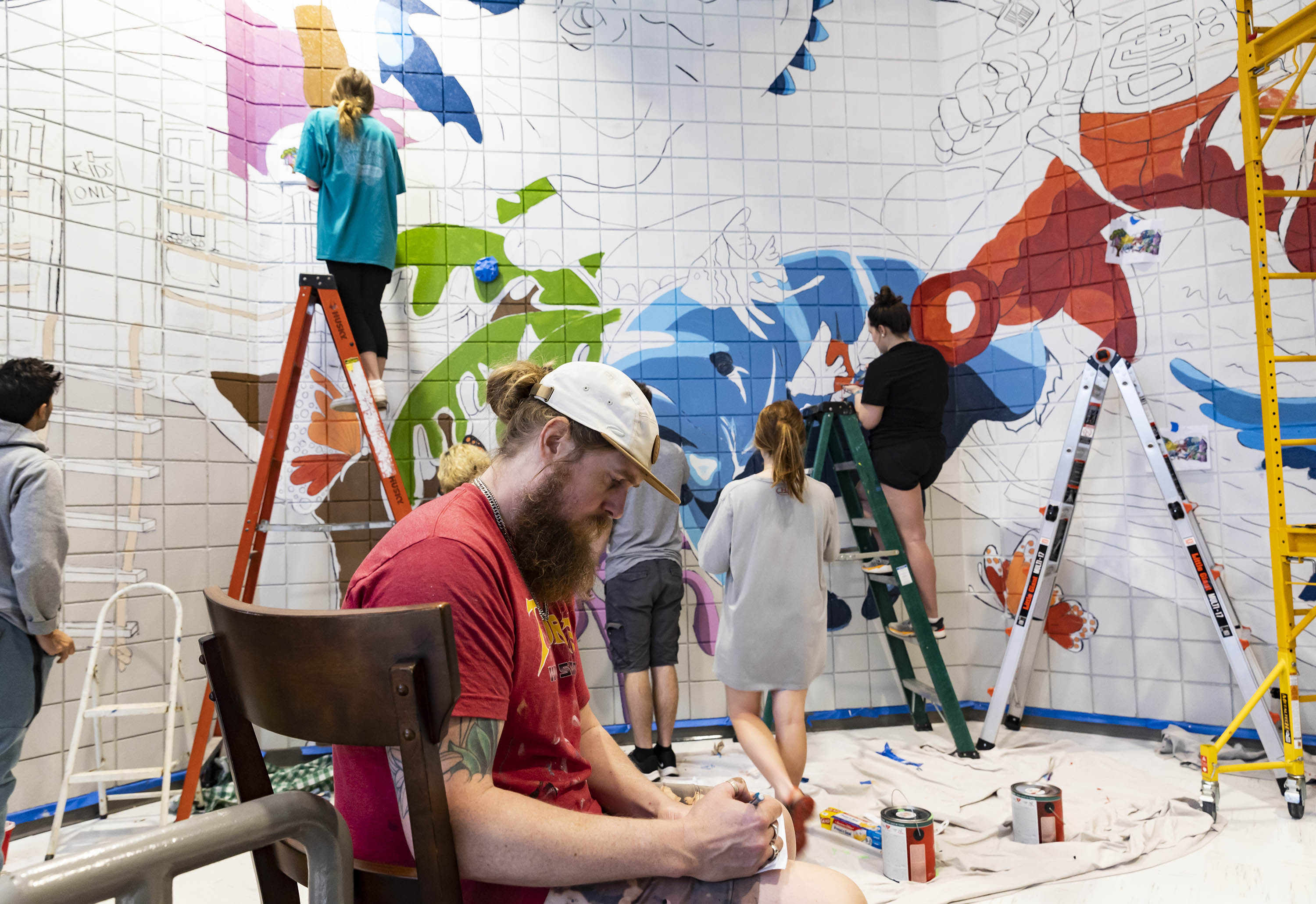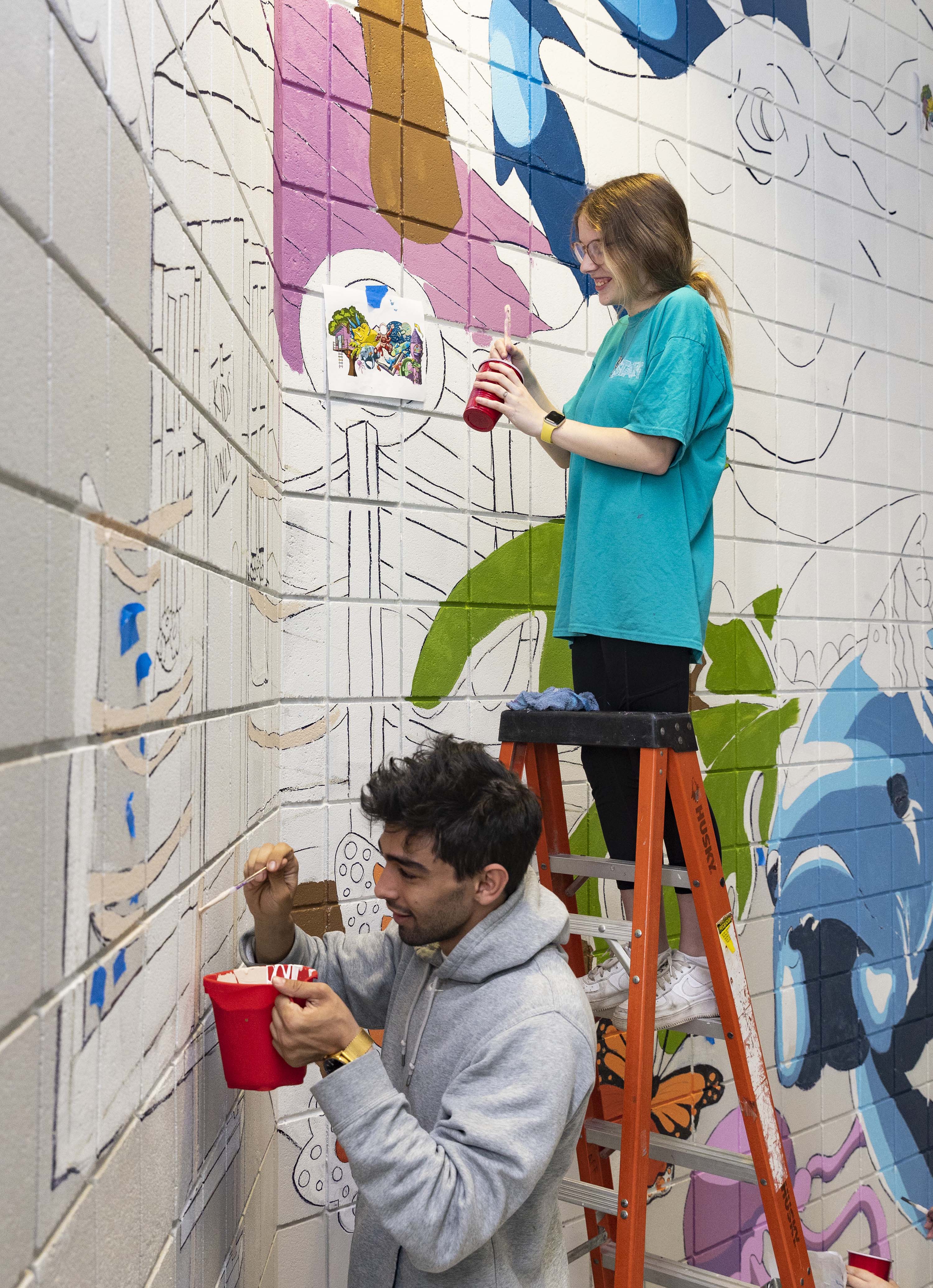 VALDOSTA — A local elementary school's wish for a bold, colorful, and inspirational message led to the creation of an innovative new class at Valdosta State University this spring.
Last year Beth Lind, principal of Westside Elementary School, issued a call for an artist to develop a mural that would foster creativity and imagination, enhance the prekindergarten through fifth grade learning environment, and offer her students and staff a bit of encouragement.
When Evelyn Davis-Walker, an associate professor of graphic design, type, illustration, and web in VSU's Department of Art and Design, learned about the proposed project, she reached out to her colleague, Taylor Shaw, a highly sought-after muralist.   
"Instead of asking me to paint it as a professional muralist, Evelyn came up with the idea to turn the mural project into a class," noted Shaw, who teaches two-dimensional design, three-dimensional design, stimulating creative behavior, senior presentation, and senior exhibition courses at VSU. "I've been wanting to teach a mural class since I arrived at Valdosta State three years ago."
Shaw said Monika Meler, head of VSU's Department of Art and Design and a strong advocate for public art, pushed the class request through the approval process.
Craig Hawkins, a drawing and painting professor in VSU's Department of Art and Design, joined Davis-Walker and Shaw. Together the trio created the curriculum for the university's new Mural Painting class.  
Fourteen students signed up.
"We structured the Mural Painting class into three different sections — business, design, and implementation," Shaw explained. "Business covered everything from open calls for murals and how to apply to budget structures, contracts, and public relations. Design covered history of murals and public art, contemporary practices and artists, and technology, specifically designing in Procreate, which is a digital design tool. Implementation was the actual prepping, painting, and cleanup of our mural site."
Led by Shaw, Davis-Walker, and Hawkins, the VSU student-artists created the mural while the Westside Elementary School students were on Spring Break. Meler and Abigail Heuss, a VSU associate professor of jewelry and metalsmithing, joined the painting effort.
"The inspiration for the final design came from a lot of sources," Shaw shared. "We looked at murals from other elementary schools and children's books. We tried to inhabit our elementary-aged selves and think about what we remember about that age — astronauts, space, treehouses, dinosaurs, dragons, castles, and insects bursting their way out of a book. We also wanted it to be as colorful as possible."
Shaw said the Mural Art class challenged students to do things they have never been asked to do before. Throughout the semester-long experiential learning process, it also introduced them to the business side of life as a working artist.   
"I wanted to provide them with the opportunity to see what it's like to be a working artist and what goes into that process, from top to bottom," he explained. "Sometimes the nut and bolts of being a working artist aren't clearly outlined in classes, so that became a goal for this course."
Olivia Parsons, a VSU student from Weddington, North Carolina, described the Mural Painting class as a life-changing experience, one that will continue to impact her long after she graduates with a Bachelor of Arts in Art in early May.  
"Working with this group of artists gave me the opportunity to hear different perspectives and ideas in how we should approach the mural," she shared. "This helped me be more open-minded and creative. When we got to work, I was inspired by how our design translated. People worked without fear of challenges and just went for it, and as a result we got an awesome piece that was better than I could've imagined. This inspired me to think outside the box and just go for it."
Meler said she is extremely proud of this team of Department of Art and Design student- and faculty-artists.  
"Mural painting has experienced a renaissance across the United States over the last decade," she shared. "It has helped build communities from an economic standpoint and has given citizens a voice and say in place making. The fact that this class created this mural in 10 days is astonishing. They worked around the clock to bring the students at Westside an image of imagination, education, and the joy of learning."  
From the Westside Elementary School perspective, Lind said she and her team are honored to have been part of this transformative initiative.
"The mural at Westside can be a powerful tool for inspiring creativity, imagination, exploration, diversity, and beauty in those who view it," she shared. "We feel that the mural captures so much. It is awe-inspiring, and we love the way it brightens up the space and brings joy to those who see it."
On the Web:
https://www.valdosta.edu/colleges/arts/art/
Newsroom
Office of Communications Powell Hall West, Suite 1120
Mailing Address
1500 N. Patterson St.
Valdosta, GA 31698
General VSU Information
Office of Communications