February 22, 2023
23-19
Jessica Pope
Communications and Media Relations Coordinator
A Conversation With Emily Sanchez: VSU Student, Filmmaker Introduces "CAMP: A Field of Opportunities" to South Georgia Film Festival Audiences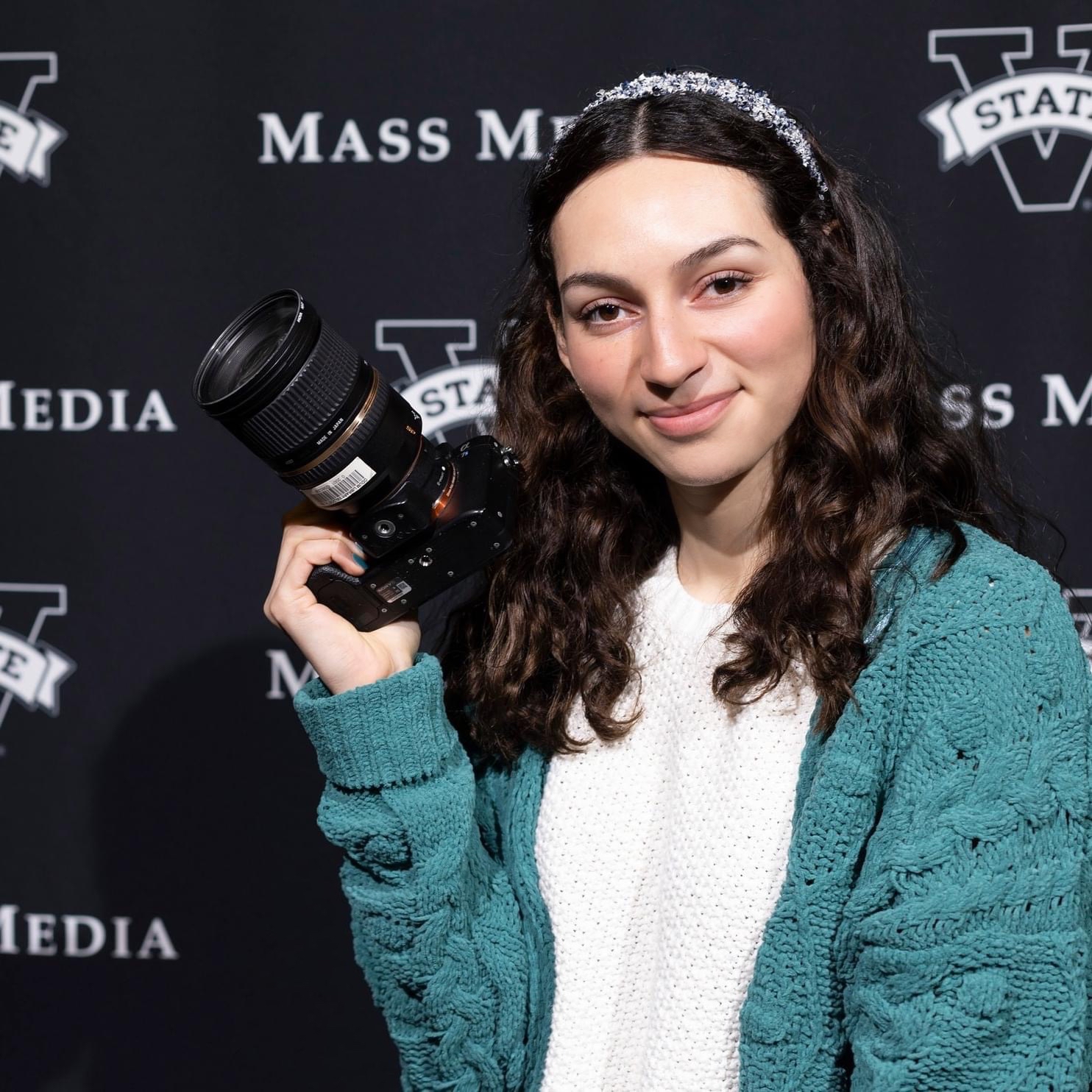 Emily Sanchez's "CAMP: A Field of Opportunities" is one of 95 films that will be screened during the seventh annual South Georgia Film Festival March 3-5 at Valdosta State University. A first-generation college student, she plans to graduate from VSU in May with a Bachelor of Fine Arts in Mass Media and a Minor in Sociology. She says the most exciting part about the South Georgia Film Festival is "being able to be surrounded by other amazing filmmakers and having a larger audience watch my documentary."
VALDOSTA — Emily Sanchez's "CAMP: A Field of Opportunities" is one of 95 films that will be screened during the seventh annual South Georgia Film Festival March 3-5 at Valdosta State University.
A first-generation college student, Sanchez plans to graduate from VSU in May with a Bachelor of Fine Arts in Mass Media and a Minor in Sociology. She says the most exciting part about the South Georgia Film Festival is "being able to be surrounded by other amazing filmmakers and having a larger audience watch my documentary."
The South Georgia Film Festival celebrates the art and industry of film, particularly those films that showcase the beauty of South Georgia and its people. Preference is given to filmmakers from Georgia, Florida, Alabama, Tennessee, and South Carolina, but the festival also includes films from across the United States and around the world. Selected films represent a variety of categories, including shorts, features, family friendly, high school student made, and college student produced. Visit http://southgeorgiafilm.com/ to purchase passes and view the full schedule of special events, screenings, and panel discussions.
VSU: What are your career plans after graduation?
EMILY SANCHEZ: After graduation my career plans are to work in television production or work in social media managing. I love creating and capturing moments, whether it's through video or pictures.
VSU: Tell us about your film.
EMILY SANCHEZ: My work is a 14-minute documentary that gives insight on VSU's College Assistance Migrant Program (CAMP) with the help of Rosalyn Martinez, CAMP director, and Oscar Sanchez, nursing student and CAMP alumnus. They share how CAMP opens a field of opportunities to migrant and seasonal farmworker children by helping them reach their dreams of continuing higher education and obtaining a college degree.
VSU: What inspired you to make this film?
EMILY SANCHEZ: Both of my parents are migrant farmworkers. Attending college was sort of unrealistic for me due to tuition costs. As a first-generation college student, I got to experience firsthand how difficult it was going through the process of applying to universities, filling out the Free Application for Federal Student Aid (FAFSA) forms, and registering for exams to get into college — without having any prior knowledge of how or where to even start in the process. Having found CAMP, they made the process so much easier, gave me advice on what to look for when applying to colleges, and gave me the opportunity to attend college myself at the beautiful Valdosta State University. I was inspired after being given the opportunity and reflecting on how much it impacted me. I wanted to both represent the Hispanic community as well as shed light on an amazing program that has not only given me the opportunity to continue higher education, but also other migrant children.
VSU: Where was "CAMP: A Field of Opportunities" filmed?
EMILY SANCHEZ: The interviews and most of the student b-roll were shot in Valdosta, Georgia. Many of the agricultural fields that are shown in the documentary were shot in Enigma, Georgia, and Palm City, Florida, where my father currently works in farm work.
VSU: What are some highlights of this filmmaking experience?
EMILY SANCHEZ: Some highlights from this filmmaking experience have been the new friendships I have acquired, as well as the people I have networked with. I was a part of the 2018 CAMP cohort, and while filming this documentary I have been introduced and became close with the 2022 CAMP cohort. I have been able to be used as a mentor to this year's scholarship cohort. I have acquired new friendships from this group and have been able to make new connections, with the help of Rosalyn Martinez, CAMP director, that will help me grow in my media profession.
VSU: What challenges did you have to overcome?
EMILY SANCHEZ: One of the challenges I had to overcome was finding an interviewee(s) that felt comfortable enough to share their story of coming from a migrant background, working in agricultural hard labor, and basically breaking generational boxes. Thankfully Oscar was willing to tell his story to help others who may be going through the same obstacles and help educate on the programs that are available to allow others to achieve their goals.
VSU: What advice do you have for other emerging filmmakers?
EMILY SANCHEZ: A piece of advice for other filmmakers would be to build your network. Meet people that share the same passion for the things you want to create and build your support group, and when you have that support, network with those who have already succeeded. Those people will greatly impact you and become mentors for you. As Tony Robbins once said, "Success leaves clues."
VSU: What's next for you?
EMILY SANCHEZ: Graduation! And beginning pre-production for another documentary! I will be focusing on the Hispanic community (migrant farmworkers specifically) and their impact on the community, as well as the obstacles they face migrating to a new country, and shedding light on the physical and mental stresses that these workers put on themselves to make ends meet working in hard labor, as well as the hardships they go through with United States law.
VSU: How do you hope "CAMP: A Field of Opportunities" impacts audiences?
EMILY SANCHEZ: I hope this documentary reaches any family or individual, whether they come from a migrant background or not, and gives them hope and motivation to continue higher education, despite costs, support, or transportation. I hope this film gives others useful information on who they can contact to get to the goals and dreams they have.
Sanchez calls Palm City, Florida, home. She says she is fortunate to have a strong support system that includes her parents, Maritza and Rafael, and her three siblings, Cecilia, Angely, and Rafael Jr. They supported her decision to move out of state and pursue a college degree. She says her boyfriend, Oscar Sanchez, helped her realize her dream of making a documentary by "sharing the same passion for representing the Hispanic community, allowing me to tell his experience and story in the documentary, being my No. 1 fan throughout the entire process, giving me feedback, and making sure I was getting sleep."
Newsroom
Office of Communications Powell Hall West, Suite 1120
Mailing Address
1500 N. Patterson St.
Valdosta, GA 31698
General VSU Information
Office of Communications