January 12, 2023
23-4
Jessica Pope
Communications and Media Relations Coordinator
VSU Receives Federal Funding to Expand Rural Teacher Pipeline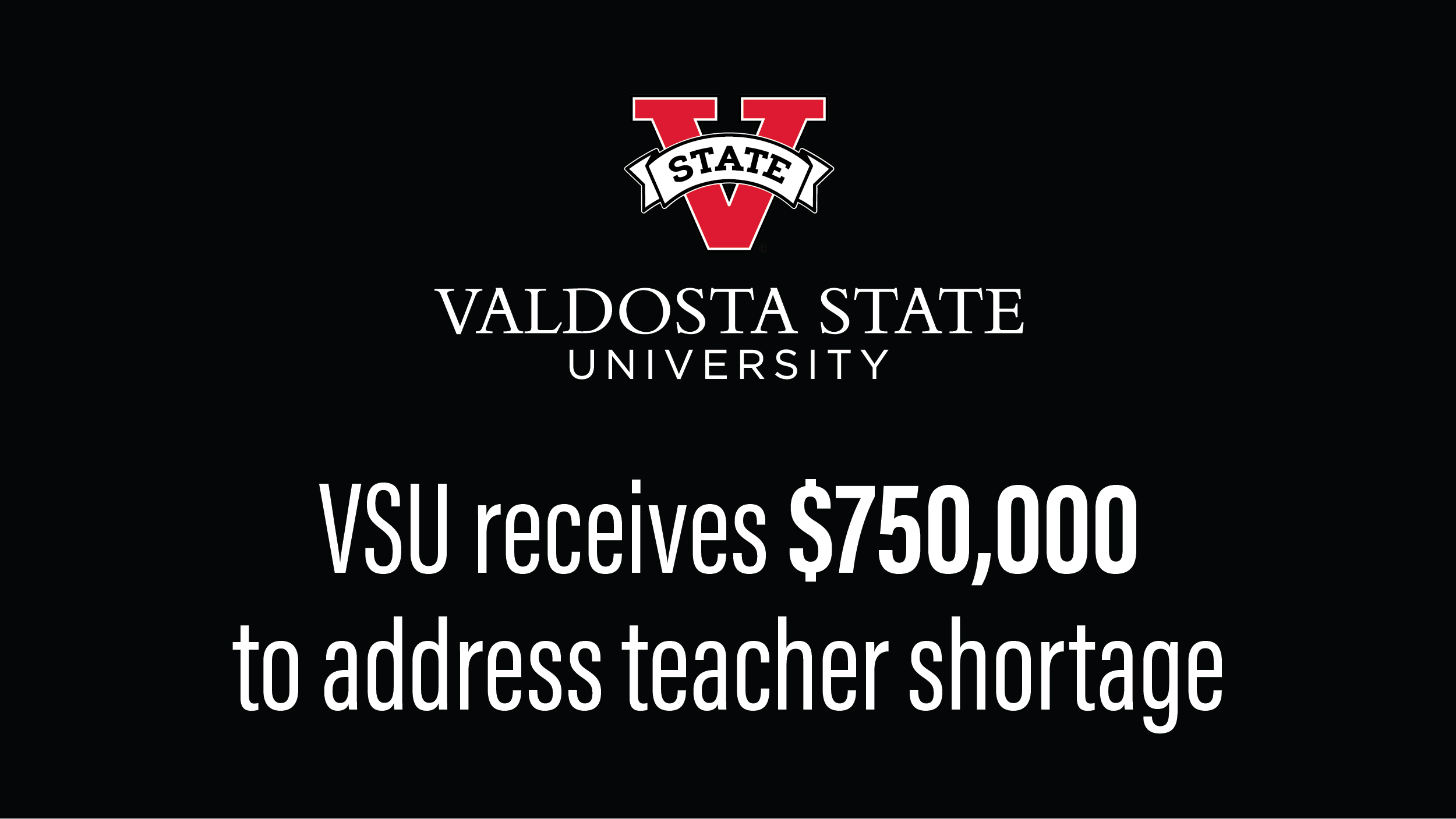 VALDOSTA — Valdosta State University has received $750,000 in federal funding to help address the need for more teachers across South Georgia, where classrooms are overcrowded and school districts struggle to recruit certified professionals ready to develop and inspire young learners.
 
VSU plans to use the funds to expand its rural teacher pipeline by providing scholarship and other support to paraprofessionals who wish to earn a Bachelor of Science in Education in Elementary Education through the university's Online College for Career Advancement. Participating paraprofessional educators will be able to continue serving as vital members of their school's support staff while earning their professional teaching credentials.
 
"Schools and students need quality teachers now more than ever, and this program focusing on helping paraprofessionals — who already have substantial prior experience in classrooms — earn their teaching credentials makes sense," said Dr. David Slykhuis, dean of the James L. and Dorothy H. Dewar College of Education and Human Services. "Through our online elementary education degree program and with this additional financial support, we know we can help fill the teacher shortage in our PreK-5 schools.
"VSU opened in 1913 as a two-year teacher preparation institution. More than 100 years later, we continue to be proud to prepare new generations of graduates ready to change lives in schools and classrooms across our region and beyond." 
 
VSU is the only public institution of higher education in Georgia that offers an online Bachelor of Science in Education in Elementary Education. Enrollment in this program has increased nearly 323 percent in one year, from 35 students in Fall 2021 to 148 students in Fall 2022. Classes are taught by VSU's world-class faculty, who are accessible, responsive, and committed to creating a rewarding academic experience for all students.
 
United States Representative Buddy Carter of Georgia's 1st District requested and secured this funding in the House version of a nearly $1.7 trillion Fiscal Year 2023 Omnibus Appropriations Bill signed by President Joe Biden just before the New Year. U.S. Senators Jon Ossoff and Raphael Warnock of Georgia supported VSU's request for this funding in the Senate.
 
"I am exceptionally excited to see the expansion of VSU's online elementary education degree program," Carter noted. "It is crucial that all youth have access to a high-quality education no matter where they live, from Atlanta to rural Georgia and beyond. This is an excellent program that will empower a new generation of students and teachers. I am glad that both VSU and Congress see the value in this investment." 
 
"As a product of smart federal policies and a quality education, I understand the importance of making sure the best and the brightest are teaching Georgia students in the classroom," said Reverend Warnock. "I was proud to partner with Valdosta State University to secure federal scholarship funding to train more elementary school teachers to teach in rural areas. I applaud VSU's innovative degree program that makes a fulfilling teaching degree accessible for all Georgians who seek this important career."
 
"We are expanding Valdosta State University's teacher education and training program so every child in Georgia gets the attention and skill they deserve — and that parents expect," Ossoff shared.
 
According to the National Council of State Legislatures, 8.9 million American school children attend rural schools. One in four schools in America is considered rural.
 
"VSU is incredibly thankful that our lawmakers in Washington, D.C., recognize the work we are doing to address the teacher shortage," said Dr. Richard A. Carvajal, university president. "As South Georgia's flagship institution of higher education, our mission to support and advance this region we call home is something we take very seriously."
 
VSU's rural teacher pipeline initiative primarily targets paraprofessional educators working in rural communities across the university's 41-county service area — Appling, Atkinson, Bacon, Baker, Ben Hill, Berrien, Brantley, Brooks, Calhoun, Camden, Charlton, Clay, Clinch, Coffee, Colquitt, Cook, Crisp, Decatur, Dougherty, Early, Echols, Grady, Irwin, Jeff Davis, Lanier, Lee, Lowndes, Miller, Mitchell, Pierce, Quitman, Randolph, Seminole, Telfair, Terrell, Thomas, Tift, Turner, Ware, Wilcox, and Worth. 
 
On the Web:
https://www.valdosta.edu/colleges/career-advancement/
https://www.valdosta.edu/colleges/education/


Newsroom
Office of Communications Powell Hall West, Suite 1120
Mailing Address
1500 N. Patterson St.
Valdosta, GA 31698
General VSU Information
Office of Communications