September 1, 2022
22-123
Jessica Pope
Communications and Media Relations Coordinator
Jamie Collins Says Scholarship Gives Her Freedom to Pursue Her Goals at VSU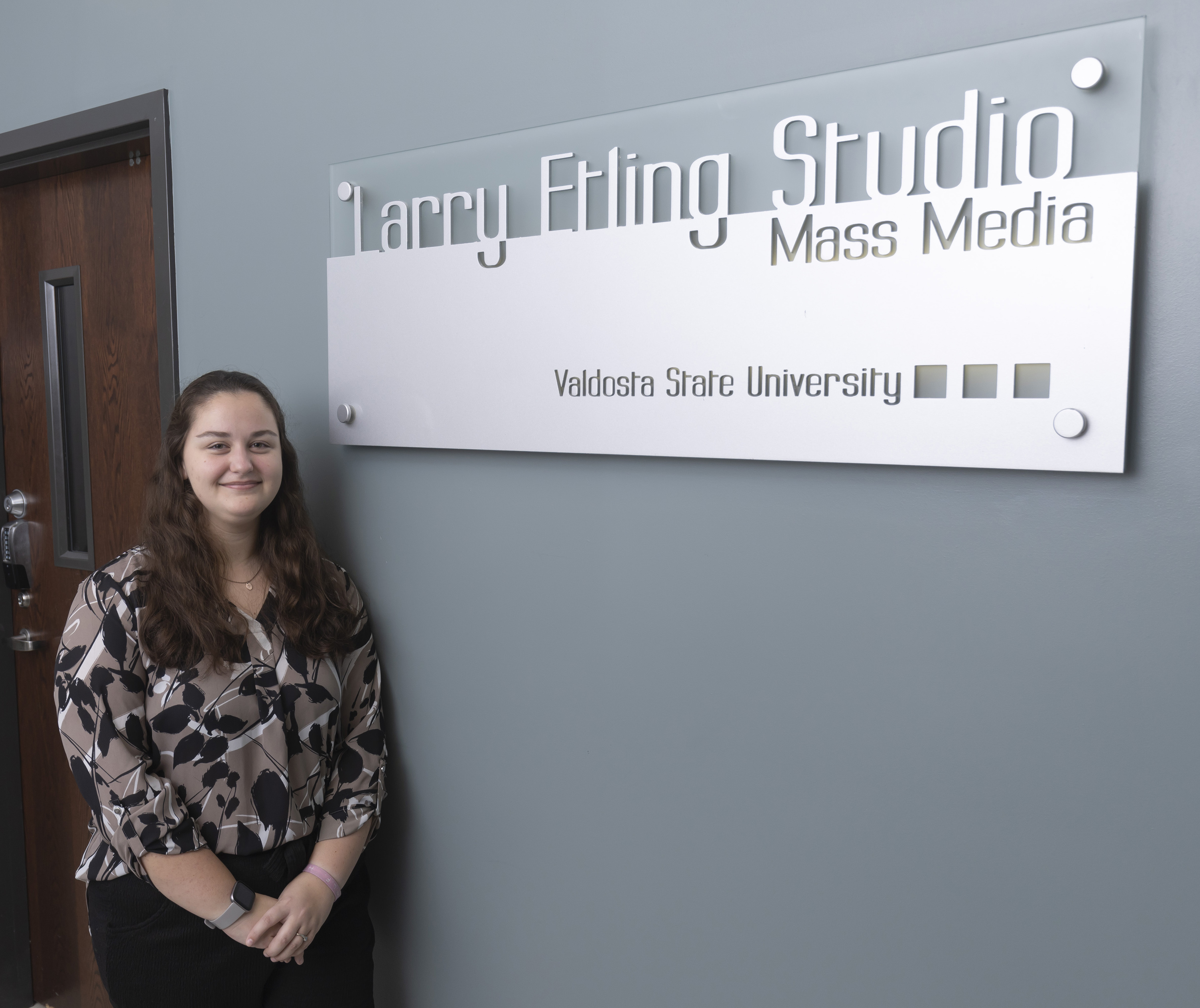 Jamie Collins of Columbia, South Carolina, has earned the Dr. Larry Etling Scholarship at Valdosta State University. She anticipates earning a Bachelor of Fine Arts in Mass Media in May 2023 and pursuing a career in video production.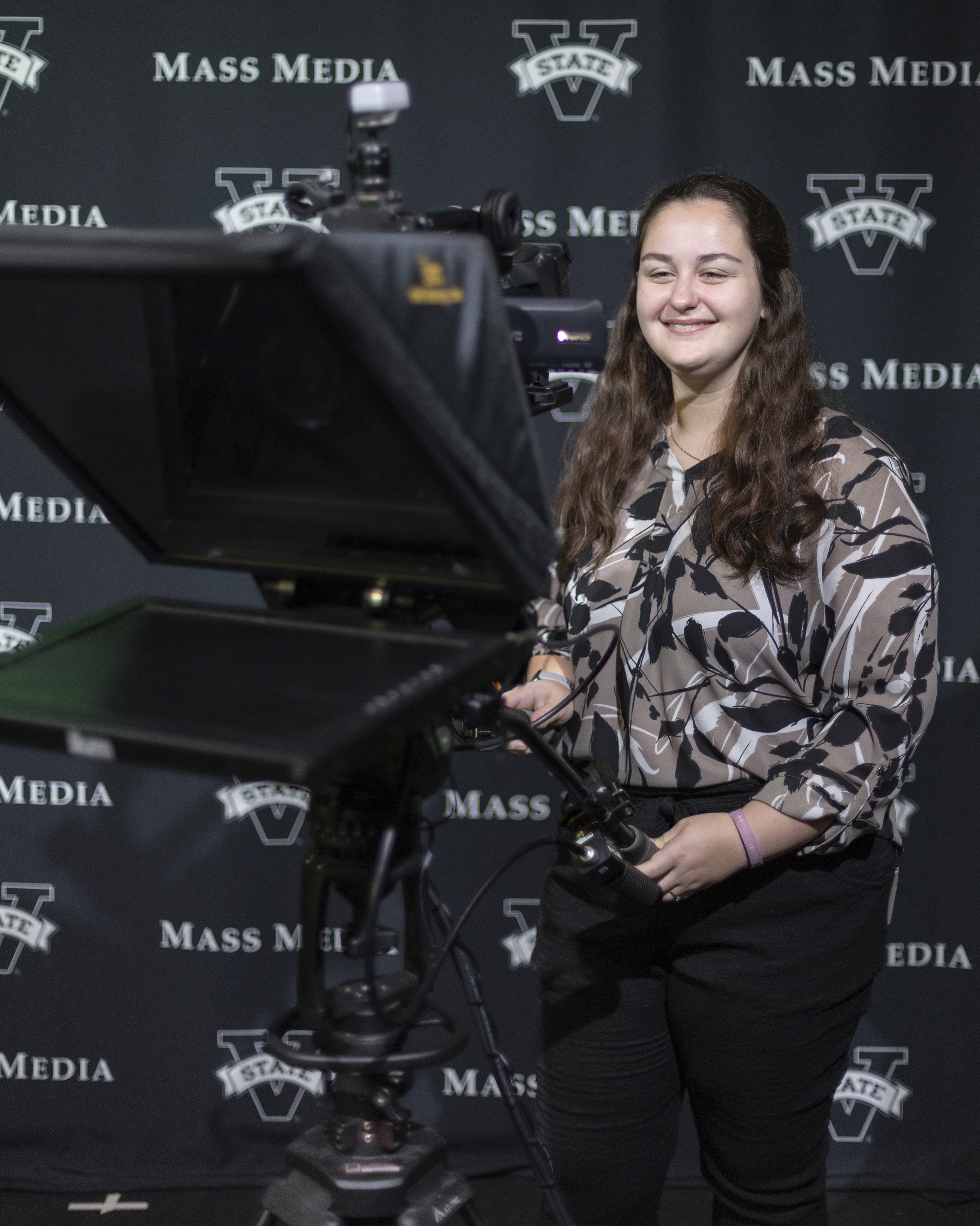 VALDOSTA — Jamie Collins of Columbia, South Carolina, has earned the Dr. Larry Etling Scholarship at Valdosta State University.
The Dr. Larry Etling Scholarship honors the legacy of Dr. Laurence "Larry" Etling, a former mass media professor who died in March 2015 after more than 15 years of service to VSU. Etling was popular with students interested in studying radio and television announcing and audio production, and the university honored his legacy by naming the Larry Etling Studio in his memory a year after his death. In 2011 he published "Radio in the Movies: A History and Filmography, 1926-2010," a richly detailed examination of how radio stations and air personalities have been depicted in motion pictures.
Collins is the sixth recipient of the scholarship, which was started during the 2016-2017 academic year.
"The Dr. Larry Etling Scholarship allows me to focus solely on my studies and not have outside concerns about tuition or books," she shared. "I have learned about Dr. Etling, his excellent teaching style, and his outstanding legacy, and I truly wish I had the opportunity to have him as a professor. I can definitely see the footprint he has made on the Mass Media Program at VSU."
Collins anticipates graduating from VSU with a Bachelor of Fine Arts in Mass Media in May 2023. Her dream is to work in video production. She also has an interest in theatre production.
Collins earned her first video production accolades as a freshman at VSU. During her first semester she served as assistant director for "Payton's Place," which won the Fall 2019 Film and Video Society Student Showcase. The following semester she was asked to assist on another video project titled "Defiance."
She used her talents to help a friend film and edit research for VSU's Undergraduate Research Symposium Three-Minute Video Competition; the project won first place. Her "Footprints in Farming" documentary was featured in the 2022 South Georgia Film Festival. She was part of a team of students who created educational videos for the Grand Bay Wetland Education Center, and one of those videos won the Spring 2022 Film and Video Society Student Showcase.
When the global health crisis known as COVID-19 prevented live audiences from enjoying VSU Theatre and Dance productions, Collins volunteered to film "The Curious Incident of the Dog in the Nighttime" and "Guys and Dolls" for streaming to audiences at home. She has worked with the City of Valdosta's City Focus project and helped coordinate streaming opportunities for the annual Greater Valdosta Community Christmas Parade.  
"I had an amazing internship with NASA at Johnson Space Center in Houston, Texas, this summer," she added. "I had the opportunity to film and edit training videos for the employees and produce a hype video for the flight operations directorate. The internship provided me with lots of new knowledge and experiences in my field of study."
Collins is a member of the Society for Collegiate Journalists, the nation's oldest honor society for student media leaders. She has worked with the South Georgia Film Festival and served others as a member of the Wesley Foundation, a campus ministry. She runs social media for Raisin' Cane, a farm market and lunch café in Valdosta. As an on-campus student employee she works as a computer lab monitor for the Division of Information Technology.
"I would like to take this chance to thank the VSU Mass Media Program for all the opportunities they develop for students to gain hands-on experience," she said. "The professors care about the students and are willing to teach and help us grow, and that makes VSU one of the best universities around."
Her supportive family includes dad Bill Collins, mom Jill Collins, sister Casey Collins, grandmothers Grace Stewart and Vera Collins, and grandfathers C.C. Stewart (deceased) and the Rev. W.L. Collins (deceased). She said she would not be where she is today without the love and guidance of her family and friends.
The Dr. Larry Etling Scholarship supports high quality students as they pursue their careers in mass media and encourages students to act as advocates for their discipline. The scholarship was endowed from a gift Etling made to the university upon his passing. Students who are interested in learning more should contact Jason Brown, associate professor in VSU's Mass Media Program, at (229) 219-1298 or jasonebrown@valdosta.edu.
On the Web:
https://www.valdosta.edu/colleges/arts/communication-arts/
Newsroom
Office of Communications Powell Hall West, Suite 1120
Mailing Address
1500 N. Patterson St.
Valdosta, GA 31698
General VSU Information
Office of Communications