August 26, 2022
22-120
Jessica Pope
Communications and Media Relations Coordinator
VSU Professor Discovers Creative Classroom Strategies Through Teaching Fellowship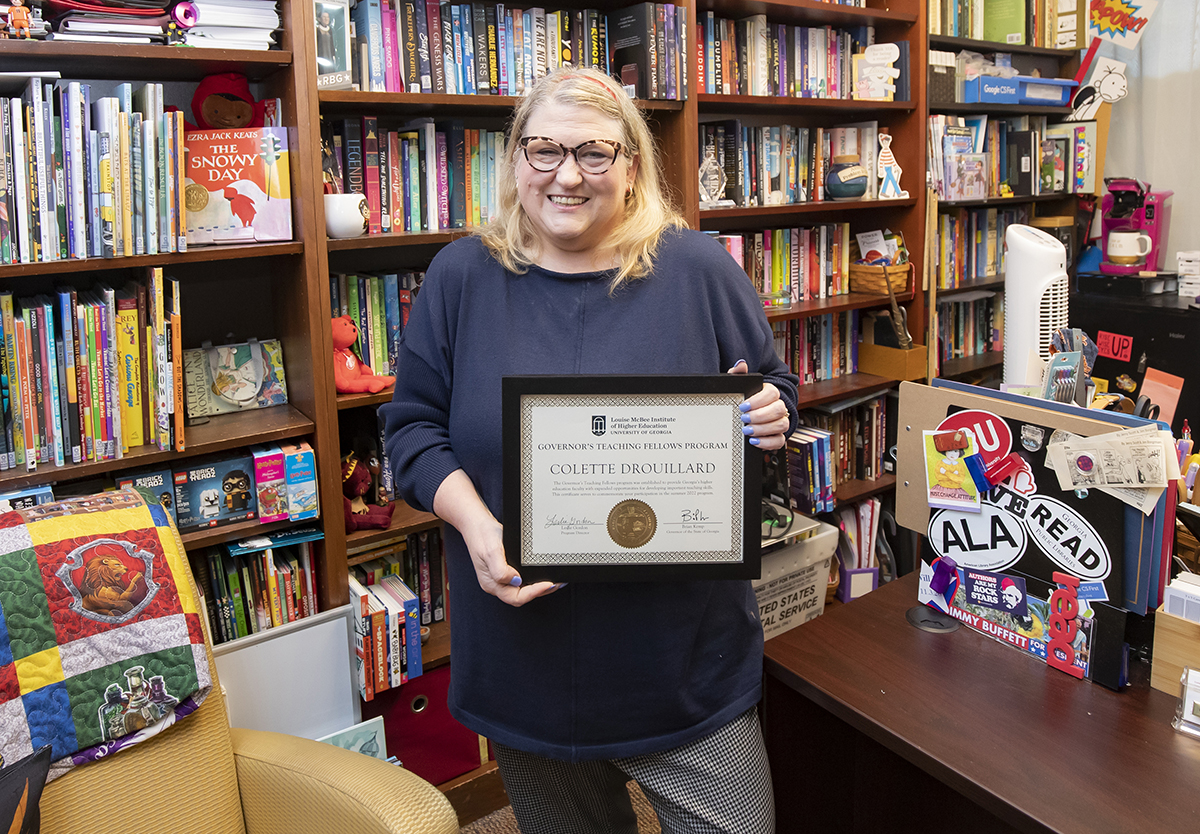 Dr. Colette Drouillard, associate professor in the Department of Library and Information Studies, attended the Summer 2022 Governor's Teaching Fellows Program. She joined the Valdosta State University faculty in 2010.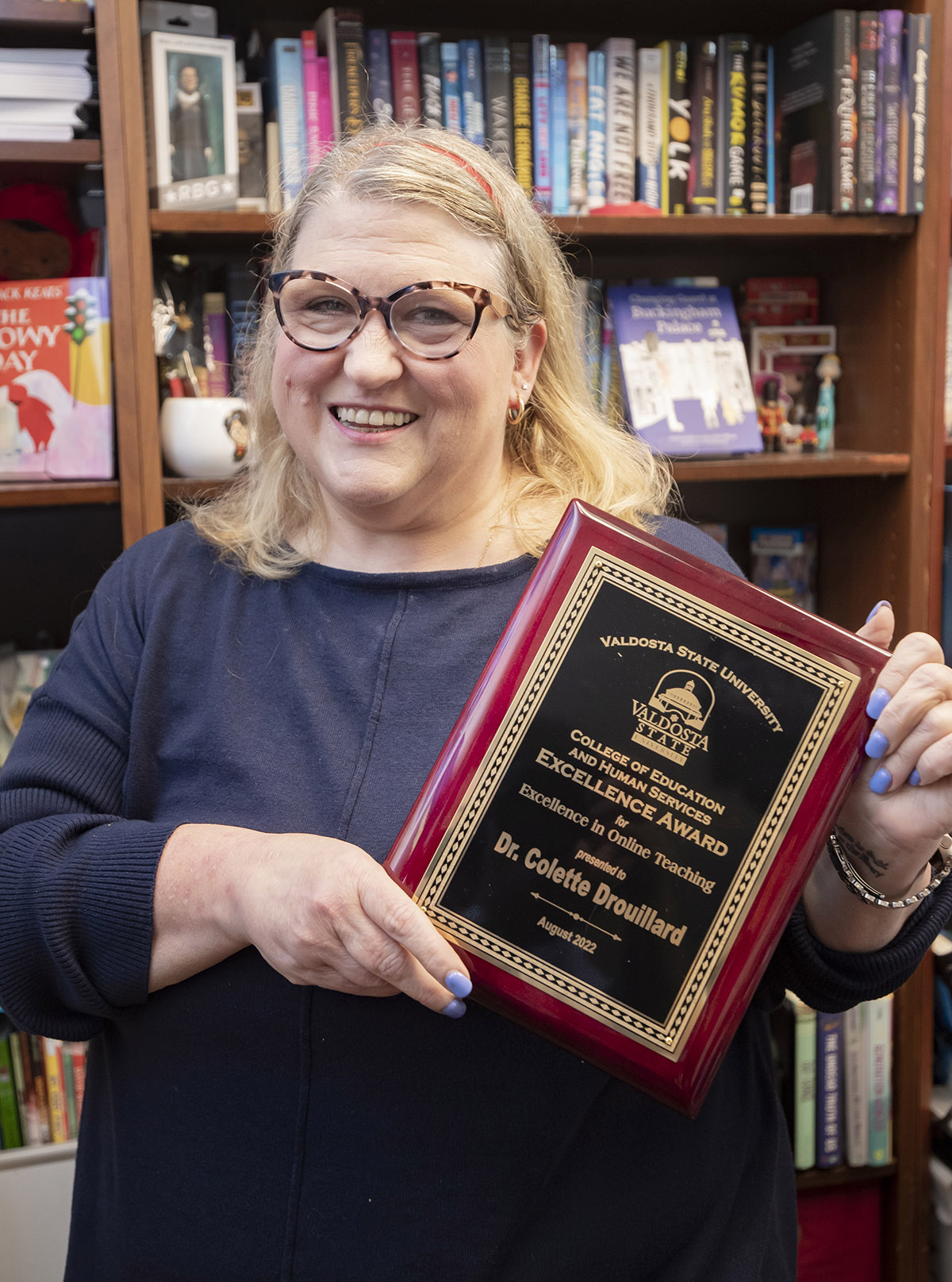 VALDOSTA — Dr. Colette Drouillard returns to the helm of her virtual classroom this fall with a few new creative strategies for transforming her courses into authentic, intellectually engaging, and meaningful learning experiences.
The Department of Library and Information Studies associate professor says her renewed enthusiasm for training and developing librarians for professional work in academic, public, and special libraries across the nation is due, in large part, to her recent participation in the annual Governor's Teaching Fellows Program.
Offered through the Louise McBee Institute of Higher Education at the University of Georgia, the Governor's Teaching Fellows Program provides higher education faculty members from accredited public and private colleges and universities across Georgia with expanded opportunities for developing important teaching skills. It was established in 1995 by former Georgia Governor Zell Miller.
Drouillard attended a two-week symposium during the summer that included a combination of structured instructional and faculty development activities, as well as self-directed activities designed to meet her individual needs. She also received the support necessary to engage in a VSU-specific instructional improvement project — developing a new adult genre fiction course for the university's Master of Library and Information Science Program.
"The course evolved a bit as a result of my Governor's Teaching Fellows experience and collaborations with participating faculty from other institutions of higher education across the state," she shares. "My focus shifted to developing reader advisory skills through the exploration of adult genre fiction and resulted in an experiential learning project that included the development of a display and LibGuide in VSU's Odum Library over the summer that was completed in collaboration with several Odum Library librarians."
Drouillard plans to continue developing the course content and assessments using established success criteria and student feedback from the summer session.
"There were some challenges in translating some of the course design principles from the more typical undergraduate face-to-face environment to meet the needs of graduate students in a fully asynchronous online environment, but the cohort of faculty participating in the Governor's Teaching Fellows program this summer enabled me to develop some creative strategies that worked well," she says.
A total of 12 faculty members representing University of North Georgia, Middle Georgia State University, Piedmont University, Georgia Southern University, University of West Georgia, Brenau University, Andrew College, Georgia Gwinnett College, Mercer University, Columbus State University, and VSU were named fellows and selected to participate in the 2022 Governor's Teaching Fellows Program's Summer Symposium Program.
Each fellow was chosen based on their teaching experience, their interest in continuing instructional and professional development, their ability to make a positive impact on their own campus, and a strong commitment by their home institution for release time and other forms of support for the duration of their participation in the program.
"This program was a wonderful experience," Drouillard adds. "It was an opportunity to spend time focused entirely on the process of learning new course design techniques with an emphasis on facilitating deeper student engagement with the course content. The end result was a course that provides my students an opportunity to participate in experiential learning assignments and projects that reflect their individual library and information studies workplaces."
Drouillard joined the VSU faculty in 2010. The James L. and Dorothy H. Dewar College of Education and Human Services at VSU recently honored her with an Excellence in Online Teaching Award.
Drouillard enjoys teaching courses in library youth services, including literature and technology for children and young adults, and she enjoys studying the reading interests and reading motivations of children and young adults.
"My dissertation — Growing up with Harry Potter: What Motivated Youth to Read? — looked at data collected from thousands of readers who began reading the Harry Potter novels as they grew up and responded to a survey asking them questions about why they read the books initially, what kept them motivated to read the series as it was published over a 10-year period, what their other reading interests were, and many other questions related to reading interests and motivation," she notes.
Drouillard hopes to return to this research in the future to compare the original group of readers she surveyed — the ones who had to wait for each book to be published and read them as they grew up — to a new group of later readers of the series who were able to read them straight through.
On the Web:
https://www.valdosta.edu/colleges/education/master-of-library-and-information-science/
https://ihe.uga.edu/governors-teaching-fellows
Newsroom
Office of Communications Powell Hall West, Suite 1120
Mailing Address
1500 N. Patterson St.
Valdosta, GA 31698
General VSU Information
Office of Communications