February 22, 2022
22-32
Jessica Pope
Communications and Media Relations Coordinator
Sandra Y.G. Jones Earns Blazer Creed Award for Civility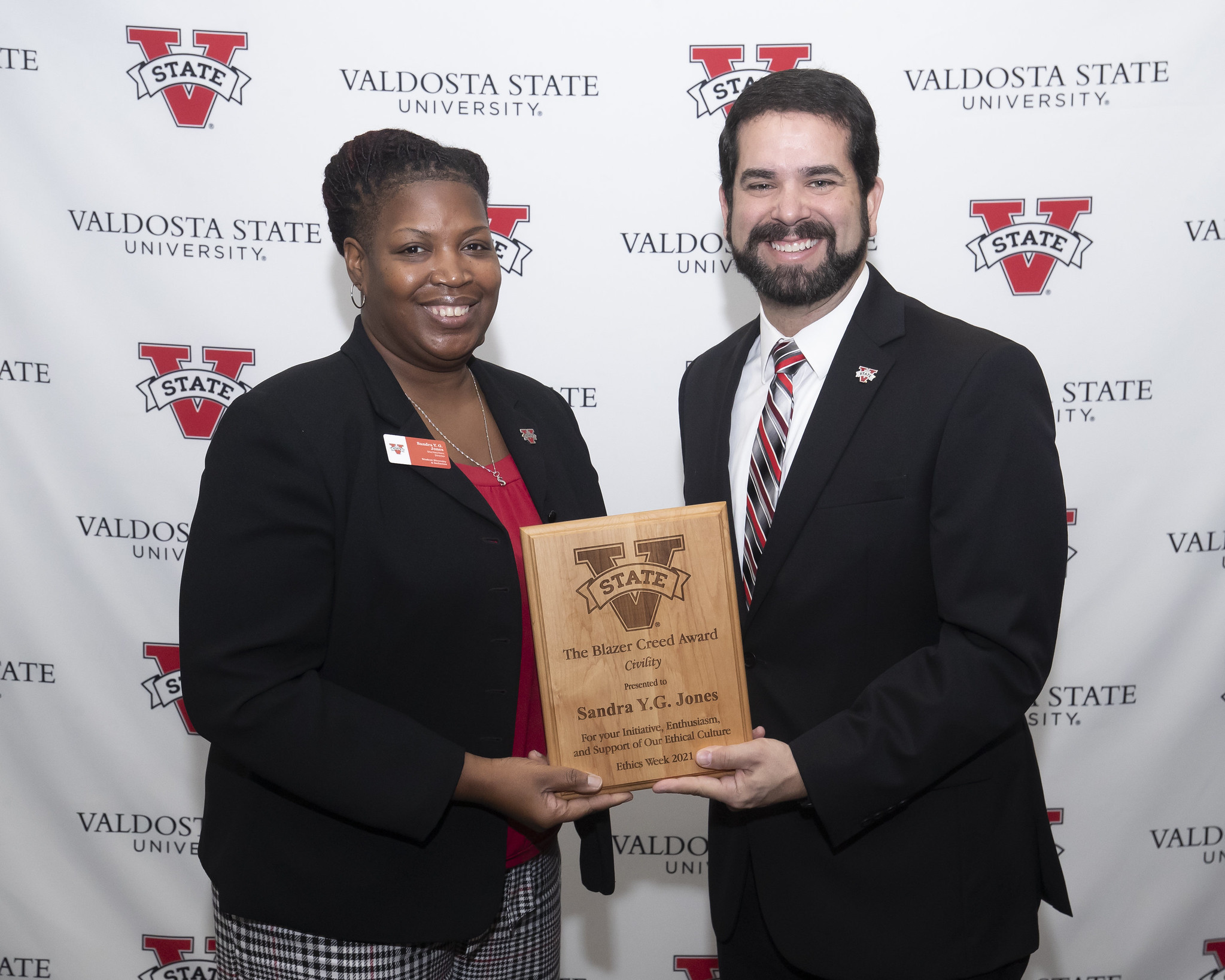 Sandra Y.G. Jones, director of VSU's Office of Student Diversity and Inclusion, is pictured with Dr. Richard A. Carvajal, president of VSU.
VALDOSTA — Valdosta State University recently recognized an elite group of students, faculty, and staff for their steadfast commitment to uphold The Blazer Creed in everything they do, both on campus and in the community — and Sandra Y.G. Jones, director of the Office of Student Diversity and Inclusion, was one of them.
As the Blazer Creed states, VSU is a learning environment based on trust and mutual respect, in which open dialogue, vigorous debate, and the free exchange of ideas are welcome. The university is dedicated to the core values of community, including a commitment to practice the following:
Civility — A Blazer shows courtesy and compassion as well as respect for the dignity of every human being.
Integrity — Each Blazer is responsible for his or her own actions, and our community is stronger when we contemplate the context of our decisions and uphold the principles of trust and honesty.
Citizenship — Every Blazer has an interest in the wellbeing of the community and, therefore, a duty to stay informed, to make positive contributions, and to offer support to those who need help.
Jones serves as a shining example of what it means to be a Blazer, to treat others with good manners, to act with honesty and have strong moral principles, and to work hard and help others.
BLAZER CREED AWARD FOR CIVILITY
Sandra Y.G. Jones, director of the Office of Student Diversity and Inclusion
VSU News: Who nominated you for this award?
Sandra Y.G. Jones: I believe a colleague nominated me.
VSU News: Why does practicing civility matter to you?
Sandra Y.G. Jones: I believe civility is one of the most basic reasonable services of humanity. It cost nothing, but the unpretentious consideration of others we encounter and engage can mean a great deal; especially during the times we are all currently facing.
VSU News: What went through your mind when you learned you had won this award?
Sandra Y.G. Jones: I was completely surprised. I practice civility because it is not only the right thing to do, but it's part of who I am. The award acknowledges, not only the work I put in as a professional, but the daily, consistent work to simply be a good person has been notices. That's pretty special to me.
The Nominations
I have had the honor of working closely with Ms. Sandra for over two years now as a member of FIERCE women mentorship program. I have listened to her educate us on how to navigate our personal and professional lives and provide us with the necessary tools to do so. She also makes it clear that she is 100 percent available to help us succeed as black women, diverse women, students, and professionals. She has also provided us with firsthand experiences of how she has handled disagreements in and out of the workplace while continuing to be professional and respectful of the other parties involved. The mission statement she drills in us in our mentorship program is 'FIERCE seeks to provide personal, academic, cultural, social, professional, and leadership development to undergraduate females at VSU, to positively impact academic success, increase retention and develop effective campus community leaders.'
***
When thinking of Sandra Y.G. Jones and looking at the term civility, I cannot think of another staff member at VSU that fits the description better than her. Sandra recognizes that each Blazer is unique in their own right and does not attempt to require they fit in a box. Instead, she goes out of her way to let each Blazer know that they are unique and deserve respect. She does so by developing and implementing programming that is comprehensive in scope.
The Office of Student Diversity and Inclusion's mission is to educate on diversity, enhance equity, and embrace inclusivity, and the programming developed and led by Sandra encompasses all components within the mission. Through programs such as Brave Space Dialogues, Diversity Dinners of Hope, Blaze the Ballot, Pink Out Festival, FIERCE, MOCHA, and recognizing important days such as Hispanic Heritage Month, Black History Month, Bisexuality Day, Pride Month, International Women's Day, and Indigenous Peoples Day, to name a few, Sandra intentionally brings awareness to marginalized populations and hot-button topics and always ensures that there is an educational component in each event. She embodies servanthood and selflessness while being an advocate for everyone.
One remarkable quality that I find impressive in Sandra is that she can hear a person without making a preconceived judgment. She is a professional at active listening and can help you express yourself even when you have trouble finding the correct words to use. She is always open to answering any questions, and if she does not have an answer, she is skilled at professionally handing you to another person that can help. I have the privilege of being a colleague to Sandra and have collaborated with her office on various programs. It is evident that she cares for every student and wants them all to feel valued and loved. Sandra does not require a spotlight; she does not demand attention for what she does.
Newsroom
Office of Communications Powell Hall West, Suite 1120
Mailing Address
1500 N. Patterson St.
Valdosta, GA 31698
General VSU Information
Office of Communications