February 15, 2022
22-22
Jessica Pope
Communications and Media Relations Coordinator
Emily Flowers Earns Blazer Creed Award for Citizenship and Integrity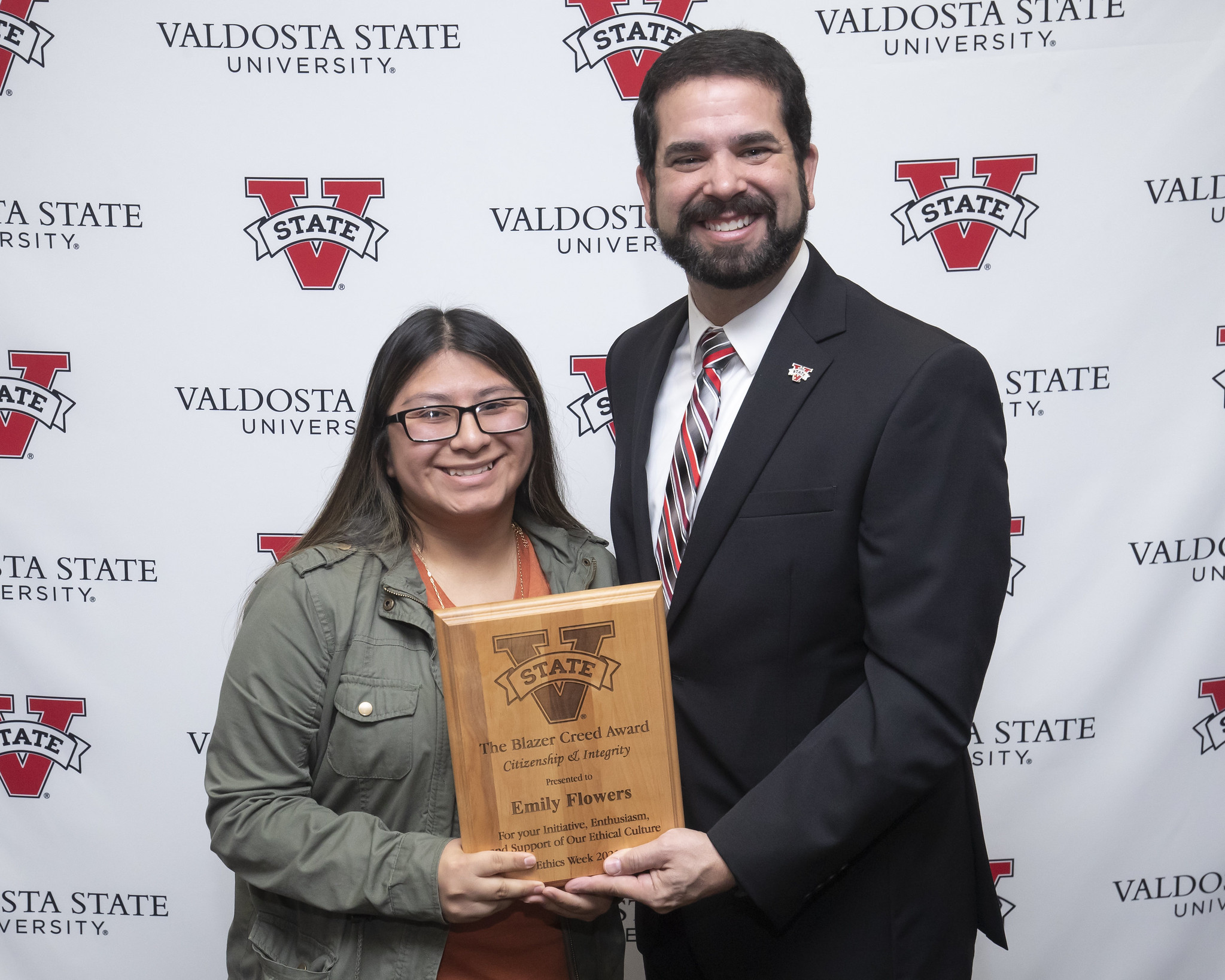 Emily Flowers of Moultrie, Georgia, is pictured with Dr. Richard A. Carvajal, president of VSU. She anticipates earning a Bachelor of Science in Office Administration and Technology in 2025.
VALDOSTA — Valdosta State University recently recognized an elite group of students, faculty, and staff for their steadfast commitment to uphold The Blazer Creed in everything they do, both on campus and in the community — and Emily Flowers, a student in the Department of Leadership, Technology, and Workforce Development, was one of them.
As the Blazer Creed states, VSU is a learning environment based on trust and mutual respect, in which open dialogue, vigorous debate, and the free exchange of ideas are welcome. The university is dedicated to the core values of community, including a commitment to practice the following:
Civility — A Blazer shows courtesy and compassion as well as respect for the dignity of every human being.
Integrity — Each Blazer is responsible for his or her own actions, and our community is stronger when we contemplate the context of our decisions and uphold the principles of trust and honesty.
Citizenship — Every Blazer has an interest in the wellbeing of the community and, therefore, a duty to stay informed, to make positive contributions, and to offer support to those who need help.
Flowers serves as a shining example of what it means to be a Blazer, to treat others with good manners, to act with honesty and have strong moral principles, and to work hard and help others.
BLAZER CREED AWARD FOR CITIZENSHIP AND INTEGRITY
Emily Flowers, student in the Department of Leadership, Technology, and Workforce Development
VSU News: Tell us a little bit about yourself.
Emily Flowers: I am from Moultrie, Georgia, and I anticipate graduating with a Bachelor of Science in Office Administration and Technology in 2025.
VSU News: Who nominated you for this award?
Emily Flowers: My mother and two of my sisters.
VSU News: What does being a good citizen and having integrity mean to you?
Emily Flowers: Being a good citizen and having integrity is helping your community in any way you can to improve the world, but also being true to yourself. You must be honest with yourself and others to gain trust. You can make a difference if you believe in yourself, which could benefit your community.
 
VSU News: What went through your mind when you learned you had won this award?
 
Emily Flowers: When I received the email that I won, I was shocked. My family did not inform me that they submitted me as a candidate. I was extremely excited and thankful to be receiving this.
 
The Nominations
Emily Flowers simply loves being a student at Valdosta State University. She is committed to being successful in her studies and enjoys the process of learning. She strives to be involved in as many activities as possible around the campus. Emily joined the First-Year Learning Community and has made new friends on campus. Emily and one new friend from Thomasville have just realized that they have the same birthday, Nov. 8. Emily is also involved in study groups to further her understanding of subjects and professors. Emily is a concerned and devoted citizen of Valdosta State University.
 
I want to nominate Emily Flowers for the Blazer Creed Award for Citizenship. She is concerned with the well being of our community by helping with my health needs. She has given me my insulin and also my Phenergan injections for nausea. Also, she assists in raising and entertaining her three young nieces, ages 7, 9, and 10. She has taken them to an activity at VSU. Also, Emily started her own small business this past summer called Emily's Sweet Treats. She made very decorative chocolate-covered strawberries, pretzels, and chocolate squares. She had a large community outreach with her business. She has her business on hold now to achieve her goals at VSU. Thank you for considering Emily Flowers for this award.
 
This young lady dog/house sits for my family and I while we are out of town and has done so for years now. Emily has shown an immense amount of integrity and responsibility by doing this. Emily's honest characteristics allow us to trust her with our most beloved prized possessions time and time again.
 
Emily has volunteered her time to help clean and organize the optometry office where I oversee daily relations as the office manager. She helps with the delivery of donated lenses to the local Lions Club in our area. It is a joy to see such a fine young lady do work for others.
Newsroom
Office of Communications Powell Hall West, Suite 1120
Mailing Address
1500 N. Patterson St.
Valdosta, GA 31698
General VSU Information
Office of Communications