September 8, 2021
21-77
Jessica Pope
Communications and Media Relations Coordinator
Danielle McKay Recognized as Emerging Leader by American Chemical Society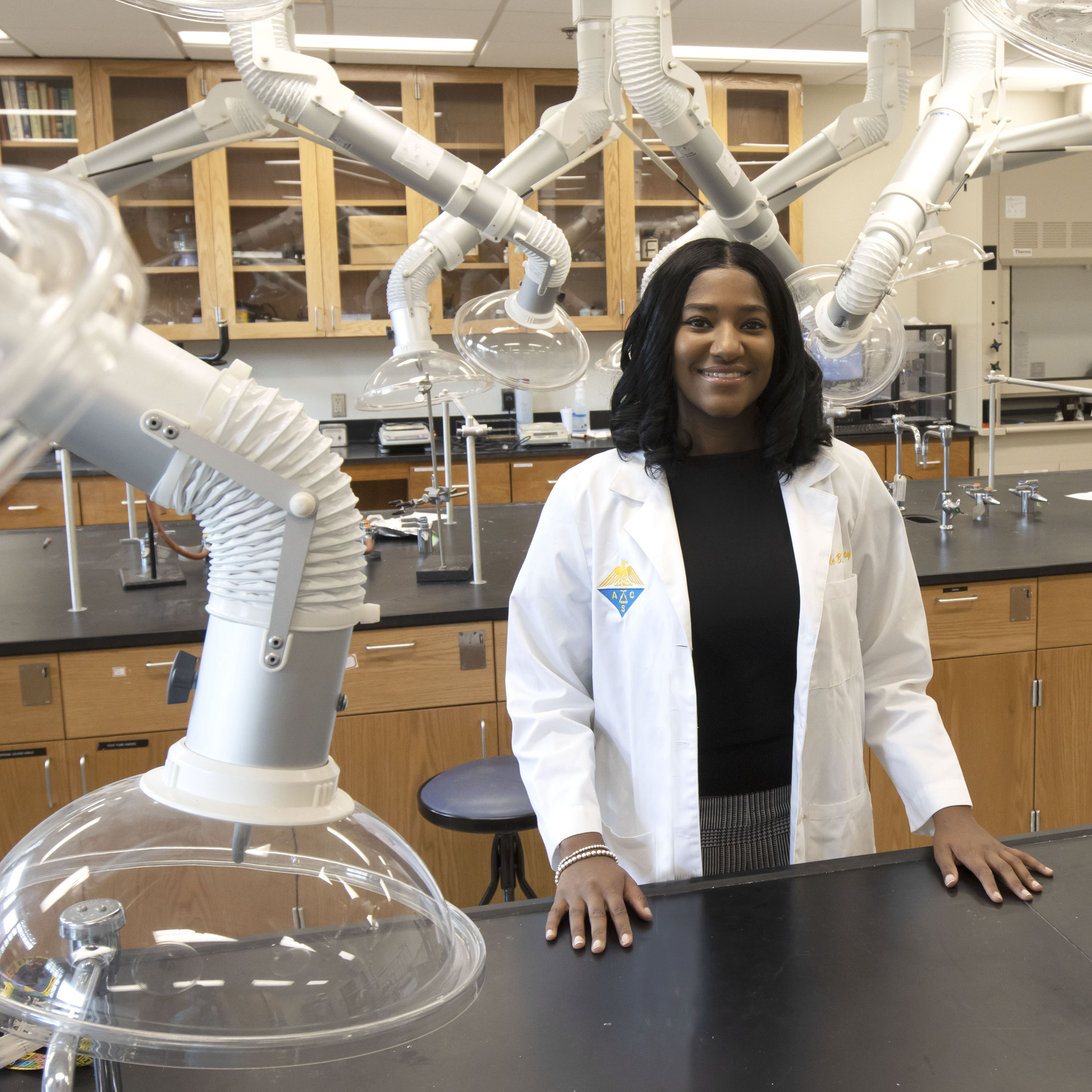 Danielle McKay of Stonecrest, Georgia, recently earned the American Chemical Society's Student Leadership Award and an invitation to participate in the organization's nine-month Leadership Institute Experience. She will graduate from VSU with a Bachelor of Science in Chemistry in December.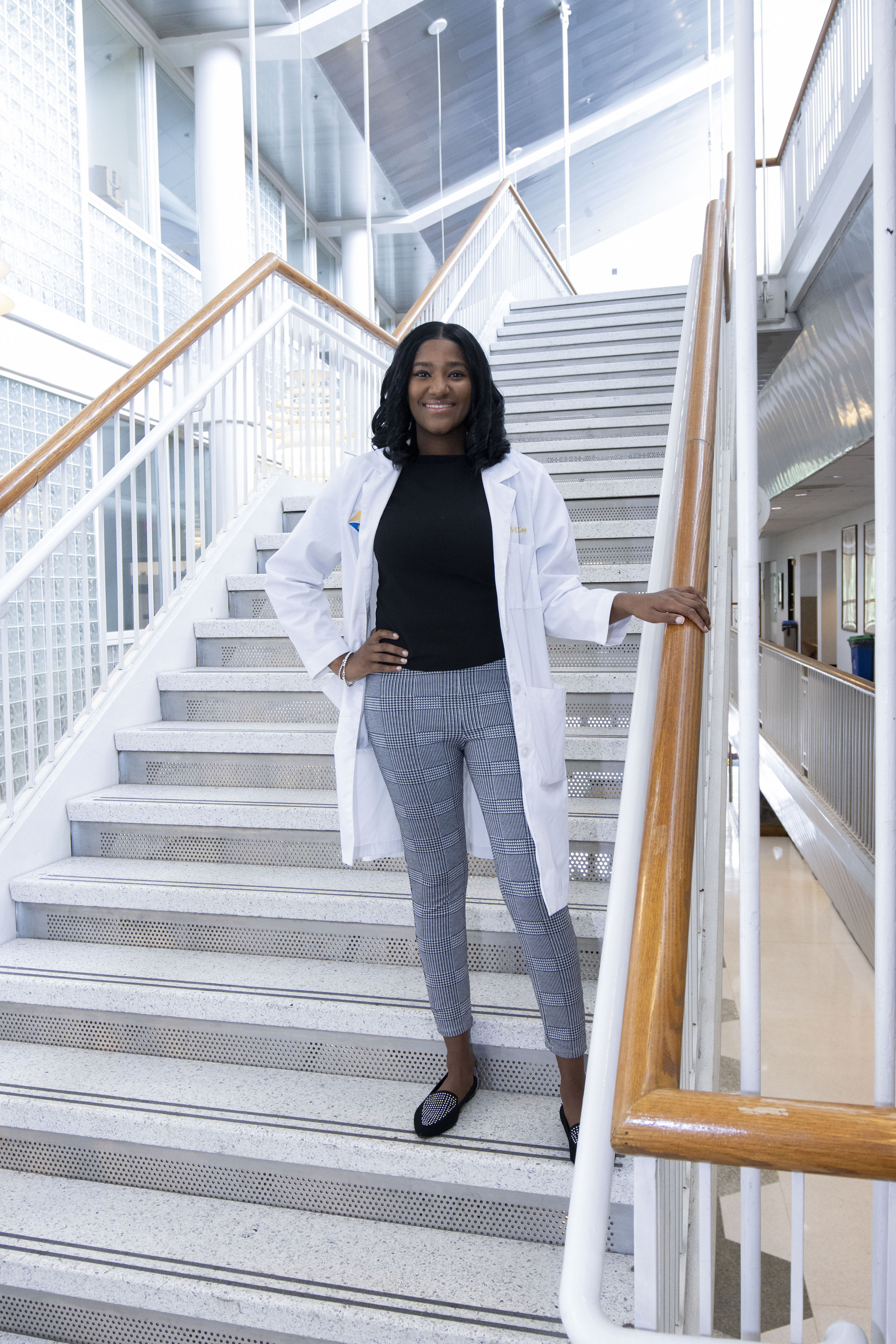 VALDOSTA — Danielle McKay is not the same student she was when the year began. She is smarter, more confident, and more motivated to want to make a difference.
After earning the American Chemical Society's Student Leadership Award in December 2020, McKay was invited to participate in the organization's invitation-only Leadership Institute Experience. The nine-month engagement kicked off in January, with a promise to help students like McKay continue learning, developing, and training to become effective and influential leaders.
As her time in the American Chemical Society's Leadership Institute Experience winds down, McKay said she is "truly honored to have been chosen for this life-changing opportunity."
"To be recognized by the American Chemical Society — knowing the competitiveness of this opportunity — is an unimaginable feeling," added the Stonecrest, Georgia, resident. "I feel very proud of my abilities as a leader and overall excited to continue learning and developing."
"This experience has taught me a lot about myself and my leadership skills," she continued. "I was provided with information, strategies, and connections from other student leaders and industry professionals, which I will carry with me as I lead now and in the future."
As a student at VSU, McKay is president of SMACS (Student Members of the American Chemical Society). She joined the student organization in 2019 and previously served as treasurer. She is a member of the National Council of Negro Women, where she has served as historian and community service chairperson. She helps manage the Department of Chemistry stockroom and also has experience as a lead student peer mentor with the College of Science and Mathematics GUIDES (Giving Undergraduates Ideas to Directly Encourage Success) Peer Mentoring Program.
"During my time in SMACS, I volunteered to perform experiments at multiple Science Saturday events, the South Georgia Regional Library System, and virtually with a Girl Scouts chapter from Albany," she shared.
McKay has also volunteered at the Valdosta-Lowndes County Family YMCA and Jacobs' Ladder Therapeutic Riding Center.
McKay was recently selected to participate in the 2021 Blazer Summer Research Institute, where she presented "Recycling of Iron Oxide for Photoelectrochemical Cells" under the mentorship of Dr. Linda de la Garza, associate professor of chemistry. She plans to present this research and more at upcoming events, including the Southeastern Regional Meeting of the American Chemical Society Inc. in Birmingham, Alabama.
McKay's commitment to academic, leadership, research, and service excellence has helped her earn the Julie Wisenbaker Sumerford Endowed Scholarship and the Southwest Georgia Section of the American Chemical Society Optima Chemical Award.
"I have a very big, close-knit family, and my success is due to their unwavering support and encouragement," she said. This includes mother Cammy McKay, father Marcus McKay Sr., brother Marcus McKay Jr., and grandmother Diane Dean.
"I would also like to thank the chemistry faculty for believing in me and presenting me with these opportunities during my time at VSU," she added. She went on to thank Dr. Linda de la Garza, SMACS faculty advisor, for encouraging her to apply for the American Chemical Society award.
McKay anticipates completing the American Chemical Society-certified Bachelor of Science in Chemistry at VSU in December. She plans to pursue a career as a cosmetic formulation chemist.
"I hope to use my passions and knowledge to ultimately start my own cosmetic company, where I will formulate products for other entrepreneurs," she said.
On the Web:
https://www.valdosta.edu/chemistry/
https://www.acs.org/content/acs/en.html
Newsroom
Office of Communications Powell Hall West, Suite 1120
Mailing Address
1500 N. Patterson St.
Valdosta, GA 31698
General VSU Information
Office of Communications