April 26, 2021
21-38
Jessica Pope
Communications and Media Relations Coordinator
VSU Honors Wesley Hanson With Student-Athlete Academic Award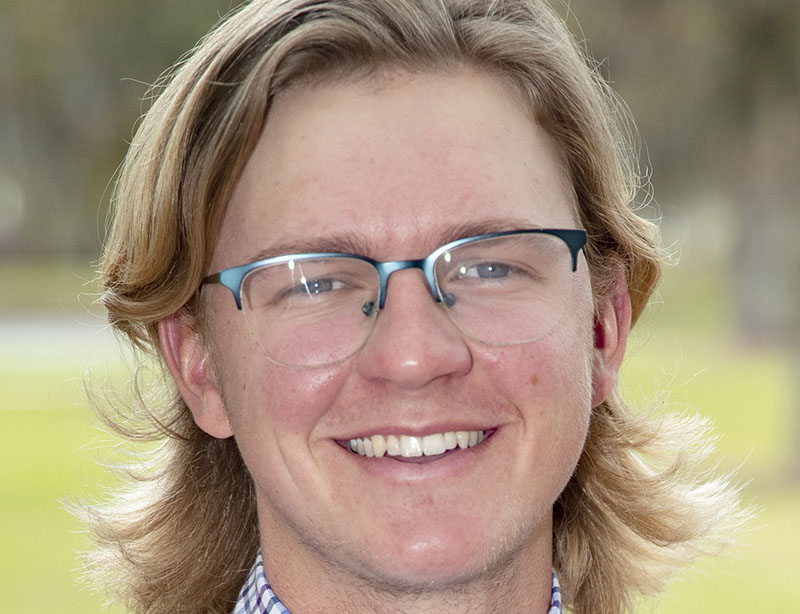 VALDOSTA — John Wesley Hanson of Macon, Georgia, is the recipient of the 2021 Student-Athlete Academic Award at Valdosta State University.
"This award is meaningful because good things take time, and I am finally able to see my hard work and dedication pay dividends on and off the golf course," he said.
The Student-Athlete Academic Award is presented to a junior, senior, or graduate student-athlete with the highest grade point average. Ties are not broken. Hanson, a member of the men's golf team, previously won this award in 2020.
Hanson will graduate summa cum laude with a Bachelor of Business Administration in Management and a Minor in Accounting during VSU's 231st Commencement at 7:30 p.m. on Friday, May 7, at Bazemore-Hyder Stadium.  
After graduation Hanson plans to continue his education and pursue a Master of Business Administration at VSU, while taking full advantage of an extra year of being eligible to play with the men's golf team. The National Collegiate Athletic Association extended player eligibility for one year due to the global pandemic's impact on college-level sports; that announcement was made in the fall.
Hanson sees a number of possibilities for his future profession, with management consulting or athletic administration currently at the top of his list. His supportive family includes parents Jeff and Ellen Hanson, brother Brooks Hanson, and beloved dog Randy Hanson.
As a student at VSU, Hanson served as captain of the men's golf team, president of the Wesley Foundation, and an active member of the Student-Athlete Advisory Committee, Beta Gamma Sigma: The International Business Honor Society, and Sigma Alpha Pi: The National Society of Leadership and Success.
Hanson's commitment to academic, athletic, leadership, and service excellence resulted in him earning repeated Dean's List honors, the 2020-2021 Belk Hudson Management Scholarship, the 2019-2020 Scruggs Scholarships, the 2019 Maxwell Joseph Stephenson Memorial Scholarship, and the 2018-2021 Lewis G. Russell and Buster Cowart Jr. Golf Scholarship. He was named the Spring 2021 President's Award for Academic Excellence recipient for the Harley Langdale Jr. College of Business Administration, which is presented to a graduating student with the highest grade point average in each of VSU's six colleges.
The College Sports Information Directors of America (CoSIDA) selected Hanson for Third Team Academic All-America honors during the 2019-2020 academic year, making him the first Blazer to earn that distinction in the history of the men's golf program at VSU.
The Gulf South Conference named Hanson Freshman of the Year in 2018 and Spring Men's Golf Champion Scholar-Athlete of the Year in 2019-2020. He accumulated a number of Gulf South Conference academic awards during his time at VSU.
Hanson was also a three-time recipient of the Srixon/Cleveland Golf All-America Scholars Award. He anticipates earning this award again this year.
On the Web:
https://www.valdosta.edu/colleges/business/
https://vstateblazers.com/
Newsroom
Office of Communications Powell Hall West, Suite 1120
Mailing Address
1500 N. Patterson St.
Valdosta, GA 31698
General VSU Information
Office of Communications