April 29, 2021
21-47
Jessica Pope
Communications and Media Relations Coordinator
VSU Honors Hannah Swenson With Student-Athlete Academic Award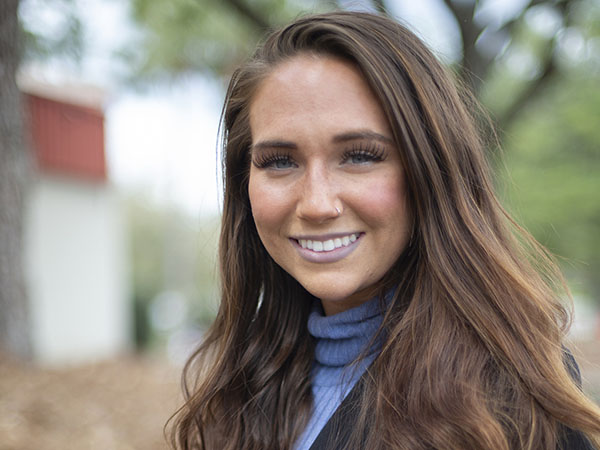 VALDOSTA — Hannah Helene Swenson of Newnan, Georgia, is the recipient of the 2021 Student-Athlete Academic Award at Valdosta State University.
"Receiving this award means that I can proudly represent and give back to every single person who has invested in me and believed in me over the years," she said. "I can't begin to express my love and appreciation to everyone in my life who has helped shape the woman I am today and who I will become tomorrow." 
The Student-Athlete Academic Award is presented to a junior, senior, or graduate student-athlete with the highest grade point average. Ties are not broken. Swenson is a member of the women's soccer team.
Swenson will graduate summa cum laude with a Bachelor of Science in Criminal Justice during VSU's 231st Commencement at 7:30 p.m. on Saturday, May 8, at Bazemore-Hyder Stadium. She hopes to work in the field of security, intelligence, and analytics.
As a student at VSU, Swenson served as secretary of the Student-Athlete Advisory Committee, as an inaugural member of the Blazer "One Team" Initiative for Diversity and Inclusion, and as an active member of Phi Alpha Delta Law Fraternity International and Enactus, a global community of students, educators, and business leaders dedicated to making the world a better place. She volunteered with Habitat for Humanity, mentored young readers in Lowndes County elementary schools, and interned with Lowndes County Solicitor General Justo Cabral.  
Swenson took full advantage of research and experiential learning opportunities offered by faculty at VSU. She participated in a directed study in criminal justice about sex offender laws and regulations and presented that study, "Sex Offender Residency Restrictions: A Feel-Good Policy," at VSU's 2021 Undergraduate Research Symposium.
Swenson's commitment to academic, athletic, leadership, research, and service excellence resulted in her being named a Zell Miller Scholar and earning repeated spots on the Dean's List, 2018 and 2019 Gulf South Conference Academic Honor Roll accolades, the 2020 Student-Athlete Academic Spotlight Award, the 2020 Criminal Justice Student of the Year Award, and the 2020 Department of Sociology, Anthropology, and Criminal Justice Outstanding Student of the Year Award.
Swenson said she is tremendously thankful for the love and support she has received from her family, including mom Kim Swenson, dad Matt Swenson, brother Trevor Swenson, sister Hailey Swenson, dog Calvin, and all of her grandparents.
On the Web:
https://www.valdosta.edu/chss/https://vstateblazers.com/
Newsroom
Office of Communications Powell Hall West, Suite 1120
Mailing Address
1500 N. Patterson St.
Valdosta, GA 31698
General VSU Information
Office of Communications