March 2, 2021
21-16
Jessica Pope
Communications and Media Relations Coordinator
Ethan Mitchell Says Scholarship Win Reflects Academic, Personal Growth at VSU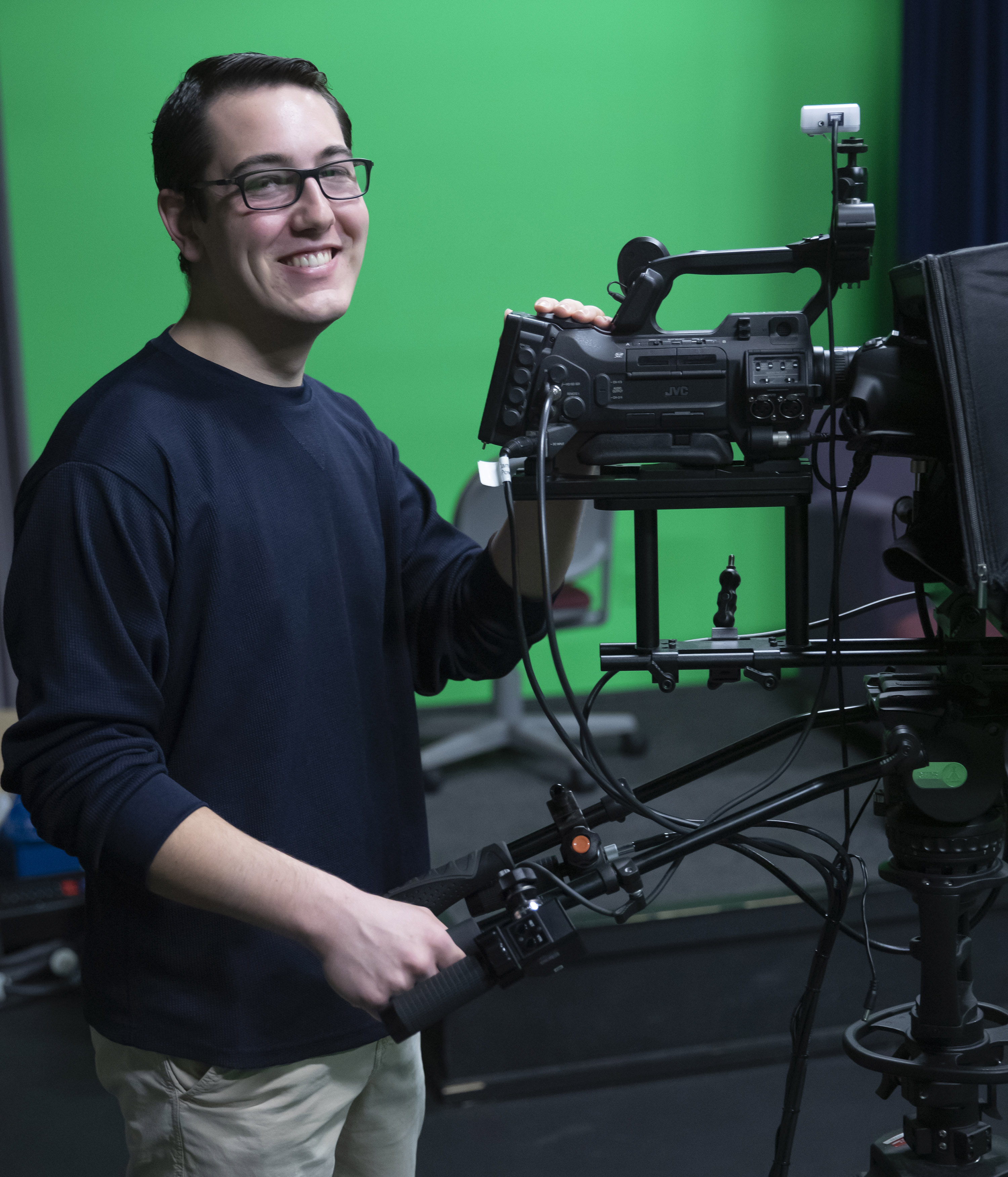 Ethan Mitchell is the recipient of Valdosta State University's 2020-2021 Dr. Larry Etling Scholarship. He anticipates graduating with a Bachelor of Fine Arts in Mass Media in May 2022 and pursuing a career writing for television. 
VALDOSTA — Ethan Mitchell of Blackshear, Georgia, has earned the 2020-2021 Dr. Larry Etling Scholarship at Valdosta State University.
Mitchell said the recognition has given him the confidence needed to continue to grow, to learn, and to challenge himself both inside and outside the classroom.
"The most significant way receiving the Dr. Larry Etling Scholarship has impacted my student experience is providing me with a sense of accomplishment and tangible proof that I've been growing academically and personally," he shared. "I've known about the scholarship since my freshman year, but I remember looking at the requirements two years ago and thinking, 'I don't know if I could do that.' When the application opened again for the current academic year, I approached it with a much clearer idea of my strengths and the mindset that I was just as qualified as anyone else.
"The fact that I was selected has had a positive impact on my confidence in both the quality of my work and the amount I've learned since beginning my time at VSU. I look forward to continuing my education and fulfilling the responsibilities winning this scholarship requires of me."
Mitchell, the son of Mack and April Mitchell, is the fifth recipient of the scholarship, which was started during the 2016-2017 academic year.
The Dr. Larry Etling Scholarship honors the legacy of Dr. Laurence "Larry" Etling, a former mass media professor who died in March 2015 after more than 15 years of service to VSU. Etling was popular with students interested in studying radio and television announcing and audio production, and the university honored his legacy by naming the Larry Etling Studio in his memory a year after his death. In 2011 he published "Radio in the Movies: A History and Filmography, 1926-2010," a richly detailed examination of how radio stations and air personalities have been depicted in motion pictures.
Mitchell anticipates graduating from VSU with a Bachelor of Fine Arts in Mass Media in May 2022. His dream is to pursue a career writing for television.
"Some shows that I admire for the style and tone of their writing include 'The Marvelous Mrs. Masisel,' 'Arrested Development,' 'Documentary Now!' and classic television like 'The Jeffersons,' 'The Dick Van Dyke Show,' and 'The Golden Girls,'" he shared.
Mitchell is a member of VSU's Honors Student Association and fiction editor for VSU's Odradek Literary Journal, an annual publication that seeks to give students from diverse backgrounds a voice through poetry, fiction, creative nonfiction, and art.
"For Odradek I read and suggest edits on short stories students hope to have published, and I assist with raising publicity so more students will send in their writing," he explained.
As co-student director for the South Georgia Film Festival, Mitchell screens submissions, spreads awareness, recruits volunteers, checks festival attendees in and out of events, and more. The 2021 festival will be held March 5-7 on the VSU campus and virtually. Mitchell said that tickets are currently on sale at www.SouthGeorgiaFilm.com and he encouraged film enthusiasts to join the celebration of the art and industry of filmmaking across the region
"We have a great lineup of short and feature-length films this year," he added.
"Ethan Mitchell follows a growing tradition of students involved in media beyond the classroom and using that to build a strong future for themselves," said Jason Brown, associate professor of mass media and chairman of the Dr. Larry Etling Scholarship Committee. "Ethan deserves this award because of his hard work, diligence, and contribution to the rest of the program. We are proud of him."
"My time at VSU has guided me to the realization that I am most fascinated by content creation and the business aspects of film and media," Mitchell wrote in his scholarship application essay. "While I have not excelled in every course I have taken, I have made consistent efforts to create and submit the most impactful work possible."
The Dr. Larry Etling Scholarship supports high quality students as they pursue their careers in mass media and to encourage students to act as advocates for their discipline. The scholarship provides an award of $1,500 and was endowed from a gift Etling made to the university upon his passing. Students who are interested in learning more should contact Jason Brown at (229) 219-1298 or jasonebrown@valdosta.edu.
On the Web:
https://www.valdosta.edu/colleges/arts/communication-arts/
Newsroom
Office of Communications Powell Hall West, Suite 1120
Mailing Address
1500 N. Patterson St.
Valdosta, GA 31698
General VSU Information
Office of Communications