January 11, 2021
21-1
Jessica Pope
Communications and Media Relations Coordinator
Dr. Matthew D. Carter Earns Blazer Creed Award for Civility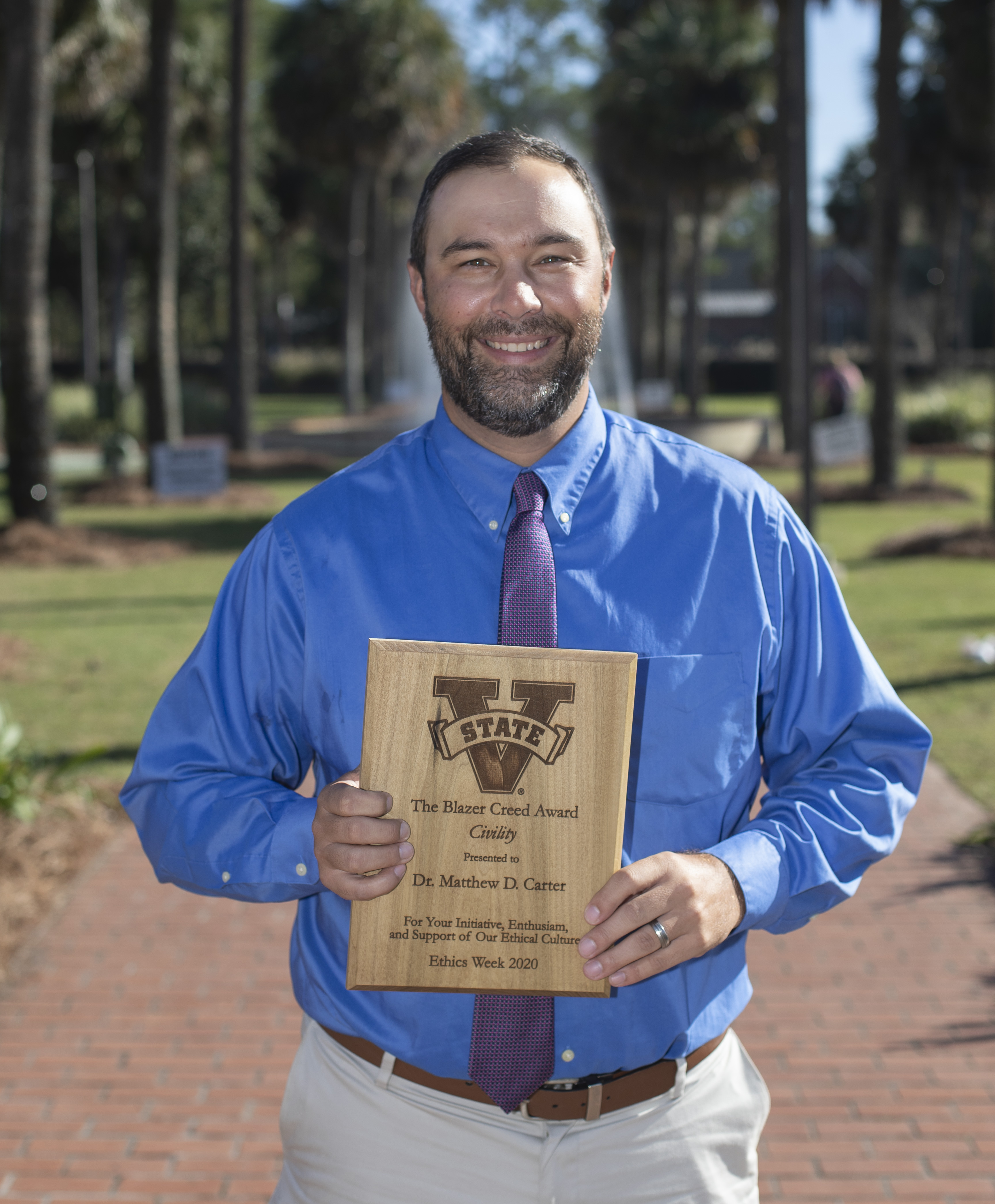 Dr. Matthew D. Carter
VALDOSTA — Valdosta State University recently recognized an elite group of students, faculty, and staff for their steadfast commitment to uphold The Blazer Creed in everything they do, both on campus and in the community — and Dr. Matthew D. Carter, associate professor in the Department of Communication Sciences and Disorders, was one of them.
As the Blazer Creed states, VSU is a learning environment based on trust and mutual respect, in which open dialogue, vigorous debate, and the free exchange of ideas are welcome. The university is dedicated to the core values of community, including a commitment to practice the following:
Civility — A Blazer shows courtesy and compassion as well as respect for the dignity of every human being.
Integrity — Each Blazer is responsible for his or her own actions, and our community is stronger when we contemplate the context of our decisions and uphold the principles of trust and honesty.
Citizenship — Every Blazer has an interest in the wellbeing of the community and, therefore, a duty to stay informed, to make positive contributions, and to offer support to those who need help.
Carter serves as a shining example of what it means to be a Blazer, to treat others with good manners, to act with honesty and have strong moral principles, and to work hard and help others.
BLAZER CREED AWARD FOR CIVILITY
Dr. Matthew D. Carter, Associate Professor, Department of Communication Sciences and Disorders and Special Education
VSU News: Who nominated you for this award?
Dr. Matthew D. Carter: Kristen Hinson is the person who nominated me. She is a wonderful individual who completed her undergraduate and graduate work here at VSU in the Department of Communication Sciences and Disorders and Special Education in Spring 2019 and Fall 2020. I taught her at both levels, and she was also my graduate assistant. As an undergraduate student, she won the Best Poster Award at the Undergraduate Research Symposium, and she presented at our state speech-language pathology organization's convention as well. As a graduate student, she was an integral member of the team that developed the partnership between VSU and the Scottish-Rite Foundation. We had ambitious goals for our literacy initiative, and it was only the first year of that partnership. There were an enormous number of ways that things could have gone very badly, but they didn't. We were able to accomplish all of our goals and more, and we would not have been able to undertake that initiative without her hard work and attention to detail. 
VSU News: Why does practicing civility matter to you?
Dr. Matthew D. Carter: I believe that practicing civility is a lost art in many spheres of our lives, which is really sad because there is so much good that can be done in the world if we were to become community minded. I believe that if we all took more of a servant-like, selfless mentality, then our world would be a much better place. I try to instill that in my students as well as in my children. Kristen is very much of the same mind and that is one of the many things that makes her special.
VSU News: What went through your mind when you learned that you had won this award?
Dr. Matthew D. Carter: I was extremely excited. It is always an honor to receive recognition for hard work, but I did not know who had nominated me at first. When I found out that a student had gone through the effort to nominate me for the award, I became doubly excited and extremely grateful. Teaching can be a very challenging and sometimes humbling experience. It is extremely fulfilling to know that my efforts have had a positive impact. 
The Nomination
As a teacher's daughter, I always grew up surrounded by posters of inspirational quotes defining teachers. Although I didn't pay very much attention back then, there is one quote that was plastered on my mother's wall that really stuck with me throughout my years. The quote states, "They may forget what you said, but they will not forget how you made them feel." When I think of this quote now in my last semester of graduate school, the one person who comes to my mind is Dr. Matt Carter. Dr. Carter was a professor who was genuinely passionate about his student's success. He went above and beyond in everything he did — the way he taught, the homework assignments and tests he made, the office hours he held, and every minute he spent with his students.
When you were in his classroom, instead of feeling defeated (which happens so many times in graduate school), you always felt like you were capable of doing any task. You never felt as if you couldn't ask questions or that he would judge you for not understanding the material. Now that I am two months away from graduating and starting my career as a speech-language pathologist, I idolize how dedicated he is to his job, his students, and his family. He always encourages his class to perform well academically, but he also is concerned with the students' wellbeing. He cares about each of his students as people.He wants them to develop into happy, healthy, and successful speech-language pathologists. As you can see, Dr. Carter is one of a kind, and as I embark on my newest journey into adulthood I will always remember the great professor/mentor he was and the impact he leaves on every student.
Newsroom
Office of Communications Powell Hall West, Suite 1120
Mailing Address
1500 N. Patterson St.
Valdosta, GA 31698
General VSU Information
Office of Communications