January 15, 2021
21-6
Jessica Pope
Communications and Media Relations Coordinator
Dr. Ellis Logan Earns Blazer Creed Award for Citizenship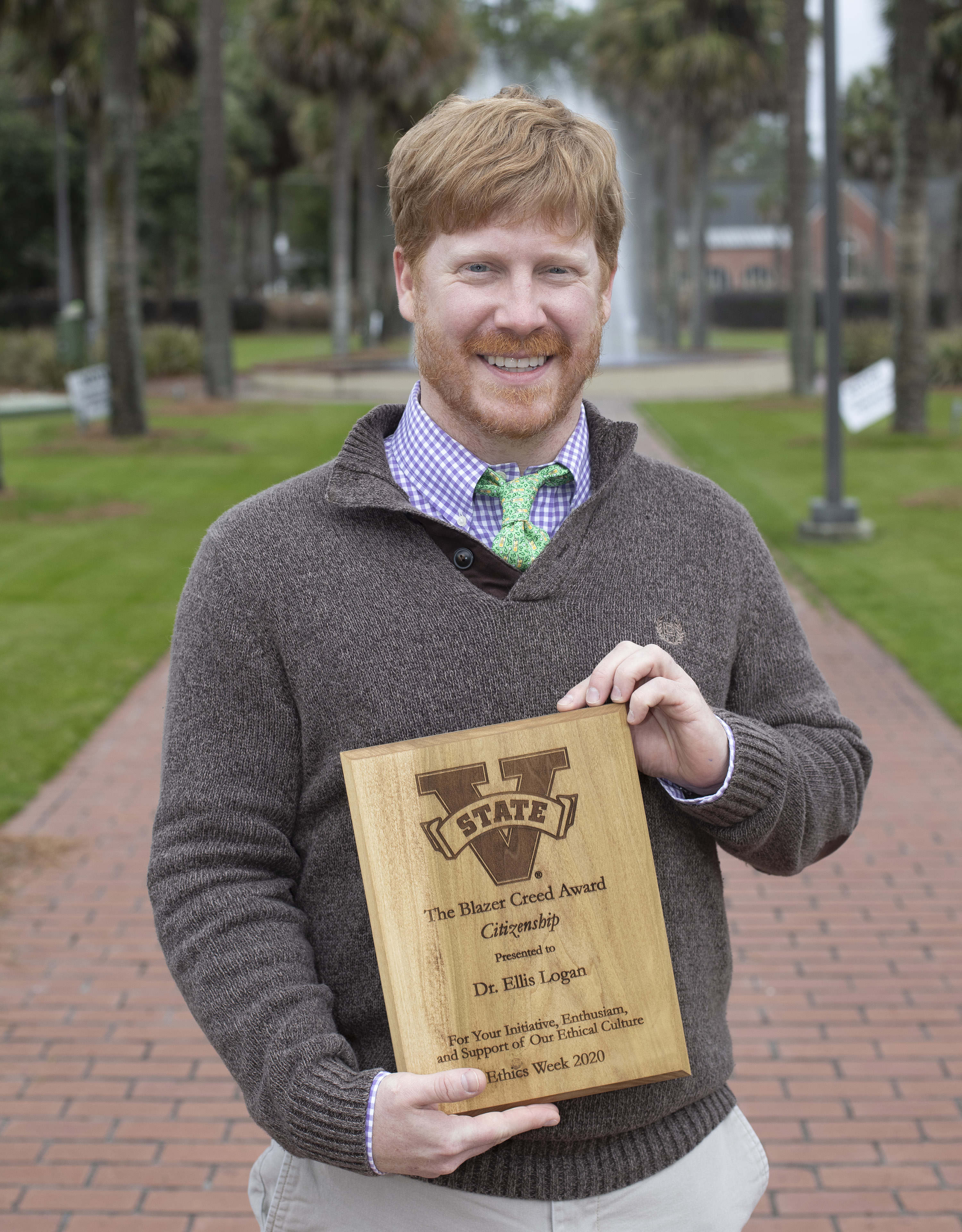 Dr. Ellis Logan
VALDOSTA — Valdosta State University recently recognized an elite group of students, faculty, and staff for their steadfast commitment to uphold The Blazer Creed in everything they do, both on campus and in the community — and Dr. Ellis Logan, an assistant professor in the Department of Sociology, Anthropology, and Criminal Justice, was one of them.
As the Blazer Creed states, VSU is a learning environment based on trust and mutual respect, in which open dialogue, vigorous debate, and the free exchange of ideas are welcome. The university is dedicated to the core values of community, including a commitment to practice the following:
 
Civility — A Blazer shows courtesy and compassion as well as respect for the dignity of every human being.
 
Integrity — Each Blazer is responsible for his or her own actions, and our community is stronger when we contemplate the context of our decisions and uphold the principles of trust and honesty.
 
Citizenship — Every Blazer has an interest in the wellbeing of the community and, therefore, a duty to stay informed, to make positive contributions, and to offer support to those who need help.
 
Logan is a shining example of what it means to be a Blazer, to treat others with good manners, to act with honesty and have strong moral principles, and to work hard and help others.
BLAZER CREED AWARD FOR CITIZENSHIP
Dr. Ellis Logan, Assistant Professor, Department of Sociology, Anthropology, and Criminal Justice
VSU News: What does being a good citizen mean to you?
Dr. Ellis Logan: Every syllabus I give contains the same quote from Michelle Obama, a successful sociology major, in the section about the Blazer Creed and Honor Code. She said, "We learned about honesty and integrity — that the truth matters … that you don't take shortcuts or play by your own set of rules … and success doesn't count unless you earn it fair and square."
 
VSU News: Who nominated you for this award?
Dr. Ellis Logan: Dr. Thomas Hochschild, professor of sociology
 
VSU News: What went through your mind when you learned that you had won this award?
Dr. Ellis Logan: Honestly, without sounding too hyperbolic, being recognized for integrity, fairness, and everything encompassed within the Blaze Creed is the most meaningful thing I could be recognized for. It is quite flattering, especially since I was nominated by Dr. Tom Hochschild, a faculty member that I hold in the highest professional esteem. It means a lot to me, and it is something I really focus on in the classroom. Accomplishments don't count unless you did it the right way. 

The Nomination
With VSU courses meeting face to face in Fall 2020 despite concerns over COVID-19, Dr. Logan has set the highest of standards in regards to promoting student, faculty, and staff safety. In addition to enforcing social distancing among students, Dr. Logan has developed a reputation for going above and beyond by wiping down desks and equipment with disinfectant in his classrooms. Additionally, he often moves his courses outside to Palms walkway so as to reduce the likelihood of his students contracting the disease. Dr. Logan can often be seen outside enthusiastically relaying information and spurring conversation with the use of images, graphs, and charts he has printed out for students. It is no easy task to transform high-technology classroom instruction to low-technology outdoor instruction. Recently, I received an email from a parent of one of Dr. Logan's students expressing gratitude that he has taken so many extra precautions to ensure the safety of her daughter.
Newsroom
Office of Communications Powell Hall West, Suite 1120
Mailing Address
1500 N. Patterson St.
Valdosta, GA 31698
General VSU Information
Office of Communications