January 15, 2021
21-7
Jessica Pope
Communications and Media Relations Coordinator
Carla Carter Jordan Earns Blazer Creed Award for Integrity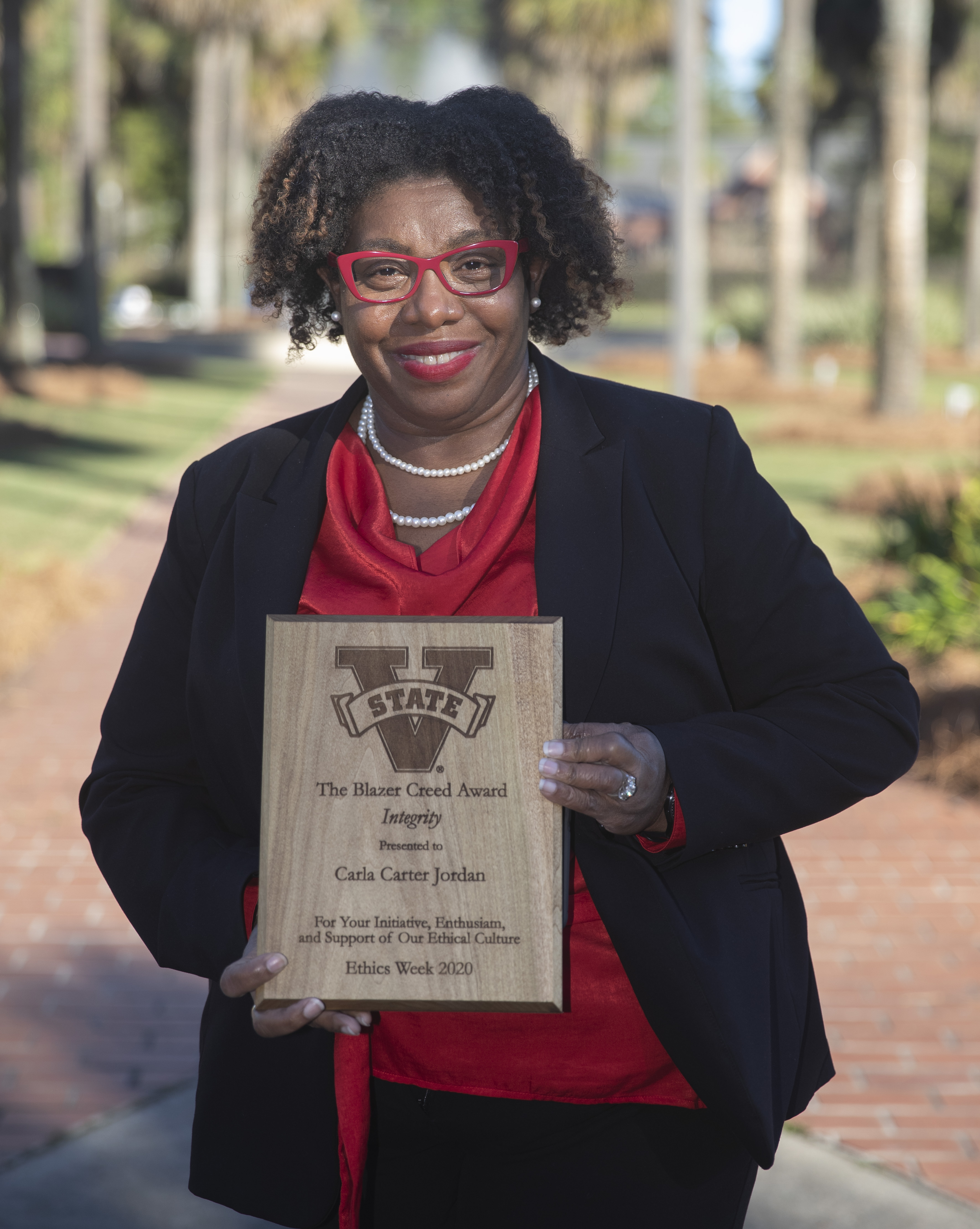 Carla Carter Jordan
VALDOSTA — Valdosta State University recently recognized an elite group of students, faculty, and staff for their steadfast commitment to uphold The Blazer Creed in everything they do, both on campus and in the community — and Carla Carter Jordan, director of Career Opportunities, was one of them.

As the Blazer Creed states, VSU is a learning environment based on trust and mutual respect, in which open dialogue, vigorous debate, and the free exchange of ideas are welcome. The university is dedicated to the core values of community, including a commitment to practice the following:
 
Civility — A Blazer shows courtesy and compassion as well as respect for the dignity of every human being.
 
Integrity — Each Blazer is responsible for his or her own actions, and our community is stronger when we contemplate the context of our decisions and uphold the principles of trust and honesty.
 
Citizenship — Every Blazer has an interest in the wellbeing of the community and, therefore, a duty to stay informed, to make positive contributions, and to offer support to those who need help.
 
Jordan is a shining example of what it means to be a Blazer, to treat others with good manners, to act with honesty and have strong moral principles, and to work hard and help others.
BLAZER CREED AWARD FOR INTEGRITY
Carla Carter Jordan, Director of Career Opportunities
 VSU News:
Why does having integrity mean to you?
Carla Carter Jordan:
Integrity means upholding the foundational principles for living by always being true and honest with myself and demonstrating compassion for others. 
VSU News:
Who nominated you for this award?
Carla Carter Jordan:
Jessica Thomas, a student in the Harley Langdale Jr. College of Business Administration 
VSU News:
What went through your mind when you learned that you had won this award?
Carla Carter Jordan:
I am extremely excited to receive this award. (Excited may not the best word for an award of this magnitude.) The best words — humbled and joyful — express my gratitude for such an honor. I am humbled because a student was able to capture my love for Valdosta State University and the students I encounter. It is special when people can identify your love and care for the students you serve and the job you enjoy. Out of all of the awards, this award is very special to me because integrity is not just a word. It is a lifestyle. 
The Nomination
Carla has done quite a bit for me since I started VSU and working for the election's office. Through my father getting Stage 4 cancer to working 82 hours a week and struggling to find the motivation to stay in school, she has encouraged and pushed me. She has shown me that I am not only worth this degree but also I am capable of anything. When I wanted to drop out and give up she advised me on what was best. When I didn't believe I was good enough to even consider graduate school she made me see my potential. She has been a light in my life for almost three years now and I don't think she understands just how much of a role model and positive influence she has been in my life and so many others. I have had very few people to look up to in my life, but she is definitely one of them. She truly deserves to be recognized because without her encouragement I'm not sure I would be so close to graduating and even applying for grad school right now.
Newsroom
Office of Communications Powell Hall West, Suite 1120
Mailing Address
1500 N. Patterson St.
Valdosta, GA 31698
General VSU Information
Office of Communications