January 14, 2021
21-5
Jessica Pope
Communications and Media Relations Coordinator
Mardi Haynes Earns Blazer Creed Award for Citizenship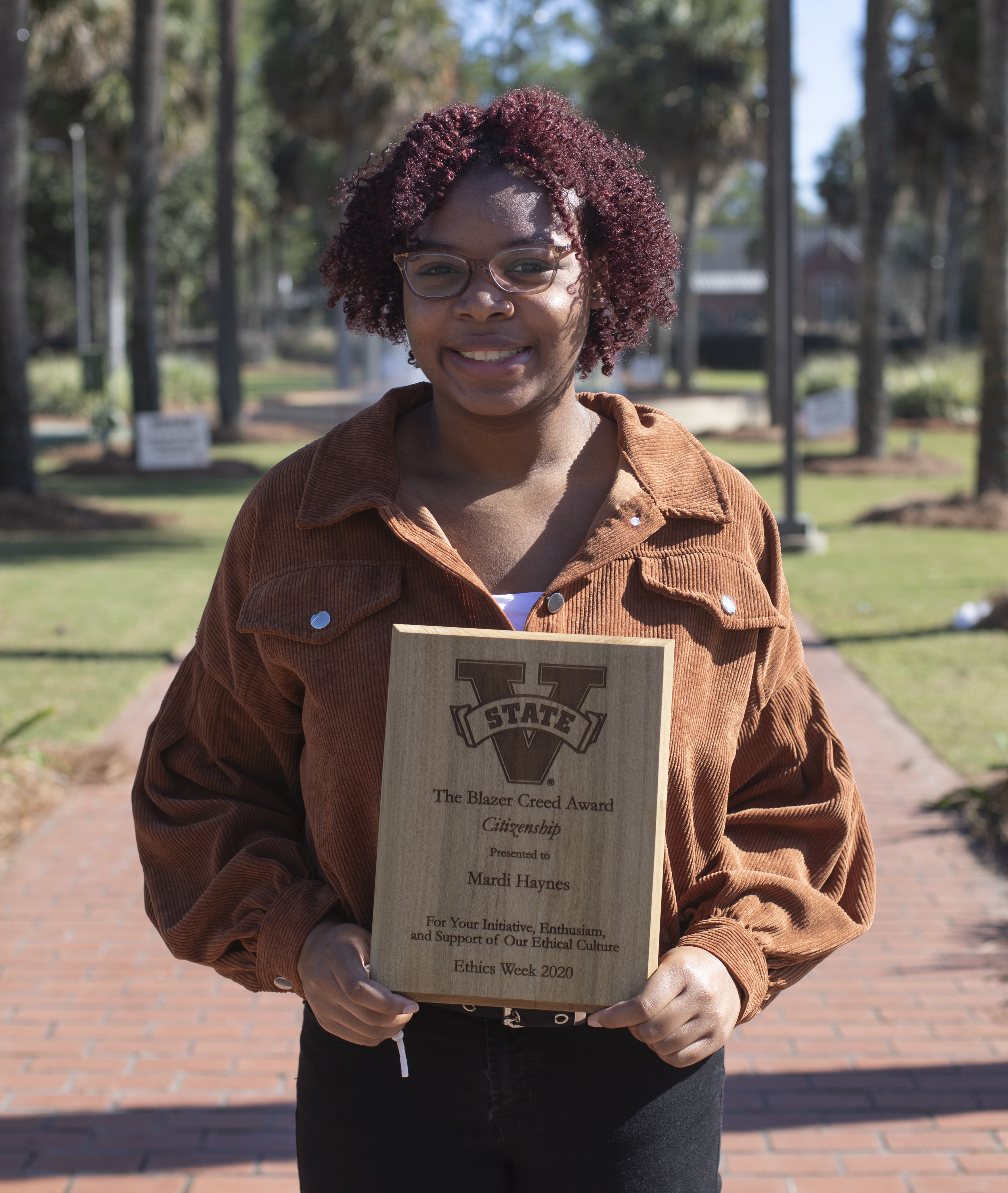 Mardi Haynes
VALDOSTA — Valdosta State University recently recognized an elite group of students, faculty, and staff for their steadfast commitment to uphold The Blazer Creed in everything they do, both on campus and in the community — and Mardi Haynes, a communication disorders major from Hiram, Georgia, was one of them.
As the Blazer Creed states, VSU is a learning environment based on trust and mutual respect, in which open dialogue, vigorous debate, and the free exchange of ideas are welcome. The university is dedicated to the core values of community, including a commitment to practice the following:
 
Civility — A Blazer shows courtesy and compassion as well as respect for the dignity of every human being.
 
Integrity — Each Blazer is responsible for his or her own actions, and our community is stronger when we contemplate the context of our decisions and uphold the principles of trust and honesty.
 
Citizenship — Every Blazer has an interest in the wellbeing of the community and, therefore, a duty to stay informed, to make positive contributions, and to offer support to those who need help.
 
Haynes is a shining example of what it means to be a Blazer, to treat others with good manners, to act with honesty and have strong moral principles, and to work hard and help others.
BLAZER CREED AWARD FOR CITIZENSHIP
Mardi Haynes, Student, Department of Communication Sciences and Disorders and Special Education
VSU News:
Tell us a little bit about yourself.
Mardi Haynes: I am from Hiram, Georgia, and I anticipate graduating with a Bachelor of Science in Education with a major in Communication Disorders in May 2022.
 
VSU News: What does being a good citizen mean to you?
Mardi Haynes: Being a good citizen matters because it can impact a whole community. Good citizenship entails respecting and supporting others, understanding other people's needs, taking on responsibilities, and adhering to social and ethical standards. The qualities of a good citizen push communities to be better and work towards striving.
 
VSU News: Who nominated you for this award?
Mardi Haynes: Njeri Pringle, graduate assistant in the Academic Support Center who earned a Doctor of Education in Leadership in December 2020
 
VSU News: What went through your mind when you learned that you had won this award?
Mardi Haynes: At first I was completely shocked when it was announced that I was recognized with the citizenship award. I was unaware that someone had nominated me, and once I received it, I was extremely honored and grateful.

The Nomination
It is my honor to recommend Mardi Haynes for the Blazer Creed Award. She is a conscientious student who works meticulously at both her academic and professional endeavors. She is a true leader who exemplifies situational leadership; she serves with integrity as she leads. She currently serves as a supplemental instruction leader in the Academic Support Center, as well as a student assistant within the Department of Biology. She has exceeded expectations as she has gone above and beyond to ensure the success of her attendees as well as added tremendous value to the supplemental instruction program. She models ethical decision-making and often has to demonstrate decisions that showcase her values. She is a servant leader and often can be observed helping to create and reflect the standards that have helped us expand the supplemental instruction program here on campus. She knows when to lead, and she provides opportunities for growth wherein her fellow leaders showcase their skills.
 
Each semester supplemental instruction leaders are observed several times by their peers, mentors, senior mentor, and staff. Each time Mardi has displayed an intuitive knowledge about the content and assists her attendees in making stronger connections with her, their peers, and most importantly, the content materials. She is intentional to ensure that she is holistically addressing the attendee's needs by infusing her sessions with best practices, along with note-taking, study, and time management skills to name a few. She utilizes the structure of a supplemental instruction session … to best benefit the attendees and keep them engaged throughout the session.  
 
Mardi was selected as a team leader this fall, which means that she oversees a team of supplemental instruction leaders with similar subjects. She served a pivotal role in developing and implementing supplemental instruction team leader training. Typically, her team members see her as the go-to for extra help and support. She has worked with the mentors and her other team leaders to develop training for Level 1 supplemental instruction leaders. Additionally, she has worked with us as we have developed new processes for hiring, supervising, and evaluating supplemental instruction leaders. This is pivotal in that our program grew by 267percent over the last nine months. We have created a group interview process in which Mardi has participated in twice, providing feedback for improvements.
 
Mardi takes her academic and professional responsibilities seriously, as showcased by her transcript and consistent pursuit of her educational goals. She is a role model and an excellent example for her peers and other students. Her core values, work ethic, and outlook have an impact on all those that encounter her. She has a special ability to let those she meets feel "comfortable in their own skin." Additionally, she has a calming demeanor that allows her peers and attendees to fully engage and be present in their academic and professional pursuits.
Newsroom
Office of Communications Powell Hall West, Suite 1120
Mailing Address
1500 N. Patterson St.
Valdosta, GA 31698
General VSU Information
Office of Communications