January 13, 2021
21-4
Jessica Pope
Communications and Media Relations Coordinator
Barbara Fontaine Earns Blazer Creed Award for Citizenship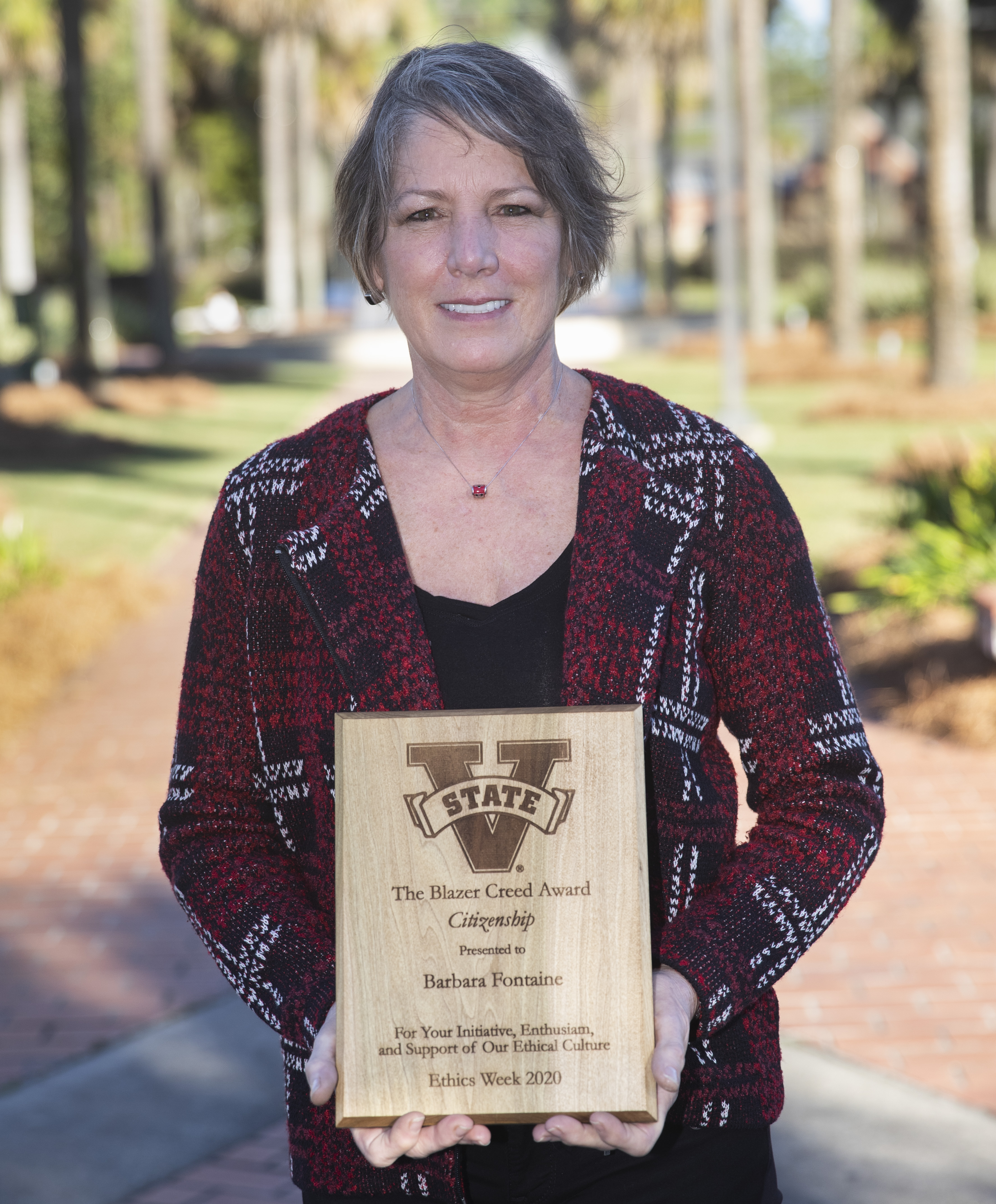 Barbara Fontaine
VALDOSTA — Valdosta State University recently recognized an elite group of students, faculty, and staff for their steadfast commitment to uphold The Blazer Creed in everything they do, both on campus and in the community — and Barbara Fontaine, administrative assistant in the Department of Music, was one of them.
As the Blazer Creed states, VSU is a learning environment based on trust and mutual respect, in which open dialogue, vigorous debate, and the free exchange of ideas are welcome. The university is dedicated to the core values of community, including a commitment to practice the following:
Civility — A Blazer shows courtesy and compassion as well as respect for the dignity of every human being.
Integrity — Each Blazer is responsible for his or her own actions, and our community is stronger when we contemplate the context of our decisions and uphold the principles of trust and honesty.
Citizenship — Every Blazer has an interest in the wellbeing of the community and, therefore, a duty to stay informed, to make positive contributions, and to offer support to those who need help.
Fontaine is a shining example of what it means to be a Blazer, to treat others with good manners, to act with honesty and have strong moral principles, and to work hard and help others.
BLAZER CREED AWARD FOR CITIZENSHIP
Barbara Fontaine, Administrative Assistant, Department of Music

VSU News: What does being a good citizen mean to you?
Barbara Fontaine: A good citizen is someone who demonstrates honesty, friendliness, and dedication … someone who works with a diverse group of people to collaborate on ideas, support the wellbeing of the community, and build relationships based on loyalty, support, trust … someone who values the beliefs and opinions of others while working together in a collaborative fashion. I have taken the opportunity to participate in many leadership, management, and administrative course programs available through Employee and Organizational Development on campus. I have completed the Administrative Assistant Professional Certificate, the Professional Certificate in Leadership and Management: Leadership Track, and the Professional Certificate in Leadership and Management: Management Track. These courses have allowed me to develop strong relationships across campus with some amazing people.
VSU News: Who nominated you for this award?
Barbara Fontaine: Rebecca Skelton is the person who nominated me. She is one of our student assistants in the Department of Music office. She has been working for us two and half years and has been a true asset to our department. I feel it is important as a supervisor and mentor to set an example as a positive role model and develop trust, support, and guidance throughout their university journey. I am honored that Rebecca felt I was a worthy candidate for such an honorable award.
VSU News: What went through your mind when you learned that you had won this award?
Barbara Fontaine: I was so excited and in disbelief …. I was totally surprised, as I had no idea I was even nominated. I think Rebecca was as surprised and excited as I was. I am honored and so very proud to be awarded such a prestigious award. After attending Valdosta State College, I was away for 30 years, and I am proud and happy to be back again assisting our Blazer community at Valdosta State University.
The Nomination
Mrs. Fontaine is an absolutely amazing individual. She has gone above and beyond for everybody that is involved with the fine arts, especially the Department of Music. Every task that is presented to her is taken on with strong will and power to complete it with confidence. She stays up to date with all things concerning the Department of Music and makes sure to always support other faculty and staff members in all their endeavors. One of the biggest contributions that Mrs. Fontaine has made to our music department and community recently is making facemasks for all of the Valdosta Symphony Orchestra. She has handmade over 500 masks for instrumentalists involved in the VSO as well as one for every season ticketholder that comes to see the performances. This contribution has helped ensure the safety of our local music community during these times of uncertainty. By making all of the masks she has also contributed to keeping a community tradition alive. Without social distancing guidelines and the contribution of Mrs. Fontaine's masks, VSO may not have even happened this semester. Without Mrs. Fontaine's act of selflessness and concern for the safety and wellbeing of the community, this semester would not have gone so smoothly. Therefore, I believe I speak on behalf of the entire Department of Music when I say that Mrs. Fontaine deserves the Blazer Creed Award for Citizenship. She is a wonderful asset to VSU and the community.
Newsroom
Office of Communications Powell Hall West, Suite 1120
Mailing Address
1500 N. Patterson St.
Valdosta, GA 31698
General VSU Information
Office of Communications