January 12, 2021
21-2
Jessica Pope
Communications and Media Relations Coordinator
Anthony Oliveira Earns Blazer Creed Award for Civility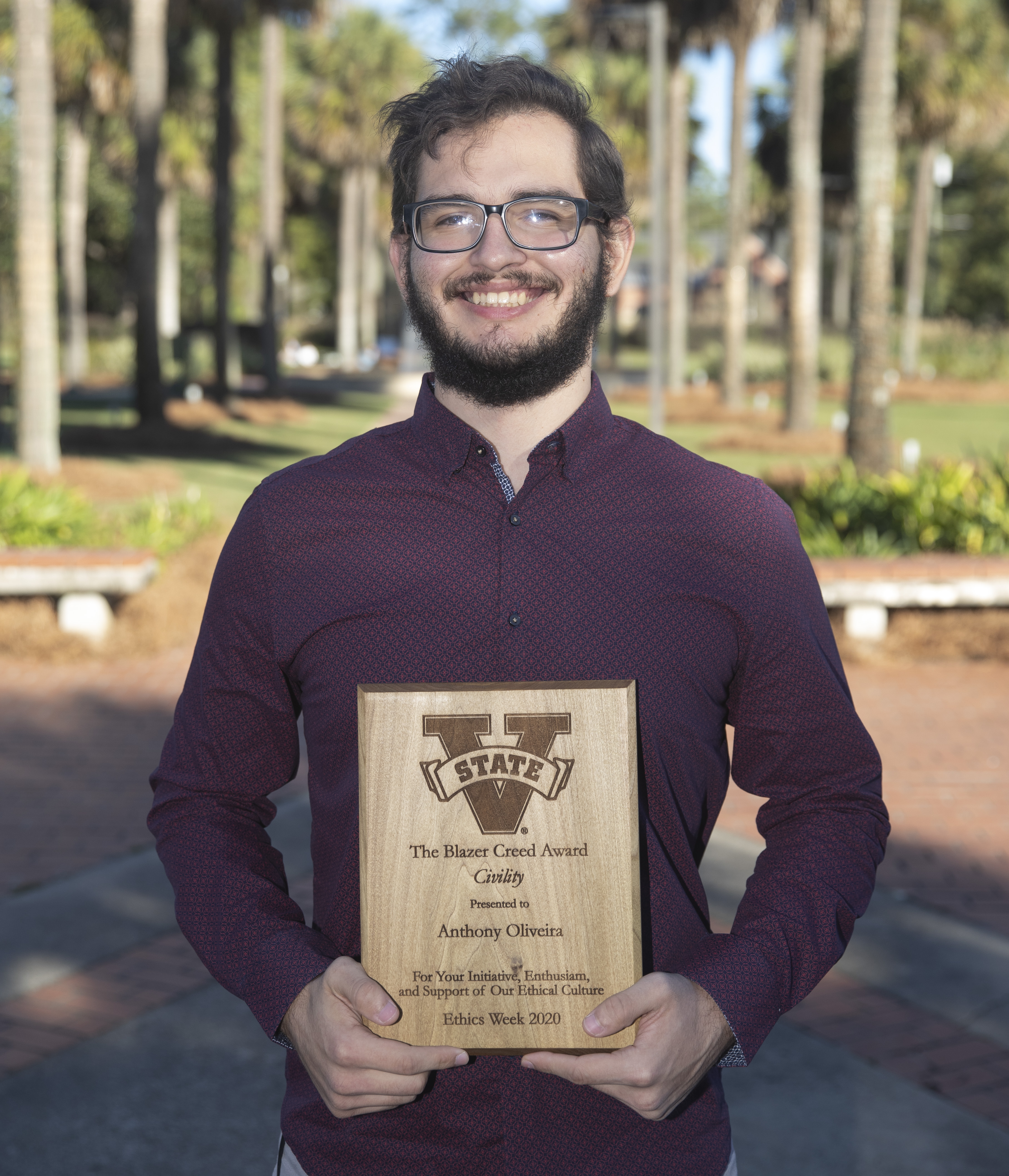 Anthony Oliveira
VALDOSTA — Valdosta State University recently recognized an elite group of students, faculty, and staff for their steadfast commitment to uphold The Blazer Creed in everything they do, both on campus and in the community — and Anthony Oliveira, a psychology major from Cranford, New Jersey, was one of them.
As the Blazer Creed states, VSU is a learning environment based on trust and mutual respect, in which open dialogue, vigorous debate, and the free exchange of ideas are welcome. The university is dedicated to the core values of community, including a commitment to practice the following:
Civility — A Blazer shows courtesy and compassion as well as respect for the dignity of every human being.
Integrity — Each Blazer is responsible for his or her own actions, and our community is stronger when we contemplate the context of our decisions and uphold the principles of trust and honesty.
Citizenship — Every Blazer has an interest in the wellbeing of the community and, therefore, a duty to stay informed, to make positive contributions, and to offer support to those who need help.
Oliveira is a shining example of what it means to be a Blazer, to treat others with good manners, to act with honesty and have strong moral principles, and to work hard and help others.
BLAZER CREED AWARD FOR CIVILITY
Anthony Oliveira, Student, Department of Psychological Sciences
VSU News: Tell us a little bit about yourself.
Anthony Oliveira: I am from Cranford, New Jersey. I am pursuing a Bachelor of Science in Psychology. I am on track to graduate in May 2021.
VSU News: Why does practicing civility matter to you?
Anthony Oliveira: As a Christian, I try to live my life as Christ once did. As such, I believe it is important to approach life in a loving, caring, yet principled manner — as Christ did. Moreover, in the Bible and other teachings of Christianity, it is evident that Christ modeled civility better than any human being ever could have — while still holding steadfast to his principles. Therefore — alluding to my priorly stated assertion — because of the inherent importance of civility, I try to approach life in such a way. Moreover, I respect the sanctity and dignity inherent to every person, knowing that God has bestowed upon them the complicated, beautiful, and intricate blessing that is life. We are all God's creation. Therefore, I believe it is important to show compassion and empathy to my fellow Valdosta State University students, yes, but also to people in general.
VSU News: Who nominated you for this award?
Anthony Oliveira: Njeri Pringle, graduate assistant in the Academic Support Center who earned a Doctor of Education in Leadership in December 2020
VSU News: What went through your mind when you learned that you had won this award?
Anthony Oliveira: I was beyond excited. I must humbly state that in my daily life I try to embody civility. As such, receiving this award served as an acknowledgement of such efforts — one for which I am wholeheartedly grateful. It was an unexpected honor to be recognized with the civility award. I want to thank Ms. Njeri Pringle for nominating me for this award.
The Nomination
It is my honor to recommend Anthony Oliveira for the Blazer Creed Award. Anthony has served as a supplemental instruction leader for approximately three years. He is currently a mentor and Level 4 supplemental instruction leader.
 
As a mentor Anthony has had to both advocate for his team and also mediate difficult staff and student concerns. Recently, he served as an advocate in ensuring that he and his team members were properly cared for and protected. He encouraged in a mediation wherein there was a compromise of care; our team is learning how to better communicate as well as care for each other. He handled the situation with integrity and civility. He has helped us develop processes and procedures that help us put students first.
 
As a Level 4 supplemental instruction leader, Anthony oversees two supplemental instruction teams of five-plus leaders. We have expanded the supplemental instruction program by 267 percent. He has been instrumental in designing training, following up with staff members as an accountability measure. He has also provided extra support for supplemental instruction leaders that may have trouble balancing their new role along with their other obligations. He works with several other mentors in designing new hire training, interest meetings, group interviews, and staff development.
 
Due to the restrictions of COVID-19, Anthony has helped us to create a four-day intensive training that equips supplemental instruction leaders with new tools to convert their face-to-face sessions into online presentations. He provides steadfast guidance and advisement when making contribution to training, recruitment, recognition, and the like. His ideas have been implemented in improving our five-hour new hire training, as well as our recruitment efforts. During our face-to-face training, he provides a contextual framework from which supplemental instructors can take their newfound knowledge and apply it to their everyday lives. He fully understands relational connectivity and helps us identify and correct issues of disconnection.
 
Anthony has a number of responsibilities but is very intentional about his studies and his academic pursuits as showcased by his transcript and consistent pursuit of his educational goals. He has established himself with his professors and other academic faculty as demonstrated through his current research pursuits and faculty partnerships. He has served in many leadership capacities included by not limited to senator, member of the Psychology Club, member of the Spanish Club, member of Circle K, Member of the Psi Chi Honor Society, and member of the Kappa Delta Pi Honor Society. He is a role model and an excellent example to his peers and other students. His core values, work ethic, and outlook have an impact on all those that encounter him. He has a profound presence that is both warm and inviting — it issues an invitation to explore the depth of oneself and others. I would say that knowing oneself is the foundation to the endeavor of learning.
Newsroom
Office of Communications Powell Hall West, Suite 1120
Mailing Address
1500 N. Patterson St.
Valdosta, GA 31698
General VSU Information
Office of Communications