December 15, 2020

Jessica Pope
Communications and Media Relations Coordinator
Nya Lampkin Wins Best Poster Honors at 73rd Gaseous Electronics Conference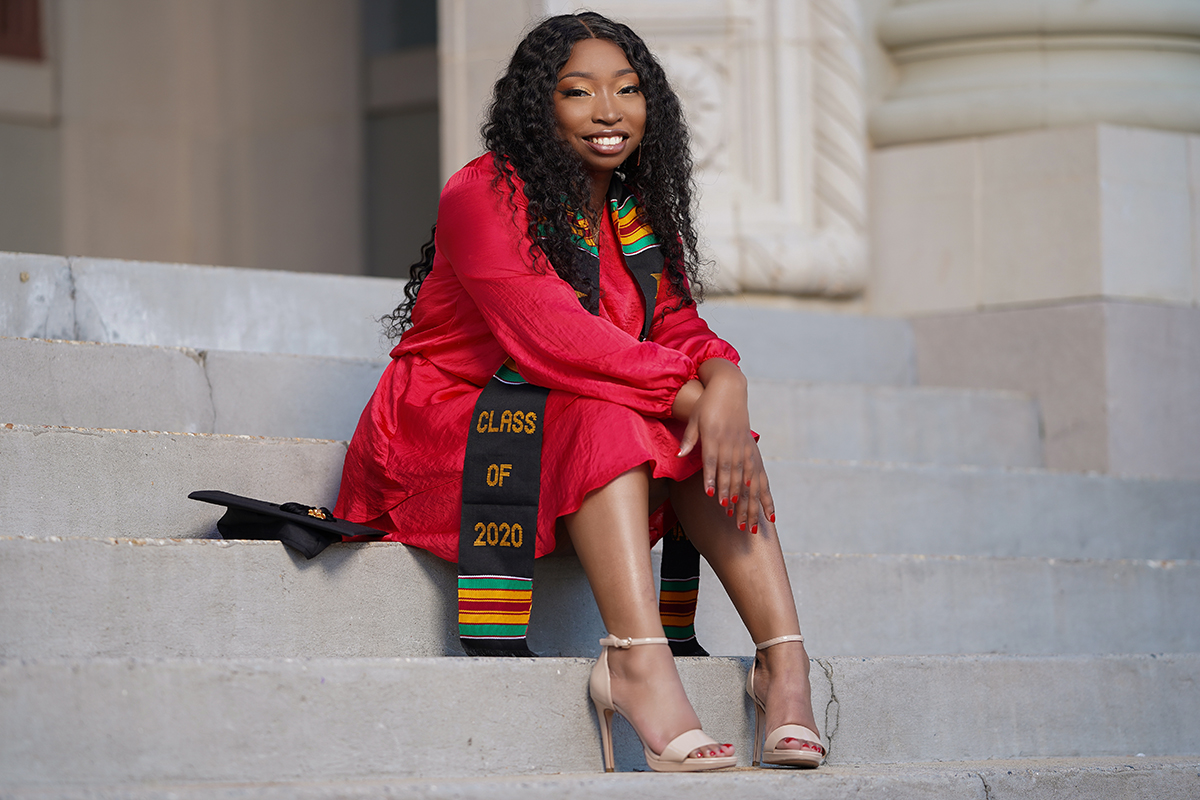 Nya M. Lampkin
VALDOSTA — Nya M. Lampkin's "Gas Kinetic Model for Titan Atmospheric Entry Plasma" won Best Poster honors in the undergraduate research category at the 73rd annual Gaseous Electronics Conference.
Lampkin conducted this award-winning research with her classmate, Jael A. Stanton, under the guidance of Dr. Dereth J. Drake, associate professor of physics at Valdosta State University.
"We described the chemical composition, temperature, and pressures of Titan's atmosphere at different altitudes to show a basic gas kinetic model to determine how the composition changes during the thermal ionization process," she explained. "During atmospheric entry of Huygens lander, most of the kinetic energy of the probe was lost in the form of thermal ionization of the atmosphere, i.e. a plasma formed around the probe during entry."
According to NASA, the European Space Agency's Huygens Probe "was a unique, advanced spacecraft and a crucial part of the overall Cassini mission to explore Saturn" and "its complex system of rings and moons." It landed on Titan, Saturn's largest moon, on Jan. 4, 2005, and collected data for about 3.6 hours, both in Titan's atmosphere and on its surface. It was the first landing on a moon in the outer solar system.  
During the five-day Gaseous Electronics Conference, which was conducted virtually due to the ongoing global health crisis surrounding COVID-19, Lampkin was able to expand her knowledge of low temperature plasma science and collision physics by listening to experts from around the world discuss the latest ideas on the physical and chemical processes and dynamics taking place in partially ionized, collisional plasma and between the atoms, molecules, charged particles, photons, waves, and fields.
The Gaseous Electronics Conference has a long history of presenting fundamental and basic science contributions on plasma sources, diagnostics, simulation, plasma chemistry, basic phenomena, and atomic and molecular processes. The event has become leading venue for reporting on emergent areas of plasma-biotechnology, plasma medicine, multiphase plasmas, environmental applications, and atmospheric-pressure plasma systems.
More than 560 scientists and engineers from 27 countries participated in this year's event, Drake said. Only two undergraduate student research projects earned Best Poster honors, she added.    
Lampkin earned a Bachelor of Science in Chemistry from VSU on Dec. 14. The following day she began working as a laboratory technician for CJB Industries in Valdosta.
As an undergraduate student at VSU, Lampkin was a Georgia HOPE Scholar and a Dean's list honoree. She was a member of Student Members of the American Chemical Society, where she served as secretary in 2018; the American Chemical Society; the National Council of Negro Women, where she served as treasurer from 2017 to 2018; Sigma Alpha Pi: The National Society of Leadership and Success; and the American Physical Society. She provided outreach to area elementary and middle school children during Science Saturday and Student Members of the American Chemical Society events on campus and in the community. She also served as an AVID tutor in the Valdosta City School System.
In addition to the 73rd annual Gaseous Electronics Conference, Lampkin presented research at VSU's Undergraduate Research Symposium, which was held virtually in April, and the Southeastern Section of the American Physical Society Conference in November. Other research topics include "Microwave Synthesis with Oxidation-Reduction to Synthesize Polypyrrole," "Understanding and Predicting Human Made and Distributed Environmental Toxin on a Molecular Level," and "Chemical Reactions, Solubility, and Instrumentalist Analysis with Chlorophyll."  
Lampkin is the daughter of Joy Francis and Terry Lampkin. She calls Valdosta home.  
On the Web:
https://www.valdosta.edu/chemistry/
http://www.apsgec.org/gec2020/index.php
Newsroom
Office of Communications Powell Hall West, Suite 1120
Mailing Address
1500 N. Patterson St.
Valdosta, GA 31698
General VSU Information
Office of Communications