November 5, 2020
20-194
Jessica Pope
Communications and Media Relations Coordinator
Internship Proves to Be Aha Moment for VSU's Bob Greenbaum Jr.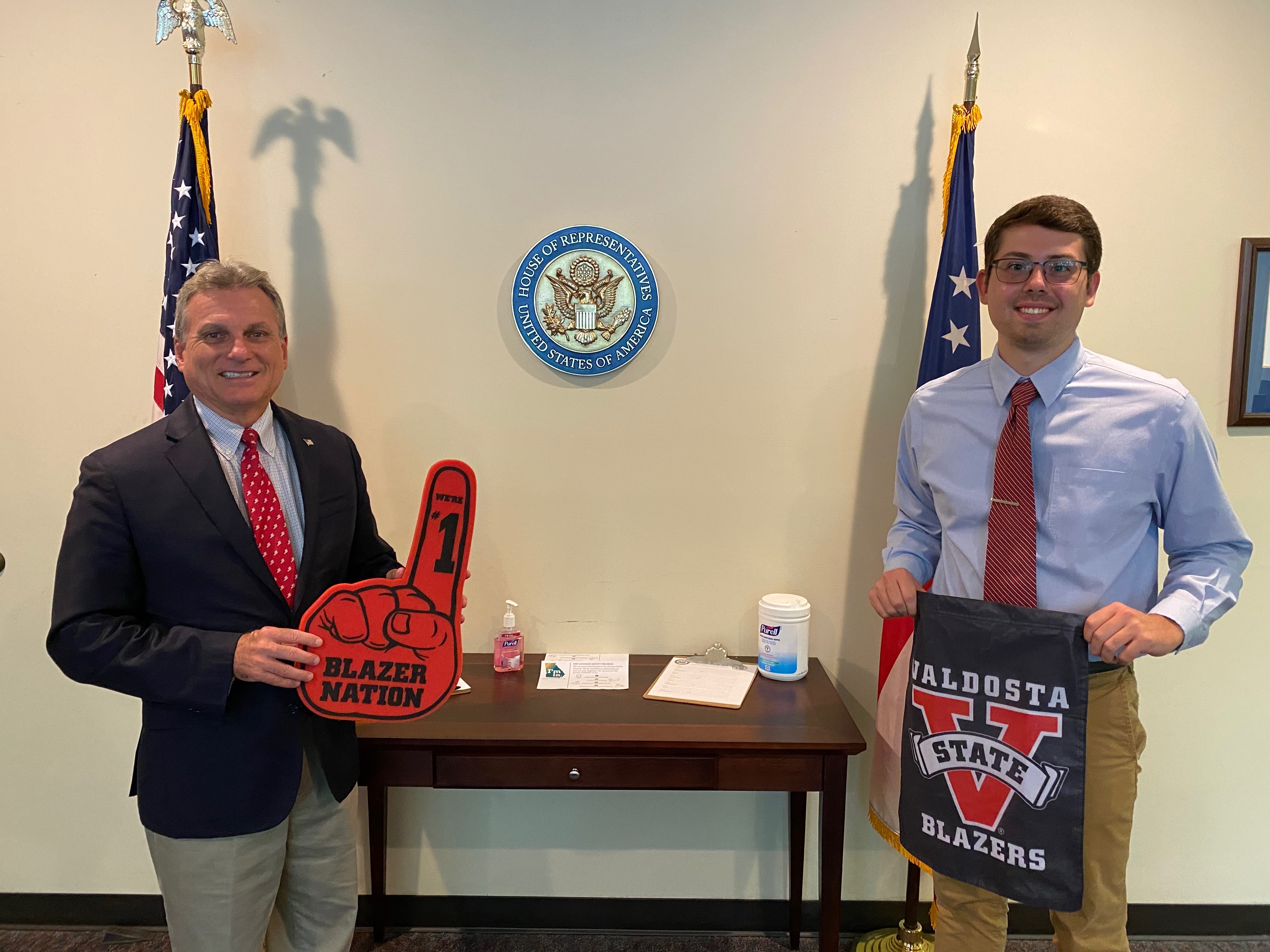 Pictured are United States Rep. Earl Leroy "Buddy" Carter from Georgia's 1st District and Bob Greenbaum Jr. 
VALDOSTA — A five-week internship with an experienced American politician has renewed one Valdosta State University student's passion for public service.
Bob Greenbaum Jr. of Rincon, Georgia, had the opportunity to work in Congressman Earl Leroy "Buddy" Carter's Savannah office in the days leading up to the start of his senior year at VSU. It was the inspiration he needed to remain focused on reaching his academic goals, honing his leadership skills, and making his dreams come true.
"This internship really showed me that I was destined to work in government," he shared. "This was one of the most exciting experiences I've ever had."
Due to global health crisis, Greenbaum's internship was modified a bit due to public health guidelines, but he said he made a special effort to take full advantage of every moment and every opportunity he was given to learn from Carter and his team.
Carter has served Georgia's 1st District in the U.S. House of Representatives since 2015. His political career began in the late 1980s in Pooler, Georgia, where he held various offices, including mayor. Before going to Washington, D.C., he served in the Georgia House of Representatives and Georgia Senate.
When asked about his internship experience, Greenbaum said, "I was mainly on the phones with constituents of the first district and helping the secretary with paperwork. I did go and sit in on two meetings and traveled to Pembroke to several businesses with the congressman. Even though it was during the pandemic and activities were restricted, I made it the best that I could. My efforts showed the staff that I was hardworking and dedicated to the job at hand. They offered for me to continue to work with them anytime and possibly go to Washington, D.C."
Greenbaum said he did not want to leave because the staff from Carter's Savannah office — Brooke Childers, district director; Matthew Wirth, field representative; Bruce Bazemore, caseworker; Tracy Dowdy, caseworker; and LeeAnn Powell, secretary — "were so nice to me and made me feel I belong there."
"I had lunch with the congressman twice," he added. "It was amazing to sit with a member of Congress and talk to him about politics and current news from Washington, D.C. The congressman is a very nice guy who really cares about his constituents. His values and stances met with mine, and he was very heavy on community service like me."
As a student at VSU, Greenbaum has had an opportunity to serve his campus community as a student representative on the Blazer Dining Advisory Committee, Parking and Transportation Advisory Committee, and Environmental Issues and University Committee; as a diversity educator with the Department of Student Diversity and Inclusion; as an event coordinator with the Resident Hall Association; and as a member of the College Republicans, Genders and Sexuality Alliance, University Ambassadors Program, and Baptist Collegiate Ministries.
Greenbaum has held various leadership roles on campus, include serving as student chairman with Campus Pride Connection; business sponsorships chairman with Relay For Life; president of Blue Key Honor Society; and vice president of Model United Nations. As an elected official with the Student Government Association he has served as speaker of the Senate; chief of staff; chairman of the Constitution Committee and Auxiliary Services Committee; and member of the Standards Committee, Chamber of Campus Affairs, and Campus Safety and Parking Committee.
Under the direction of Dr. Carol M. Glen, professor in the Department of Political Science, Greenbaum has presented at three National Model United Nations Conference events and will present virtually at a fourth in early November in Washington, D.C. He earned Honorable Mention and Position Paper Award honors at the 2019 conference in Erfurt, Germany; Distinguished Delegation and Position Paper Award honors at the 2019 conference in New York City; and Distinguished Delegation honors at the 2018 conference in Washington, D.C.
Greenbaum has volunteered with the Lowndes County Animal Shelter, Second Harvest of South Georgia, Moody Air Force Base, and Community Soup Kitchen Inc.
Greenbaum's commitment to academic, service, and leadership excellence at VSU resulted in him earning the highly coveted Eternal Flame Leadership Award from the Division of Student Affairs; Blazer Ready Series: A Professional Certification from the Office of Career Opportunities; Top Five Senators Award, Senator of the Month, Senate Recognition Award, and Brightest Flame Award from the Student Government Association; Student Leader of the Month Award from the Office of Student Leadership and Volunteer Services; and a Certificate of Appreciation from the Department of Student Diversity and Inclusion.  
Greenbaum anticipates graduating from VSU with a Bachelor of Business Administration in International Business and a Minor in Political Science in May 2021. His dream is to work with the United States Department of State or United Nations. He is the son of Bob Greenbaum Sr. and Mary Greenbaum.
On the Web:
https://www.valdosta.edu/colleges/business/
https://www.valdosta.edu/polsci/
Newsroom
Office of Communications Powell Hall West, Suite 1120
Mailing Address
1500 N. Patterson St.
Valdosta, GA 31698
General VSU Information
Office of Communications