October 1, 2020
20-182
Jessica Pope
Communications and Media Relations Coordinator
African American Studies Program Announces New Scholarship Opportunity at VSU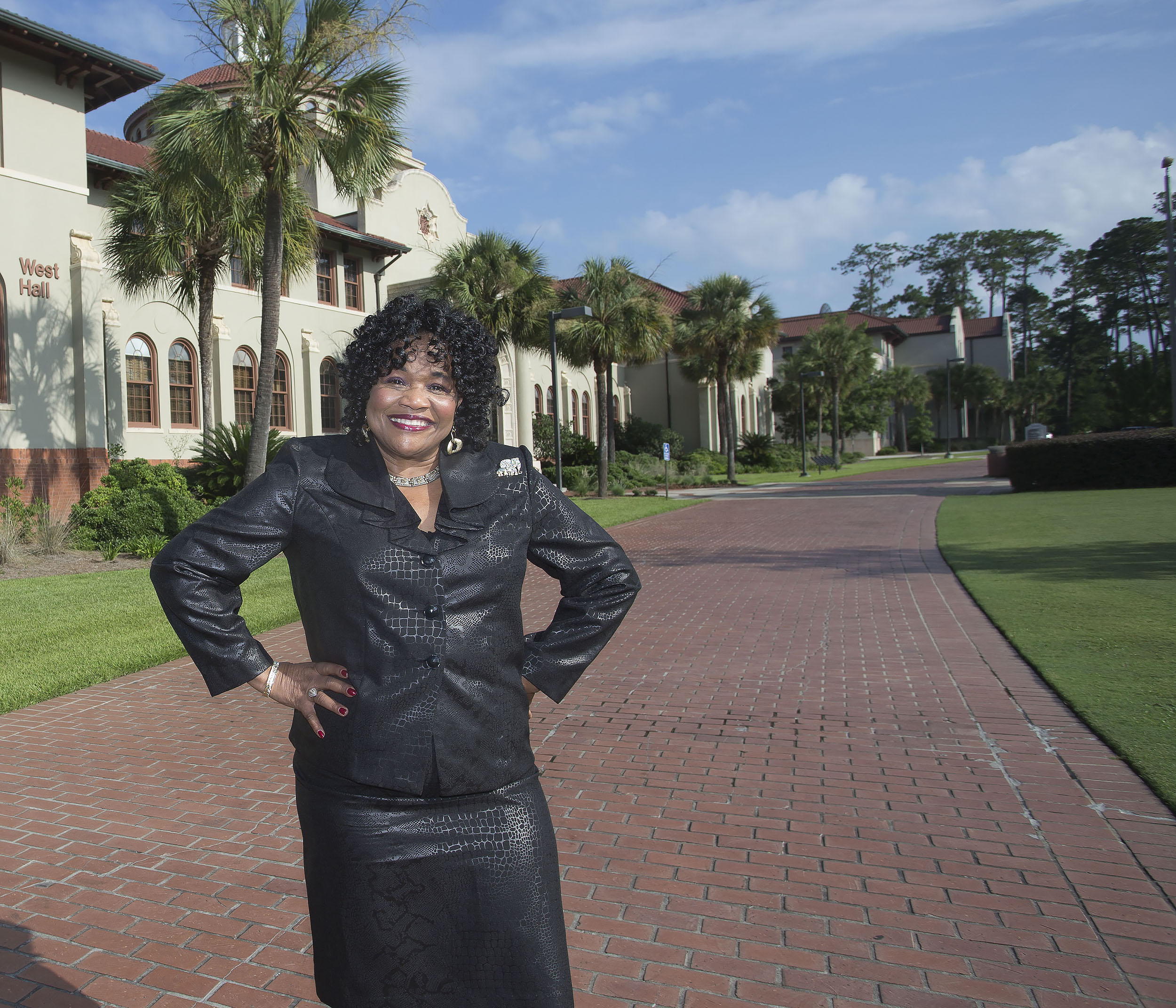 Dr. Shirley H. Hardin
VALDOSTA — The African American Studies Program (AFAM) at Valdosta State University is excited to announce that applications are now available for the inaugural Dr. Shirley H. Hardin "Paying it Forward" Scholarship Fund. The deadline to apply is Feb. 1, 2021.
 
The Dr. Shirley H. Hardin "Paying it Forward" Scholarship Fund is open to full-time sophomores, juniors, and seniors pursuing an AFAM minor as well as first-year graduate students who completed the minor during their undergraduate years. To be considered for the $500 scholarship, applicants must have a record of academic success and at least nine hours of 3,000- and/or 4,000-level AFAM course credits.
 
Applications and additional information are available in the AFAM office in Nevins Hall Room 1107.
 
The Dr. Shirley H. Hardin "Paying It Forward" Scholarship Fund honors the 40-year legacy of a dedicated professor, administrator, and community leader committed to encouraging others to continue her tradition of academic excellence and service to others.
 
VSU: Why was it important to you to create a scholarship for VSU students?
 
Dr. Shirley H. Hardin: As an undergraduate, graduate, and post-doctoral student, I was blessed to receive scholarships, fellowships, and grants that funded my entire education. I know how difficult it can be, especially during these unprecedented, challenging times where students and their parents may have lost jobs and are forced to adjust to this "new normal." Any financial assistance given to our well-deserving students will make a real difference in their access to quality education and change countless lives.  That is why it is so important to me (and to my committee) to "pay it forward."
 
VSU: When you look back at your 40 years at VSU, what accomplishments are you most proud of, besides endowing this scholarship? 
    
Dr. Shirley H. Hardin: (Please see her full response below.)
• No. 1: To be recruited to teach at a more diverse institution.
To accept a job at Valdosta State College in 1976 was truly incredible. I was not looking for employment and was quite happy and content to teach at my beloved alma mater, Albany State College, a historically black institution. Upon receiving an invitation to interview and, subsequently, an opportunity to teach students from diverse races, ethnicities and backgrounds, I finally realized that these students needed to see more black professors in their classrooms as much as I needed to be surrounded by them, understanding and embracing their cultural lifestyles as I shared my own.
• No. 2: The creation of AFAM courses and the 50th anniversary of integration at Valdosta State.  
When I came to Valdosta State College in 1976, I was saddened to know that there were no courses designed to explore the cultural heritage and current lives of black people in this country. A colleague shared with me that there was an attempt to teach two courses, one in English (African American Literature) and the other in History (African American History). Both courses were deemed unsuccessful because of a lack of real interest in the subject matter. Consequently, I was encouraged by my colleagues in the Department of English to create courses like African American Literature, a chronologically based introductory course beginning with slave songs and slave narratives and ending with modern and contemporary works by people of African descent. Two other courses I created and taught were Black Women Writers and African Literature. Moreover, there were very few articles in the archives about the integration of the university in 1963, and apparently they were scarcely read. To my knowledge, the event was never celebrated until 2013's 50 years: A Celebration of Inclusion at VSU. I was privileged to be a part of a committee that acknowledged and brought back on campus the first two students to integrate Valdosta State in 1963 — Drewnell Thomas and Robert Pierce.  Other VSU pioneers were also celebrated, including Mary Barron (Testing); Dr. Bobby Blake (Music); Dr. Joseph Brown (Student Affairs); Dr. Ola M. Brown (Education); Marion Duckworth (OASIS); Dr. Louis Dunbar (Education and Library Science); Bobby Shannon, Ude Eko, and Lauren Davis (SGA); Attorney Laverne Gaskins (Legal Affairs); Dr. John Gaston (College of the Arts); Dr. Jerry Hardee (President's Cabinet); Dr. Moses Hardin (Modern Foreign Languages); Dr. Shirley H. Hardin (English and African American Studies); Arthur Hart (Dean of Faculty); Dr. Joyce Ann Joyce (English); Skip McDonald (Homecoming Queen); Dr. Ouida McDougal (Education); Glenn Sims (Sociology); Jessie Tuggle (NFL); and Dr. Maggie Viverette (Equal Opportunity Programs and Multicultural Affairs / Social Equity).   
• No. 3: The establishment of the African American Studies Program at VSU. 
African American Studies at VSU has impacted the lives of thousands of students and professors alike. Established in 1996, the program has offered courses relevant to majors across disciplines, especially humanities and social sciences majors. Students interested in careers in Sociology and Criminal Justice have taken courses like Black Families, African Americans and the Criminal Justice System, The Spiritual Heritage of African Americans, and Dissecting Race, Class, and Gender. English majors have taken advantage of courses like The Harlem Renaissance, African Literature, and Contemporary African American Literature. Likewise, History majors have a wealth of courses to choose from, including African History, African American History, An Intellectual History of African Americans, The Black Power Movement, and so many more. Political Science students have taken courses like African Politics and Study of African American Politics. Courses like African Americans in Film, Fundamentals of Cross-Cultural Communications, African American Art, and African American Music have intrigued College of the Arts students majoring in Speech and Communication, Mass Media, and the visual and performing arts. Nursing majors, too, have taken advantage of courses like Health and Vulnerable Populations. The dynamic interdisciplinary faculty who teach these courses are engaging, passionate, and experts at making significant connections among their own disciplines and African American Studies. In addition to remaining the largest minor on VSU's campus, African American Studies continues to offer a world of exciting possibilities. For more details about the history of the program, please visit https://www.valdosta.edu/about/news/releases/2013/09/a-celebration-of-inclusion-the-african-american-studies-program.php.
• No. 4: Responding to the University System of Georgia Board of Regents-mandated African American Male Initiative (AAMI).
In 2002 I was invited to serve on the USG Board of Regents Promotion and Publicity Subcommittee for the African American Male initiative (AAMI) to be instituted throughout all of the USG institutions. The purpose of this project was to investigate the factors affecting underrepresented black males in higher education, including economic, health, social, political, and language barriers, as well as overwhelming stereotypes, that prevented black males from having access to a quality education. A major goal was to involve ninth grade African American males in afternoon and weekend sessions (mainly academics) to ensure their graduation from high school and enrollment in some level of higher education. In 2005 AAMI Program HEROES Institute (Helping Everyone Receive Optimum Education) was established at Valdosta State and officially began to serve our Valdosta High School male students in 2006. I served as the principal coordinator of the program while Charleston Carter, a VSU alumnus, served as the community coordinator.  A group of 25 ninth grade African American males enrolled in the program and were taught academic subjects (English, algebra, social studies, and French) as well as sessions on building social skills (i.e. "Dressing for Success," "Getting the Most out of an Interview," "Building Professional Relationships," etc.). The program also offered weekly sessions on the PSAT and the SAT. In addition, the young men took college tours and participated in AAMI Best Practices conferences across the state of Georgia. On many occasions they assisted AFAM with several academic events that helped to prepare them for college.  With support from their parents, VHS staff, VSU professors, VSU student mentors, and the community, approximately 85 percent stuck with the program and graduated from high school with their class. Several enrolled in college, a few went into the military, and a couple of them initially chose promising jobs. Although the task was quite demanding, to see these young men succeed was worth it all to my colleagues and to me.
• No. 5: Meeting professionals and others who made an indelible impact on my life. 
While at Valdosta State for almost 40 years, I was very fortunate to meet those individuals who were genuinely interested in our students' successes and in me as a leader, a mentor, a teacher, and in many cases, an ambassador for our students and colleagues teaching in the AFAM Program. Dr. Nikki Giovanni, renowned American poet, often called the "Black Princess of Poetry," encouraged me to use my voice to promote the success of my students. Ossie Davis, actor and activist, showed me the beauty in blackness expressed in so many forms, including the performing and the visual arts. Dr. Julia Hare and her husband, Dr. Nathan Hare, (the "Female Malcolm-X" and the "Father of Black Studies"), founders of the "Think Tank," taught me to understand the politics of recognition and identity. Louie A. Brown Visiting International Scholar Dr. Ebele Eko taught me how to use my God-given talents (my pen and my voice) to speak my own cultural truths. Renowned writer, poet, activist, and singer Dr. Maya Angelou, my mentor and "sister-friend," taught me so many things — "No one can make you feel inferior without your consent." "If a snake tells you he's going to bite you, believe him." "People will forget what you said, people will forget what you did, but people will never forget how you made them feel," which is my favorite. Professor Ngugi wa Thiong'o, renowned African writer, demonstrated to me and to others the penultimate strength and beauty found in black African culture and the importance of "Decolonizing the Mind." I will never forget "the Elephant Man's" wisdom, gentleness, and powerful strength in delivering his message. Other notable scholars and performers who affected my pedagogy include Olympia Vernon, Allison Joseph, Nathan McCall (writers); John Hope Franklin (American historian); Molefi Kete Asante (American philosopher and leading figure in African American Studies); the Tallahassee Boys' Choir; journalist Tony Brown; the Tuskegee Airmen; and the American Spiritual Ensemble. Lastly, meeting students from all over the world gave me a global sensibility as I learned and embraced cultural differences, while all the time knowing that "we are more alike than we are different."   
 
A Look at Dr. Shirley H. Hardin's Time at VSU
• Hired by the Department of English at Valdosta State College in 1976 to teach developmental studies courses in English the first two quarters and then English 101, 102, and 251 the third quarter.
• Promoted to assistant professor of English in 1986.
• Earned the Doctor of Philosophy in English with a concentration in African American Literature in 1988 and taught graduate courses (Black Women Writersand a graduate seminar on Baldwin, Ellison, and Wright).
• Promoted to associate professor of English in 1992 and became a major writer for a proposal for a minor in African American Studies in 1992. Other major writers included Dr. John Gaston, Dr. Benjamin McClain, and Dr. Jerry Hardee.
• Completed a proposal for the AFAM minor and submitted it to the USG Board of Regents in the fall of 1994. It was officially approved in the fall of 1996.
• Promoted to full professor of English in 1997. 
• The AFAM faculty and I created and taught more courses to sustain the AFAM minor — Intro to African American Studies, African American Literature (various special topics), African Literature, African Americans and Obesity, African American Politics, African American History (approximately six or seven special topics courses), African Americans and the Criminal Justice System; Race, Class and Gender (an introductory course), Dissecting Race, Class and Gender; African American Music; African American Art; The Spiritual Heritage of African Americans; Fundamentals of Cross-Cultural Communication; The African American Male and Popular Culture; Images of Blacks in Mass Media; African Americans and Mental Illness; and The African American Studies Capstone.
• I coordinated and VSU hosted the AAMI Initiative, HEROES Institute, from Winter 2006 to Spring 2009. The program was housed within the AFAM Program and was co-funded by the USG Board of Regents and Valdosta State.
• I served on the Georgia National Register Review Board, under the National Register of Historic Places, for two consecutive terms in the mid 90s. During my tenure, a few historic buildings in Valdosta were placed on the national registry.
• For 20 years, the AFAM Program hosted and co-sponsored an AFAM Lecture Series for African American History Month, bringing in noted scholars (writers and lecturers), musicians, dancers, and other visual and performing artists. We also hosted events throughout the year, including the Louie A. Brown Visiting International Scholar Program, several African American art exhibitions, African dancers, African American plays written by Tim Lee, the annual Diversity Week Celebration, and the annual Sankofa Graduation Ceremony.
• I delivered more than 60 professional presentations at academic conferences, summer institutes, and annual meetings in specific disciplines. I also presented more than 60 speeches, workshops, and keynote lectures throughout the continental United States, Belize, and Mexico. I continue to write and have forthcoming publications on black women's history and personal poetry.
• Finally, I hit the ground running in 1976 performing community service in Valdosta and the surrounding areas with civic, social, and faith-based organizations. I advised several VSU student organizations and am most grateful to be a member of a national public service organization, Delta Sigma Theta Sorority, Incorporated, for almost 48 years. As a committed member of the Valdosta Alumnae Chapter of Delta Sigma Theta, I am honored to participate in voter registration campaigns, Keep Lowndes / Valdosta Beautiful campaigns, the American Cancer Society's Relay for Life, Read Across America campaigns, the Delta GEMS, and so many more community service projects and activities. I am also a long-time member of the Morning Star Missionary Baptist Church, where I sang in the sanctuary choir and served on the Education and Scholarship Committee, the Young Adults Ministry, the Women's Fellowship Outreach, and the Deaconess Ministry.
Newsroom
Office of Communications Powell Hall West, Suite 1120
Mailing Address
1500 N. Patterson St.
Valdosta, GA 31698
General VSU Information
Office of Communications