September 21, 2020
20-176
Jessica Pope
Communications and Media Relations Coordinator
VSU's Morgan Loadholtz Earns $10,000 Accounting Scholarship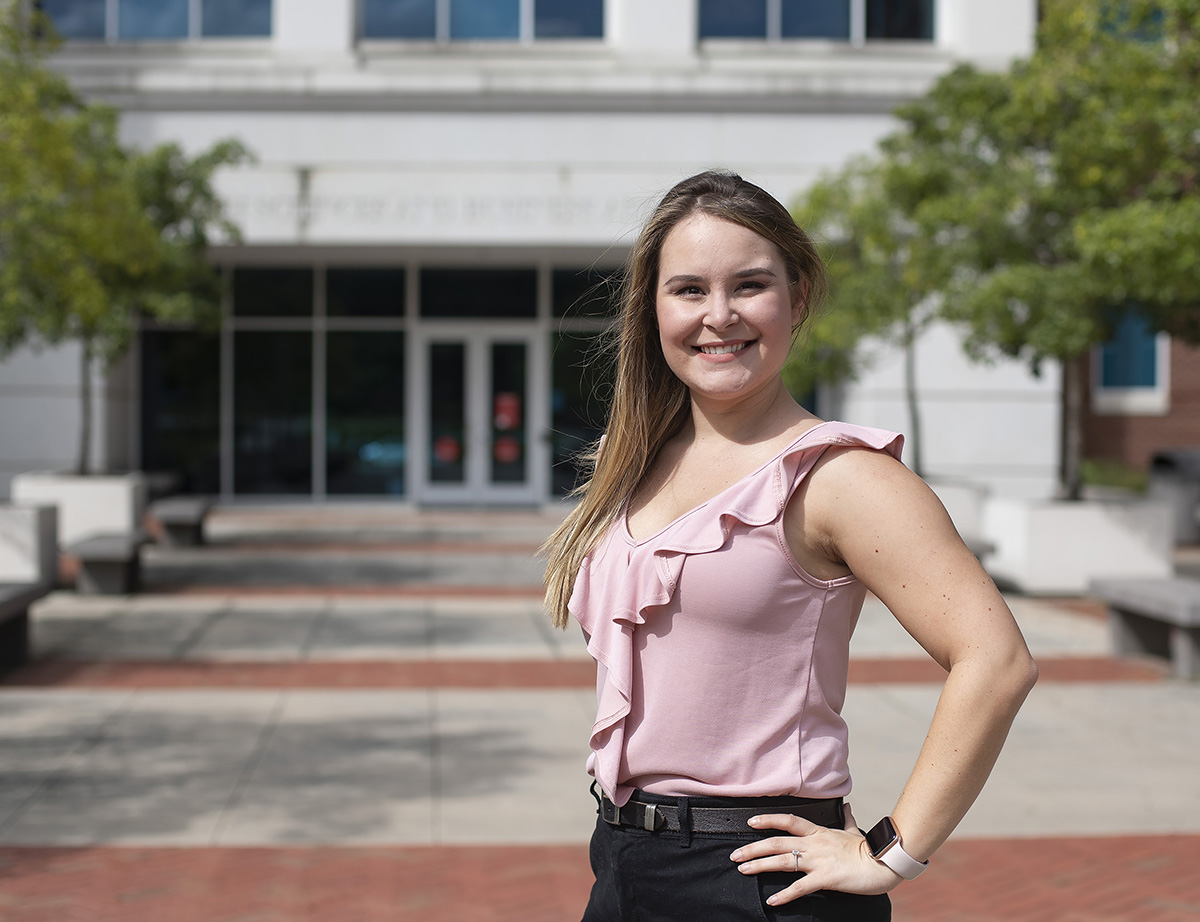 Morgan Loadholtz
VALDOSTA — Valdosta State University's Morgan Loadholtz is the recipient of a $10,000 merit-based scholarship from the Public Company Accounting Oversight Board (PCAOB).
Loadholtz was chosen for demonstrating high ethical standards and an interest and aptitude in accounting and auditing.
"When I received confirmation that I had been awarded the scholarship, I was over the moon," she said. "I live in Florida, and as a graduate student, I am required to pay out-of-state tuition, which is substantially higher than in-state tuition. If I had not received the PCAOB scholarship, I would not be in the master's program at VSU right now. This scholarship gave me the ability to go straight into graduate school and be able to pay the remaining portion of my tuition out of pocket, instead of accumulating student debt."
Loadholtz earned a Bachelor of Business Administration in Accounting from VSU in May 2020. She anticipates graduating with a Master of Accountancy in May 2021 and pursuing a career in the private sector as a certified public accountant and certified management accountant.
"I have always wanted to work with a company I can grow with …," she said.
The PCAOB is a nonprofit corporation established by the United States Congress to oversee the audits of public companies in order to protect investors and the public interest by promoting informative, accurate, and independent audit reports.
Under the Sarbanes-Oxley Act of 2002, monetary penalties imposed by the PCAOB must be used to fund merit scholarships for students in accredited accounting degree programs at colleges and universities across the United States.
Loadholtz is a student member of the American Institute of Certified Public Accountants, Beta Alpha Psi, Beta Gamma Sigma, the Center for Public Trust, and the Georgia Society of Certified Public Accountants, where she earned an Accounting Excellence Award. She volunteered with the Internal Revenue Service's Volunteer Income Tax Assistance Program, which provides free tax preparation services for the underserved, during Spring Semester 2020 and currently works as an intern with Suwannee Valley Electric Cooperative in her hometown of Live Oak, Florida
Loadholtz serves on the Board of Directors for Young Professionals of Live Oak, an organization committed to providing young professionals with networking, skill-building, and community service opportunities. She is the daughter of Derek and Debra Loadholtz and dog mom to Lady, Nala, GiGi, and Pepper. She enjoys going to the beach, traveling, watching movies, exercising, and "getting lost in a really good book." She is excited to earn her master's degree, get married in December 2021, and "start the next chapter of my life."    
On the Web:
http://www.valdosta.edu/colleges/business/
https://pcaobus.org
Newsroom
Office of Communications Powell Hall West, Suite 1120
Mailing Address
1500 N. Patterson St.
Valdosta, GA 31698
General VSU Information
Office of Communications