September 1, 2020
20-163
Robbyn DeSpain, Director of Strategic Communications
VSU Police Focus on Campus Safety and Building Relationships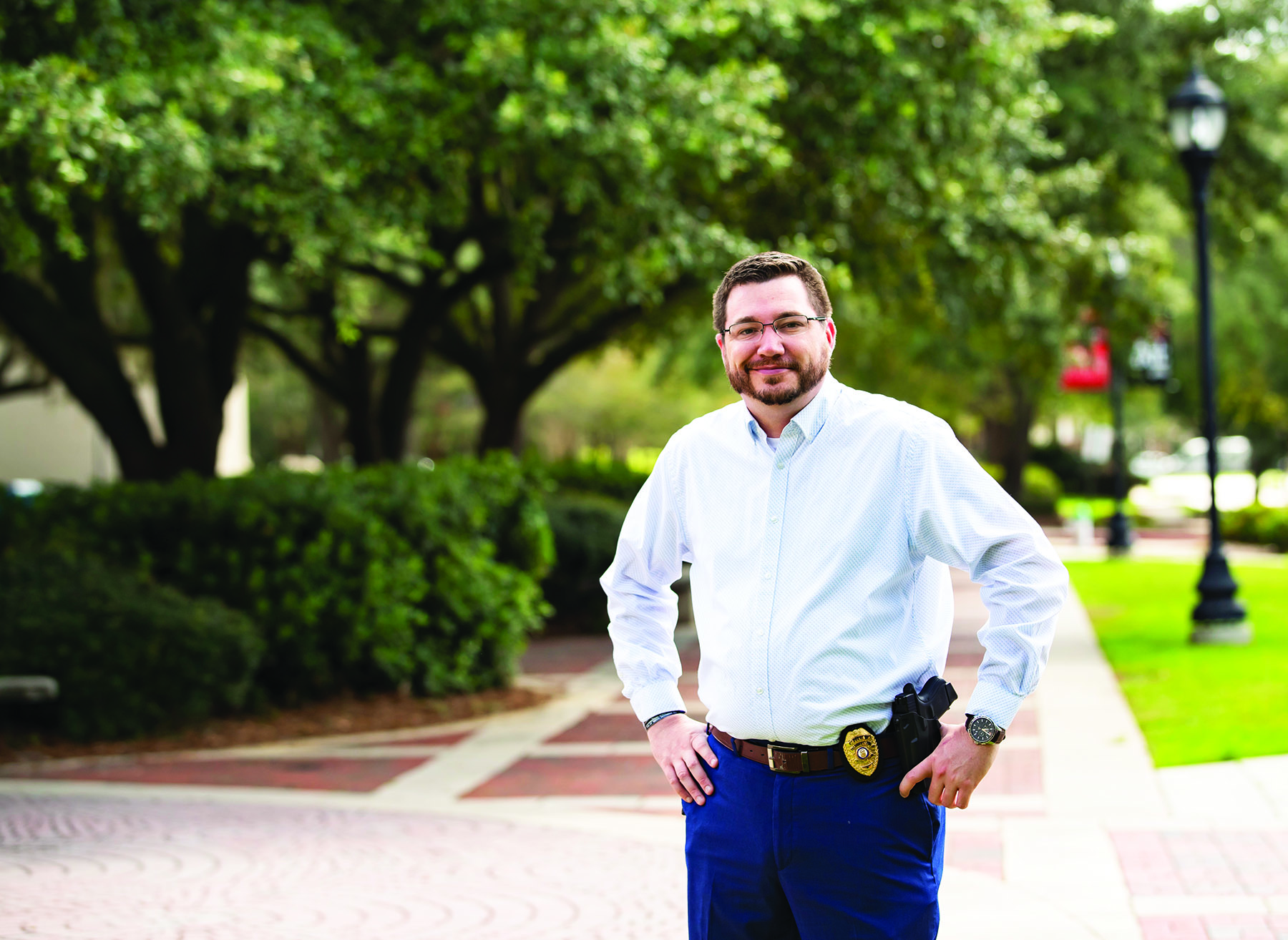 Chief Alan Rowe
VALDOSTA — What does summertime mean to you?
For students it could be a break from classes.
For faculty there may be research opportunities, study abroad commitments, teaching assignments, or their own break from classes.
For the rest of us it's probably work as usual while sneaking in a family vacation.
But for the Valdosta State University Police Department summertime means training. New state laws, active shooter, general tactics, and driving are just some of the skills campus police officers practice during the summer, says Police Chief Alan Rowe.
"We are just like your home city or county sheriff's office. We provide all the traditional services they do."
At any given time, you'll find five police officers on campus. There are 29 sworn officers on the force, and they patrol around the clock. Their priority is keeping the campus safe, but there's also a focus on building relationships.
"When I got here several years ago, one of my goals was for a VSU police officer to walk into a room and no one assume anything was wrong. That's all we wanted was to get out and make those relationships and we do that through various programs," Rowe says.
For those new to Valdosta State, there are a few things Rowe wants you to know.
"If you have lost something or believe something has been stolen, call us. If you have been involved in an accident, call us. If you want someone to walk with you from point A to point B on campus, call us. We'll be glad to do that. A lot of times people think they are bothering us. That's what we're here to do."
When you head off campus Rowe says his department works well with all other law enforcement agencies in Lowndes County. He also wants you to know about the Blazer Guardian App.
"It will do three things for you. First, it's a panic button, just like hitting one of our emergency buttons on campus. It's an immediate connection to my dispatch center. The second thing, which is the one students love the most, is anonymous text messaging to my communications center. That way if you see something but really don't want to get involved in it, you can just send me a text anonymously and let me know what's going on. That way we can get somebody over there to check it out. The third thing is a virtual safety timer. It's just like that escort of us walking with you."
Rowe and his team have also spent this summer securing personal protective equipment for students, faculty, and staff. You'll find hand sanitizer at all building entrances and classrooms; classrooms are also equipped with sanitizing wipes. Each student has a reusable face mask. That's all just part of the university's major plan to promote social distancing and allow for a safe return to campus.
Newsroom
Office of Communications Powell Hall West, Suite 1120
Mailing Address
1500 N. Patterson St.
Valdosta, GA 31698
General VSU Information
Office of Communications