September 1, 2020
20-164
Jessica Pope
Communications and Media Relations Coordinator
Dr. Lee Grimes Earns VSU's 2020 Presidential Excellence Award for Teaching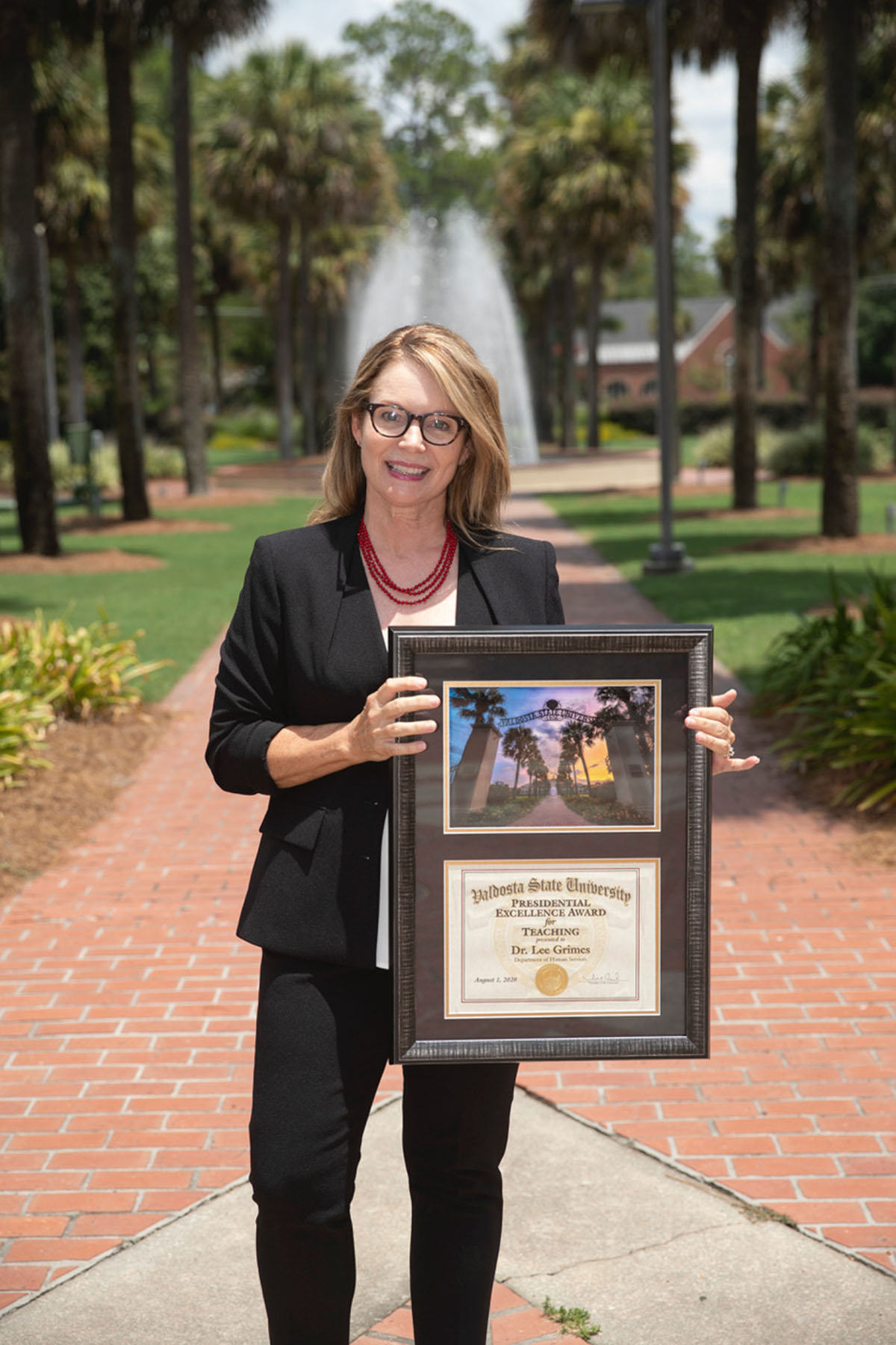 Dr. Lee Grimes, an associate professor in the Department of Human Services, is the recipient of Valdosta State University's Presidential Excellence Award for Teaching. In recent Student Opinion of Instruction evaluations, one of her students write, "Dr. Grimes is excellent at teaching us relevant material and equipping us to be successful in the counseling field. She is so passionate about the subject and that is what makes her classes interesting and enjoyable." Another student wrote, "

Where do I start? Dr. Grimes is equitable, fair, energetic, skilled, competent, encouraging, gracious, personable! I have nothing but kind words to say about Dr. 

Grimes. In my personal and professional opinion, Dr. Grimes is one of the greatest assets to both the Counseling Program and the university as a whole. Put her on billboards!!!"

 
VALDOSTA — Dr. Lee Grimes is the recipient of Valdosta State University's Presidential Excellence Award for Teaching.
The Presidential Excellence Award for Teaching recognizes a faculty member who employs innovative teaching strategies and demonstrates a strong commitment to student success.
Grimes, an associate professor in the Department of Human Services, joined the VSU faculty in 2013. She primarily teaches courses in the Master of Education in Counselor Education program and the Education Specialist in School Counseling program.
"As a counselor educator my teaching philosophy is relatively simple and is built on the needs of graduate students and the expectations of my discipline," she said. "Students, particularly adult learners, do not come into the classroom as blank slates. I recognize the value of my students' life experiences and unique worldviews. By leading students through how their strengths, prior experiences, and learning abilities affect their current learning experiences, I am teaching my students to critically reflect about themselves and to honor the same experiences with their students and clients.
"To meet the rigorous demands of the counseling profession, my philosophy is to guide students using high-impact practices through the core tenants of the discipline so that they finish the program with the knowledge, skills, and ethical dispositions to be successful. I recognize that one does not do counseling. Rather, one becomes a counselor. This identity is one we carry in all parts of our lives. As such, my teaching philosophy includes the importance of my role as a model of professionalism, ethical behavior, and social consciousness."
Grimes's commitment to advancing the quality and practice of teaching and learning is evident in a multitude of ways. She attends and presents at a minimum of two conferences each year to learn new skills. She makes it a priority to maintain her professional credentials as a licensed professional counselor, certified professional counselor supervisor, and certified school counselor "to show my students my commitment to remaining connected to my work as a practitioner of school counseling." The Georgia School Counselor Association named her Counselor of the Year in 2018.
With a focus on ensuring her students graduate with the knowledge and experience needed to be successful in the counseling profession, Grimes uses a variety of methods to develop her students' critical-thinking and problem-solving skills. This includes developing new courses that meet the needs of a fast-changing world and weaving multiculturalism and social justice into every one of them. All papers and project assignments are based on real-life school or community mental health needs that often present challenging ethical problems for students to solve.
Grimes employs simple yet innovative uses of technology to enhance her students' experiences as learners, as well as high impact practices like active learning, learning communities, student portfolios, community-based learning connected to guest speakers, and high-quality assessments. If an opportunity does not exist, she works to create it. Her commitment to fostering excellence continues outside the classroom as well when she helps students practice interview skills, polish their resumes, conduct research, present at conferences, and become published authors in professional peer-reviewed journals.
The Presidential Excellence Award for faculty is an annual tradition at VSU, one that recognizes the diverse talents and contributions of the university's innovative and active faculty. Dr. Richard A. Carvajal, president of VSU, presents the highly coveted awards in five categories — teaching, research, service, online teaching, and scholarship of teaching and learning.
On the Web:
https://www.valdosta.edu/academics/academic-affairs/presidential-excellence-awards.php
https://www.valdosta.edu/colleges/education/human-services/
Newsroom
Office of Communications Powell Hall West, Suite 1120
Mailing Address
1500 N. Patterson St.
Valdosta, GA 31698
General VSU Information
Office of Communications