September 8, 2020
20-167
Jessica Pope
Communications and Media Relations Coordinator
A Call to Empower: Johnnie Marshall Jr. Inspires Others to Stand on the Frontlines and Shape the Future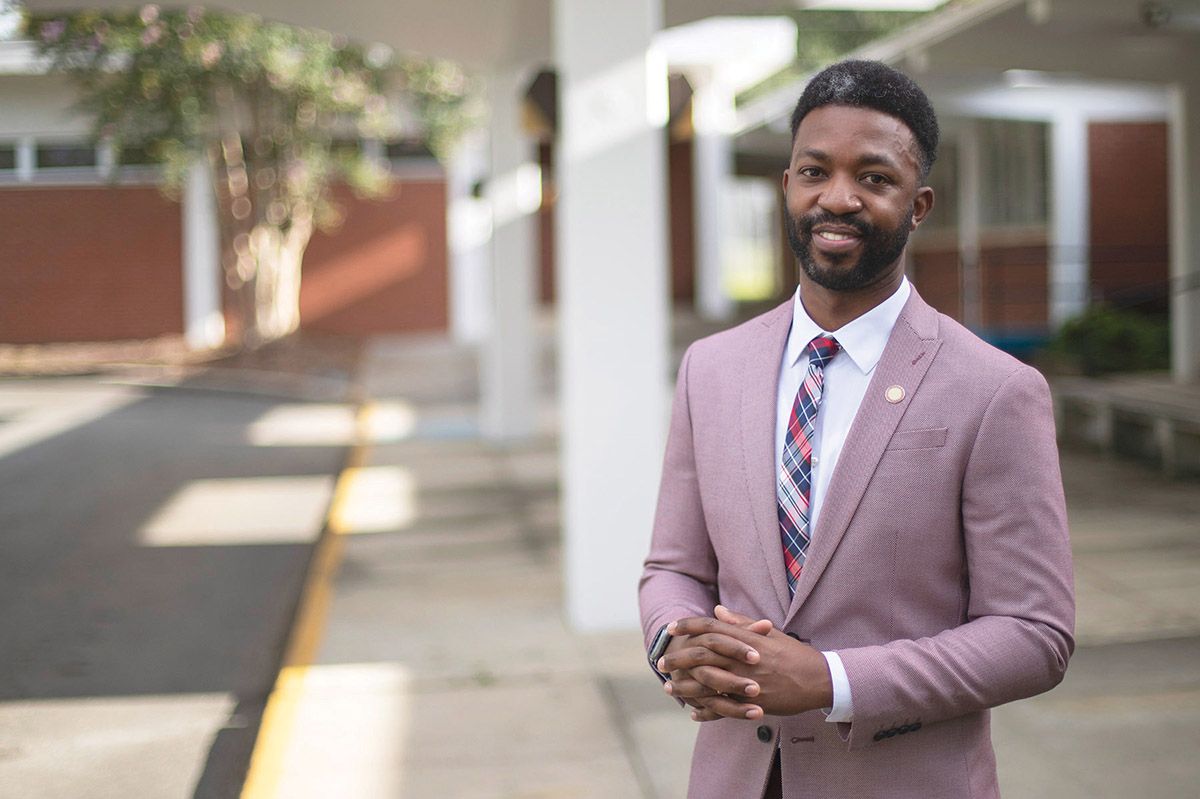 Johnnie Marshall Jr. was named principal of VECA earlier this year
VALDOSTA — As a child in the 1.2-square-mile city of Whigham, Ga., Johnnie Marshall Jr. believed two things were absolutely certain about his life — he was a faithful believer in God and he wanted to become a teacher when he grew up. He understood the true value and life-changing potential of an education, wisdom he continues to pass on to students and their families at Valdosta Early College Academy, or VECA.
"I believe that all students have the ability to learn and succeed when stakeholders hold the pupils to high expectations while providing care and support," said the teacher-turned-administrator. "An educator has a very integral part in molding his pupils to be life-long learners and productive stewards of the world. … I understand my purpose and know that I am a catalyst for proper growth and development of the students I serve. … My goal is to engage, motivate, inspire, and transform …."
Marshall was stirred to teach after listening to the inspirational stories of his family history. One particular story involved his great-great-grandfather, Dan Marshall, who helped to establish churches and schools in Alabama.
"My family constantly emphasized the importance of education," he said.
In the span of a decade, Marshall has gone from student observer to transformational leader, from standing at the helm of his own classroom to standing on the frontlines of a national conversation about effective leadership and education reform.
Marshall graduated magna cum laude — or with great distinction — with a Bachelor of Science in Education in Middle Grades Education, concentrations in social studies and science, from Valdosta State University in 2010. Three years later he earned a Master of Education in Middle Grades Education, concentrations in mathematics and science. He followed that with his third VSU degree, a Doctor of Education in Leadership in 2018.
Marshall's commitment to VECA goes back to the year the school first opened its doors, when he was still working towards his middle school teaching credentials at VSU and needed experience as a classroom observer, tutor, mentor, and student teacher. It was the perfect place for a young man determined to shape the future.
"I was surrounded by multiple educators and administrators at VECA who empowered my philosophy of education," he said. "While the Dewar College of Education and Human Services at VSU provided a stellar theoretical framework for education, VECA's administration and faculty modeled effective teaching pedagogy, genuine passion towards students and parents, and consistent high expectations for all."
A partnership between VSU and the Valdosta City School System, VECA was founded in 2008. It is designed to provide small, student-centered, rigorous learning communities that provide early access to higher education for first-generation college students. With care and support, dedicated and hard-working students are allowed to start earning college credit at VSU once they reach the 11th grade, through a sort of specialized dual enrollment initiative.
As a junior at VSU, Marshall played a significant role in interacting with, instructing, and advising VECA's legacy class — work he continued when he accepted his first full-time teaching position at the school after earning his bachelor's degree. His first day at the helm of his very own classroom at VECA was Aug. 9, 2010.
Three years later, Marshall celebrated 11 members of VECA's legacy class submitting their applications to VSU.
"With the support of stakeholders, our VECA scholars are exposed to experiential learning and a college-going mindset while building lasting relationships," he said. "I am blessed beyond measure to have the opportunity to see their transformation manifest from sixth graders to high school graduates."        
Marshall spent five years in the classroom, teaching seventh-grade world studies from 2010 to 2011, eighth-grade Georgia studies from 2010 to 2015, and eighth-grade accelerated physical science from 2011 to 2015. His students consistently performed well on state-mandated end-of-year assessments, and along the way, he earned the title of VECA Teacher of the Year in 2013.  
In the years that followed, the accolades kept coming.
He was named an Apple Distinguished Educator in 2015, serving as a global advocate, ambassador, and advisor to teachers leveraging Apple technologies in their learning communities. He played a lead role in VECA becoming one of the first in South Georgia to implement a 1:1 iPad initiative, which put the innovative technology into the hands of every student.
He was named assistant principal of VECA in 2015.
Having expressed a desire to someday become a principal, he participated in the first cohort of the Aspiring Principals Academy with the Governor's School Leadership Academy in 2018.
He was named VSU's James L. and Dorothy H. Dewar College of Education and Human Services Alumnus of the Year in 2019. That same year he won the coveted Milken Educator Award, education's equivalent of the film industry's Oscar that recognizes teachers for what they have achieved and for the promise of what they will accomplish in the future.
He was named principal of VECA in early 2020. He views his latest role as the instructional leader of his school and challenges himself to continue learning the latest "evidence-based strategies that support an early college-learning ecosystem." He enjoys collaborating with "our dynamic and passionate teachers to ideate, innovate, and implement 21st Century skills in the classroom to support VECA's mission."
"I wholeheartedly believe education is my calling, and I look forward to each day," he said. "I am blessed to have the opportunity to serve VECA scholars and teachers, future educators, and educators around the world."
Marshall is married to Marci Garner Marshall, who earned three degrees from VSU, a Bachelor of Science in Education, emphasis in business education, in 2010; a Master of Science in Education, emphasis in higher education leadership, in 2012; and a Doctor of Education in Adult and Career Education in 2018. The couple serve current and up-and-coming teachers as adjunct instructors in VSU's Department of Teacher Education.
Newsroom
Office of Communications Powell Hall West, Suite 1120
Mailing Address
1500 N. Patterson St.
Valdosta, GA 31698
General VSU Information
Office of Communications