June 29, 2020
20-59
Jessica Pope
Communications and Media Relations Coordinator
Njeri Pringle Named Graduate Assistant of the Year at VSU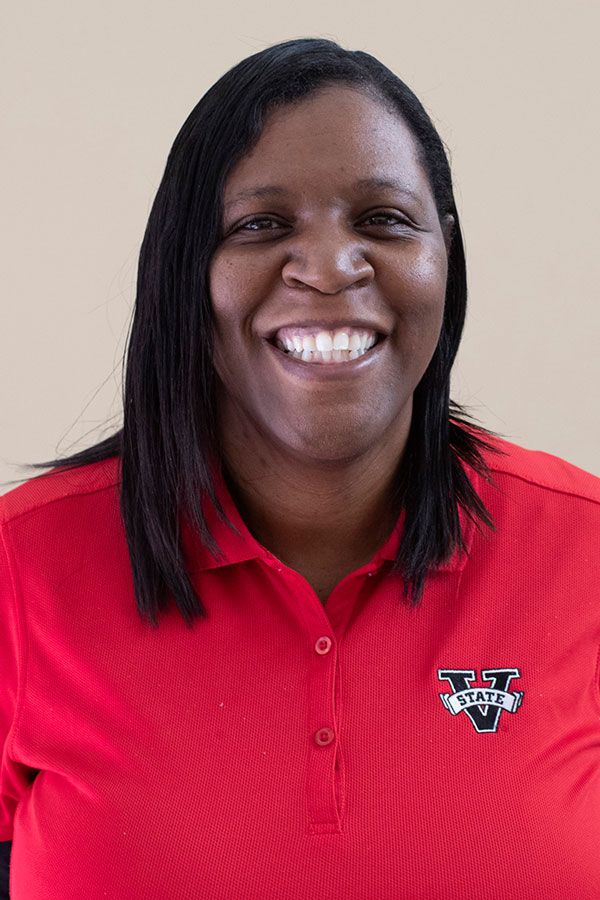 Njeri Monik Pringle of Valdosta is Valdosta State University's 2019-2020 Graduate Assistant of the Year.
VALDOSTA — The Academic Support Center's Njeri Monik Pringle is Valdosta State University's 2019-2020 Graduate Assistant of the Year. 
Dr. Chere Peguesse, Academic Support Center director, referenced Pringle's reliability, quality of work, initiative, professionalism, and uniqueness of contribution when nominating her for the distinguished honor. She said Pringle has served as a graduate assistant in her office for three years and has proven to be "an indispensible colleague." 
"Njeri's spiritual strength and her empathic skills inspire everyone who works with her to be their best self," Peguesse noted in her nomination. "She is tirelessly positive and encouraging and grounded; she establishes clear boundaries and sticks to them, which also generates lots of respect from her students and her supplemental instruction leaders because she helps them be clear about boundaries, too. She is a powerhouse, and yet she readily admits when she's wrong, always solicits feedback about her development, and isn't afraid to ask for help. She has earned our respect and admiration, and she deserves this recognition." 
Pringle's role as graduate assistant in the Academic Support Center requires her to design, lead, and assess training for VSU's Supplemental Instruction Leader Program, a peer-facilitated academic assistance program that utilizes regularly scheduled, informal review sessions to increase retention and improve student grades in targeted historically difficult courses. She collects, collates, and analyzes data to determine where the program is successful and where it needs attention. 
Peguesse said Pringle has made many improvements in this area, including streamlining training and accountability for the Supplemental Instruction Leader Program. She created a BlazeView course containing all training materials and a newsletter that keeps supplemental instruction leaders informed about upcoming activities and due dates, and she formed an advisory board to help identify opportunities to make the program more effective and efficient. She helped establish a mentoring system to strengthen relationships among supplemental instruction leaders and developed a short presentation for faculty to clarify the duties of a supplemental instruction leader. 
"Our data collection has improved greatly, and supplemental instruction leader morale has risen significantly," Peguesse shared. 
As a graduate assistant in the Academic Support Center, Pringle also leads success workshops and meets with students to help them plan and practice study and self-care strategies. 
"Njeri goes above and beyond when it comes to the quality of her work," Peguesse wrote in her nomination. "For example, she has revised our academic workshops to be much more interactive, and she has created some new workshops, like How to Partner With Your Professor, How Do You Learn, and Critical and Creative Thinking." She said Pringle often takes the center's Time Management "on the road" and has worked extensively with the men's basketball and football players, using an interactive tool that these students manipulate to understand how their time gets portioned out. 
Pringle, a Valdosta resident, is currently pursuing a Doctor of Education in Leadership, with a focus on higher education leadership, and anticipates graduating in December. Her dissertation is a qualitative study of teacher strategies and practices that are utilized in helping college remedial mathematics students mitigate mathematics anxiety. 
"She is studying how fear gets in the way of learning math … (and she) applies what she's studying to her workshops with students and student athletes, to her coaching sessions with 'high alert' students, and to her training sessions with supplemental instruction leaders," Peguesse added. 
"She truly 'shows up' for everyone around her, listening closely to what people say and encouraging growth at every step." 
Pringle holds a Master of Education in Educational Leadership in 2007 and a Bachelor of Arts in Sociology and Anthropology in 2002, both of which she earned at VSU, as well as a series of associate-level degrees in mathematics, computer science, sociology, and psychology from Abraham Baldwin Agricultural College in 1998. 
"I am blessed to have a very supportive network of family, friends, Image of God Ministries family, and colleagues," she said. "I love working in the Academic Support Center for many reasons — being around the people that we serve and serve with, helping shape how we help others make connections, and fostering an environment in which connections can happen." 
After graduation in the fall, Pringle plans to continue to work in a capacity that allows her to foster connections through work in an environment like VSU's Academic Support Center, consultancy, and continued research. 
On the Web:
https://www.valdosta.edu/asc/
https://www.valdosta.edu/academics/graduate-school/
https://www.valdosta.edu/colleges/education/curriculum-leadership-and-technology/
Newsroom
Office of Communications Powell Hall West, Suite 1120
Mailing Address
1500 N. Patterson St.
Valdosta, GA 31698
General VSU Information
Office of Communications